close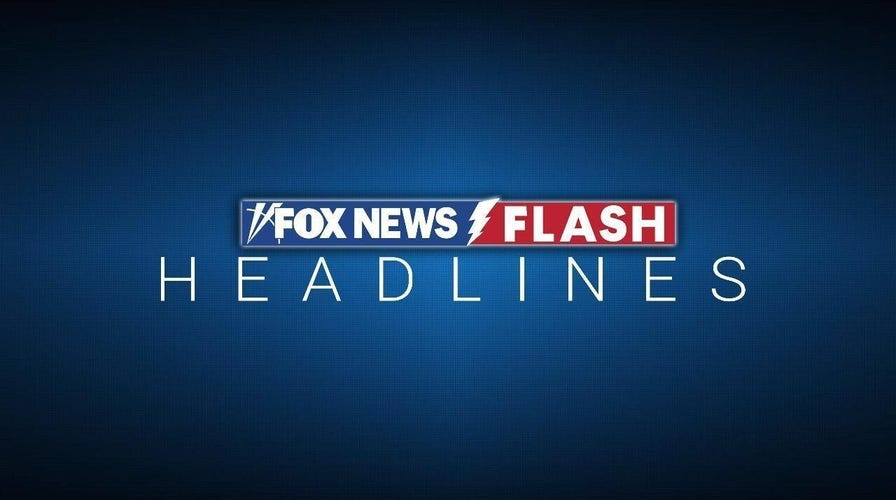 Video
Fox News Flash top headlines for March 30
Fox News Flash top headlines are here. Check out what's clicking on Foxnews.com.
Elián González made headlines in 1999 as the boy found floating on an inner tube near Florida shores and became the center of an international custody battle between the U.S. and Cuba.
Now 29 years old, González is set to become a legislator in the Latin American country following Sunday's election.
"And one of the first things he wants to do is bring the U.S. and Cuba to the table for a better relationship," USA Today reports.
More than 20 years after González was discovered after a violent storm killed his mother and most of the group fleeing the island, he is a married industrial engineer with a 2-year-old daughter.
ELIÁN GONZÁLEZ WOULD VISIT MIAMI RELATIVES IF THEY ADMIT 'THEY MADE A MISTAKE'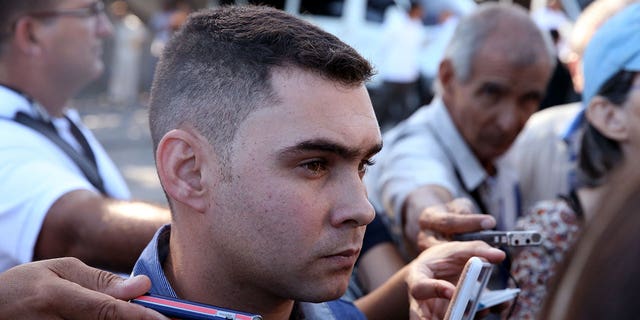 Cuban shipwreck survivor Elian Gonzalez speaks to the press as he arrives to pay tribute to Cuba's late President Fidel Castro at the Jose Marti Memorial in Revolution Square in Havana Nov. 29, 2016. He was recently elected as a legislator in Cuba.           (REUTERS/Carlos Garcia Rawlins)
However, back before the turn of the century, González's father in Cuba wanted him returned from relatives in Miami.
"After the economic crisis in Cuba in the 1990s known as the Special Period, Castro needed an issue that could revive old ideological battles and reinvigorate his grip on the population. And he seized on the opportunity, quickly making Elián's return a subject of national priority and the beginning of a years-long propaganda campaign that would be known as the Battle of Ideas," the Miami Herald stated.
Miami's politicians fought to resist Castro and supported the boy's relatives in the U.S. to keep him here. The case sparked a media frenzy in both countries, making González the center of a diplomatic crisis and legal dispute that made headlines around the world.
GREAT-UNCLE WHO FOUGHT TO KEEP ELIAN GONZALEZ IN U.S., DIES AT 79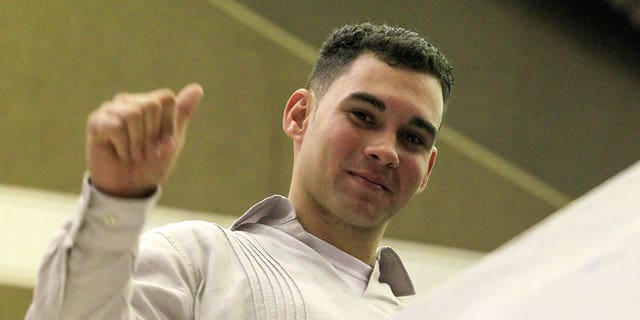 Cuba's shipwreck survivor Elian Gonzalez gestures after a speech by Cuba's President Raul Castro at the National Assembly in Havana, Dec. 20, 2014. Stepping out of his legendary brother's shadow, President Raul Castro has scored a diplomatic triumph and a surge in popular support with the deal that ends decades of open hostility with the United States. (REUTERS/Stringer )
At the time, one of the most notable pieces of coverage was a photograph of the boy's scared face when a federal agent pointed a rifle in his direction. After seven months in the U.S., González was returned to his father in Cuba after the Miami relatives exhausted all legal pathways to get him to stay.
González will apparently be representing the municipality of Cárdenas, in Matanzas, where he lives and works as assistant director of AT Comercial Varadero, a food import company run by the Cuban Ministry of the Armed Forces.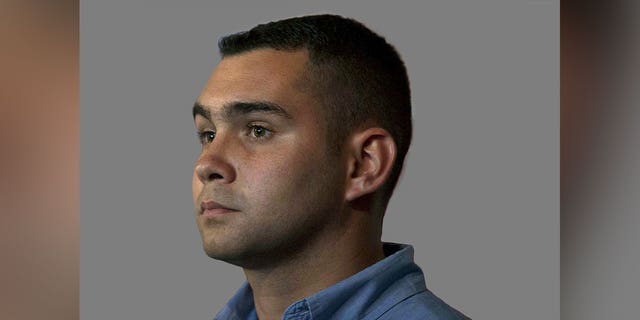 Elian Gonzalez, the young Cuban rafter who was at the center of a bitter custody battle in 2000 between relatives in Miami and his father in Cuba. (AP Newsroom )
CLICK HERE TO GET THE FOX NEWS APP
"Throughout these years, my family has been very important, trying to maintain that simplicity, that humility of always staying in the right place where I should be, not believing that I was different from anyone or that I deserved something better," González said in an interview with Cuban television station TvYumurí after he was nominated.