Pennsylvania awarded thousands of dollars from President Biden's American Rescue Plan (ARP) Act to LGBTQ organizations that promote activities for children like "queer story hour" and a "birthday bash" for a deceased "genderqueer" artist.
The ARP Act, which Democrats passed in March 2021 without any Republican support, was billed by the Democratic Party as an economic necessity for getting the country through the COVID-19 pandemic. The National Endowment for the Humanities (NEH), which received $135 million from the plan, allocated $51.6 million in ARP funding for state "humanities councils" to support "recovery and reopening of humanities organizations" impacted by the pandemic.
One of those recipients was the Pennsylvania Humanities Council, which received $1.4 million in relief funds from the NEH. The council awarded thousands to organizations in the state that shared a focus in "equity and geographic diversity."
But like previous Fox News Digital analyses have found, the organizations and programs that received relief funding had virtually little to do with pandemic recovery.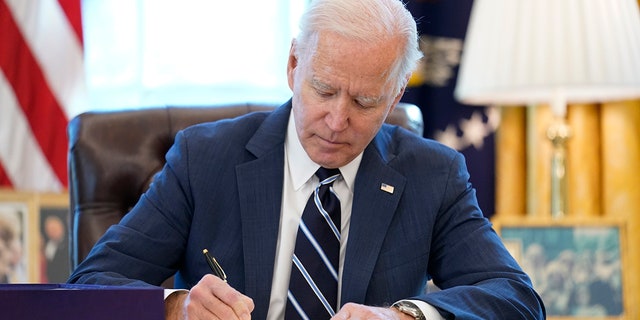 President Joe Biden signs the American Rescue Plan, a coronavirus relief package, in the Oval Office of the White House, Thursday, March 11, 2021, in Washington.
(AP Photo/Andrew Harnik)
MILLIONS FROM BIDEN'S COVID RELIEF BILL WENT TO MUSEUM, UNIVERSITY PROGRAMS PUSHING SOCIAL, CLIMATE JUSTICE
For instance, the Pennsylvania Humanities Council awarded $16,000 in ARP funds to the Bradbury-Sullivan LGBT Community Center in Allentown, which describes itself as an "inclusive space in Pennsylvania's Lehigh Valley for all of the region's LGBTQ+ residents."
The center is scheduled to host a "Queer Story Hour" for children this Saturday, where a "queer reader" will read, "I Am Jazz," a book about a young transgender girl that is marketed toward kids ages 4 to 8.
In September, the center held a "drag story hour" for children as young as 1, where a drag queen, who goes by the name Honey Mustard, read the book, "King & King," which is about a romantic relationship between two princes.
The Pennsylvania Humanities Council also awarded $16,000 in ARP funds to the Mattress Factory Contemporary Art Museum in Pittsburgh, which has youth programs for kids as young as 7.
The museum said it used the ARP funds to create a two-month program celebrating the late Greer Lankton, a trans genderqueer artist who is known for her lifelike nude dolls featuring drag queens and other gender-questioning themes. In April 2022, the museum hosted an all ages "birthday bash" with live music and birthday cake marking what would have been Lankton's 64th birthday.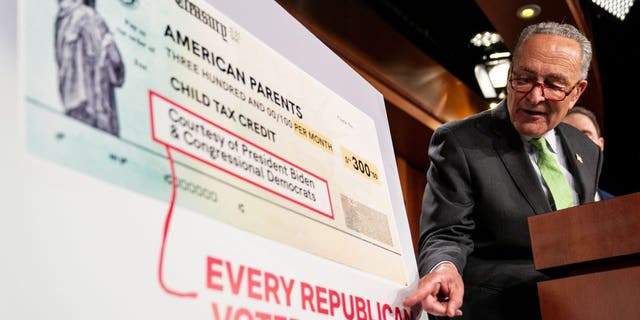 Senate Majority Leader Chuck Schumer (D-NY), flanked by Senate Democrats, Sen. Debbie Stabenow (D-MI), Sen. Cory Booker (D-NJ), Sen. Michael Bennet (D-CO), Sen. Ron Wyden (D-OR), and Sen. Sherrod Brown (D-OH), speaks during a press conference on the Child Tax Credit in the Senate Studio on Capitol Hill on Thursday, July 15, 2021.
(Kent Nishimura / Los Angeles Times via Getty Images)
$825K IN AMERICAN RESCUE PLAN FUNDS WENT TO 'ORAL HISTORIANS' RESEARCHING ANTI-RACISM, 'LATINX' HISTORIES
The museum has frequently hosted all ages events and exhibits featuring drag queens. In April, it held a "Queer Afterlives in Artist Archives," which showcased "the histories of Queer art."
"A portion of the funding for this program has been provided by PA Humanities and the National Endowment for the Humanities as part of the American Rescue Plan Act of 2021," the event description read.
The same museum was rocked by a sexual harassment scandal in 2018 which resulted in some artists pulling their work from the institution. The museum reached settlements with four female employees who were allegedly harassed by a male employee and new management took over in 2019.
In its interim report submitted to the NEH last year, which was obtained through a FOIA request and shared with Fox News Digital, the Pennsylvania Humanities Council cited the Mattress Factory's "Queer Lives" symposium and the Bradbury-Sullivan center's "significant projects documenting the LGBTQ+ experience" when asked to describe the "most significant outcomes" of the ARP funding.
"The Mattress Factory recently held a 'Queer Afterlives in Artist Archives Symposium' and a celebration to launch the release of extensive public archives documenting the life and work of genderqueer artist Greer Lankton," the council's report to the NEH read. "The Bradbury-Sullivan LGBT Center is building a community archive documenting the rich history of local and regional LGBTQ+ life and activism including print material, signs, memorabilia, garments and oral histories."
The Pennsylvania Humanities Council, Mattress Factory and Bradbury-Sullivan center did not respond to Fox News Digital's requests for comment.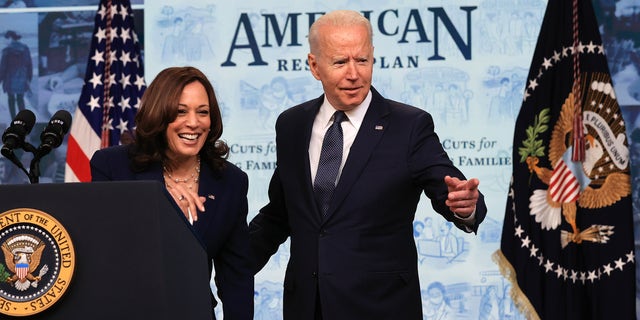 Before an audience of nine families that are benefiting from the new Child Tax Credit, U.S. President Joe Biden and Vice President Kamala Harris deliver remarks on the day tens of millions of parents will get their first monthly payments in the South Court Auditorium in the Eisenhower Executive Office Building on July 15, 2021, in Washington, D.C.
(Photo by Chip Somodevilla/Getty Images)
AMERICAN RESCUE PLAN FUNDED WRITING FELLOWSHIP FOR 'NON-BINARY' 13-YEAR-OLDS, MUSLIM JAZZ SERIES IN NYC
The Pennsylvania Humanities Council also awarded a grant to the Scribe Video Center in Philadelphia for a project "documenting the ways African Americans and Latinx people have worked to secure their representative share of political power for their communities," the interim report said. That grant was similarly worth $16,000 in ARP funding.
A $16,000 grant also went to Just Act, a Philadelphia theater that specializes in "Theatre of the Oppressed" training, an acting technique that pushes left-wing ideologies through active audience performances.
Pennsylvania is just one of dozens of states that dedicated ARP funding to humanities projects that are seemingly unrelated to COVID-19 pandemic recovery. Humanities New York distributed more than $360,000 ARP funds to dozens of organizations, including a $10,000 grant to the National Jazz Museum in Harlem to create a five-part music series about the influence of Islam and Muslims in jazz. The council awarded another $10,000 ARP grant for the Pan Am Museum Foundation to "explore how racial diversity changed the airline industry."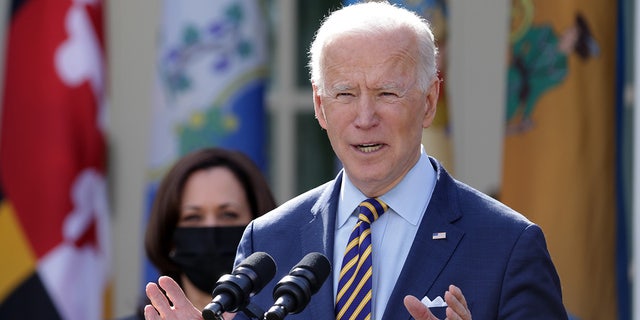 U.S. President Joe Biden speaks during an event on the American Rescue Plan in the Rose Garden of the White House on March 12, 2021, in Washington, D.C.
(Photo by Alex Wong/Getty Images)
Not every state committed ARP funds to humanities programming.
The Florida Humanities Council, in contrast, received over $2 million in ARP funding from the NEH, which it awarded in the form of "general operating grants" to organizations impacted by the pandemic.
"No ARP subawards were awarded for humanities-based programming," the council wrote in its interim report to the NEH. "Florida Humanities' ARP grants were designed to direct funds to eligible organizations solely for short-term general operating needs in order to maintain delivery of public humanities programming and resources in communities statewide."
'RACIAL EQUITY' A 'CENTRAL TENET' IN DISPERSING AMERICAN RESCUE PLAN FUNDS AT STATE, LOCAL LEVEL: US TREASURY
Many economists have blamed the ARP for overheating the economy and contributing to the current inflation crisis, which peaked at 9.1% in June, its highest rate since 1982, which has since cooled to 6.5%.
Fox News Digital has extensively reported on the millions in ARP funds that have funded social and climate justice programs all over the country that have virtually nothing to do with pandemic relief.
For example, the NEH awarded the Oral History Association $825,000 in ARP funds for a grant-making project titled, "Diversifying Oral History Practice: A Fellowship Program for Under/Unemployed Oral Historians," which provided 11 year-long fellowships of $60,000 each for oral historians "from communities which have been historically marginalized in the field," such as "Indigenous peoples, people of color, people with disabilities, and working class people."
The NEH awarded another $499,023 to the University of Montana for multiple programs on racial justice, including a public lecture series on "racial justice, death and Indigenous knowledge."
The Science History Institute in Philadelphia was awarded $359,097 by the NEH to create a "multiplatform project exploring the historical roots and persistent legacies of racism in American science and medicine." The same institute previously received a $1,230,100 Paycheck Protection Program (PPP) loan on April 14, 2020.
Another $200,000 in ARP funds went to the Chicago Humanities Festival to create "six humanities programs on racial justice, gender equality, and building an inclusive society." The group was previously awarded a total of $778,236 from two PPP loans between April 2020 and January 2021.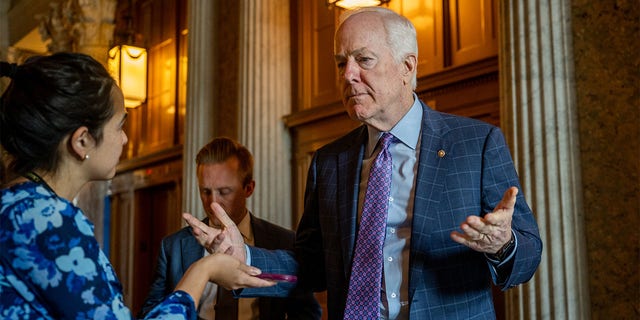 Sen. John Cornyn (R-TX) 
(Photo by Brandon Bell/Getty Images)
CLICK HERE TO GET THE FOX NEWS APP
In March 2021, Senate Democrats voted against an amendment in the ARP that would have redirected funds from the NEH to address the border crisis.
Sen. John Cornyn, R-Texas, condemned Democrats at the time after every one voted to block his amendment that would have shifted funding in the bill from the NEH to "fund bed space for unaccompanied children and efforts to mitigate coronavirus transmission in immigration detention facilities," according to a press release.