A New York-based group with a specific focus on drug abuse and overdose awareness in one of the most populous cities in California is facing pushback for one of its campaigns that encourages users to continue using drugs in ways that could benefit their personal health.
Self-described as a "nationwide advocate and ally for people who use drugs," the National Harm Reduction Coalition (NHRC) features a campaign under its Drug Overdose Prevention and Education (DOPE) Project that encourages drug users in the San Francisco area to get high in ways that supposedly carry less risk of overdose or harm.
A series of posters and advertisements from the DOPE Project, which were created in "collaboration with the real first responders in San Francisco – people who use drugs," advises those who continue to use drugs to "do it with friends" or "to change it up" by "ingesting or smoking instead of snorting."
FORMER DRUG DEALER SPEAKS OUT AGAINST SAN FRANCISCO DRUG SCENE: IT'S BECOMING A PLACE FOR 'DRUGGY TOURISM'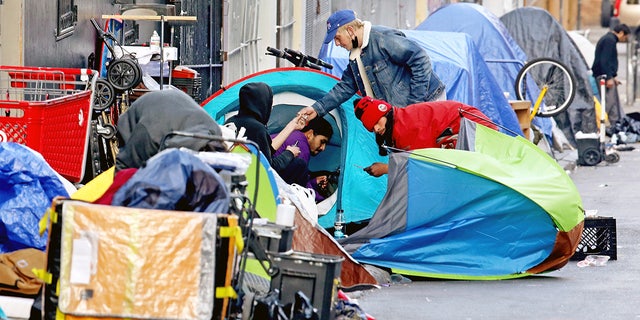 Homeless people consume illegal drugs in an encampment along Willow Street in the Tenderloin district of San Francisco on Feb. 24, 2022.
(Gary Coronado/Los Angeles Times via Getty Images)
Another poster from the campaign, which features a gleeful group of drug users, advises to "take it easy" and "go slow" when using. "Use less at first to test the strength of your drugs," one poster reads.
"Injecting drugs carries the highest risk of overdose, so try smoking or snorting instead," another poster reads.
Other posters used by the campaign advise those who use drugs, as well as those who may be around drug users at the time of an overdose, on how to use naloxone – a medicine sold under certain brand names like Narcan that is known to rapidly reverse an opioid overdose.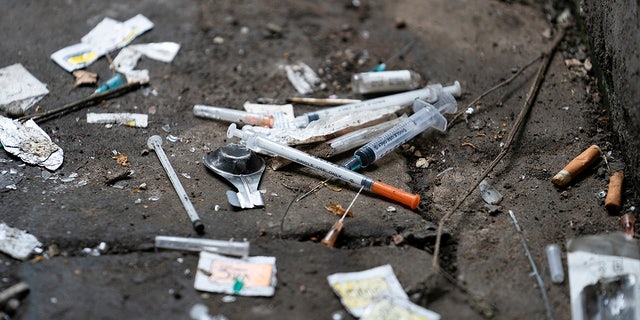 Syringes and paraphernalia used by drug users litter an alley.
(Christopher Furlong/Getty Images)
"We're better together," one poster states. "Know the signs if someone is overdosing. Carry naloxone and know how to use it."
MOTHER OF FENTANYL ADDICT URGES BIDEN TO TAKE ACTION ON DRUG CRISIS: HELP MY SON THE WAY YOU HELPED HUNTER
While there is little messaging about ways addicts can ditch drugs, a variety of other posters display quotes from drug users who said they – or someone they knew – were thankful to have had naloxone available during an overdose.
Known as the "Know Overdose Campaign," the effort between the DOPE Project and NHRC, as well as the San Francisco Department of Public Health, has faced pushback from at least one former California lawmaker.
Melissa Melendez, a Republican who represented the Golden State's 28th District in the Senate from 2020 to 2022, brought attention to the campaign earlier this week in a tweet.
"We have a fentanyl epidemic, and this is how California is addressing the problem," Melendez wrote. "Shockingly, these are actual campaign documents, not satire. This is not harm reduction. This is not the answer."
Vicki Nohrden, the Republican candidate for California State Assembly District 30 in the November 2022 election, also criticized the move by the campaign.
"Absolutely outrageous, not solution based outcome, stupidity at its best," Nohrden wrote in a tweet.
"National Harm Reduction Coalition builds evidence-based strategies with and for people who use drugs. In San Francisco, people who use drugs and frontline harm reduction workers reverse more overdoses than any other group of first responders," a spokesperson for the group told Fox News Digital. "Thousands of people survive their overdoses every year in our city because of people who use drugs and harm reduction workers. The DOPE Project created an educational ad campaign to raise awareness around overdose in San Francisco. We collaborated closely with people who use drugs and frontline harm reduction workers to develop community-specific messaging. As of 2020, over 13,000 people in San Francisco are trained to spot an overdose and use naloxone to save someone's life."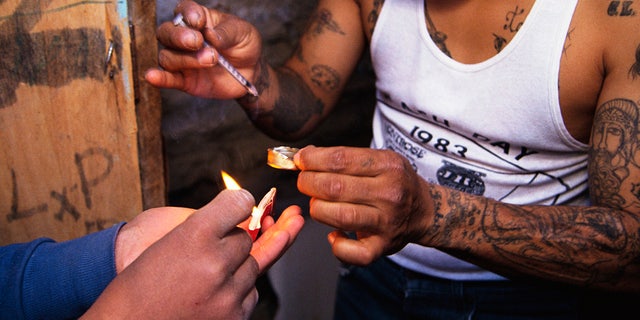 San Francisco Mayor London Breed declared a state of emergency in the city's Tenderloin district in 2021 in response to drug overdose deaths.
(Viviane Moos/Corbis/Corbis via Getty Images)
Similarly, Laura Guzman, the acting executive director for NHRC, said in a statement shared with Fox that "the Know Overdose Campaign was a collaborative effort by the SF Department of Public Health and the DOPE Project/NHRC to heighten awareness of overdose prevention given the slow but significant increases in overdose deaths by people who use drugs in San Francisco."
"The numbers of overdose deaths started to jump astronomically in SF after the introduction of fentanyl in our drug supply in 2018," Guzman said. "What this campaign did is promote overdose prevention education for communities most impacted by overdoses and deaths – people who use drugs who are BIPOC, LGBTQ+, etc., with key messaging from the very communities affected with expertise in the matter."
CLICK HERE TO GET THE FOX NEWS APP
San Francisco Mayor London Breed declared a state of emergency in the city's Tenderloin district in 2021 in response to drug overdose deaths.
Breed said the city had 650 overdose deaths in 2021 and at least 700 in 2020.
Fox News' Ashley Carnahan contributed to this article.