The squishy outer shell of Venus may be resurfacing the planet, according to researchers.
Using three-decade-old data from NASA's Magellan mission, agency scientists examined how Venus cools, finding that thin regions of the planet's uppermost layer may have an answer.
By making measurements of quasi-circular geological features on Venus called "coronae" in the Magellan images, the team concluded that coronae tend to be located where the planet's lithosphere is at its thinnest and most active.
A thin lithosphere allows more heat to escape from the planet's interior via buoyant plumes of molten rock rising to the outer layer, according to NASA. Where there's enhanced heat flow, there's increased volcanic activity below the surface, so coronae likely reveal locations where active geology is shaping Venus' surface.
EARTH-SIZED EXOPLANET DISCOVERED USING NASA DATA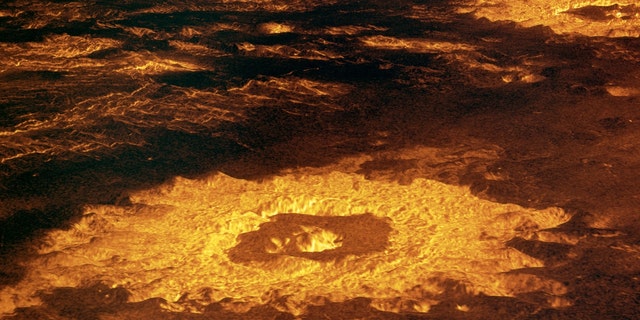 Three impact craters are displayed in this three-dimensional perspective view of the surface of Venus created with data from the probe Magellan. Visible are the Aglaonice, Howe and Danilova craters.  ((Photo by © CORBIS/Corbis via Getty Images))
Focusing on 65 unstudied coronae, the group measured the depth of the trenches and ridges around each one to calculate the thickness of the lithosphere surrounding them. They found that ridges are spaced closer together in areas where the lithosphere is more flexible. Using computer modeling, they determined that, on average, the lithosphere around each corona is about seven miles thick – much thinner than previous studies suggested.
The regions have an estimated heat flow that is greater than Earth's average, suggesting that coronae are geologically active.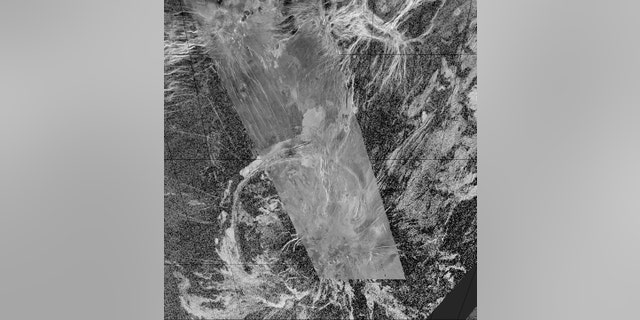 This composite radar image of Quetzalpetlatl Corona was created by overlaying data from about 70 orbits of NASA's Magellan mission into an image obtained by the Arecibo Observatory radio telescope in Puerto Rico. The rim of the corona indicates possible tectonic activity. (Credits: NASA/JPL-Caltech)
NEW HUBBLE TELESCOPE IMAGE OF SATURN REVEALS MYSTERIOUS FEATURES
"While Venus doesn't have Earth-style tectonics, these regions of thin lithosphere appear to be allowing significant amounts of heat to escape, similar to areas where new tectonic plates form on Earth's seafloor," Suzanne Smrekar, a senior research scientist at NASA's Jet Propulsion Laboratory, said in a statement. Smrekar led the study published in the journal Nature Geoscience.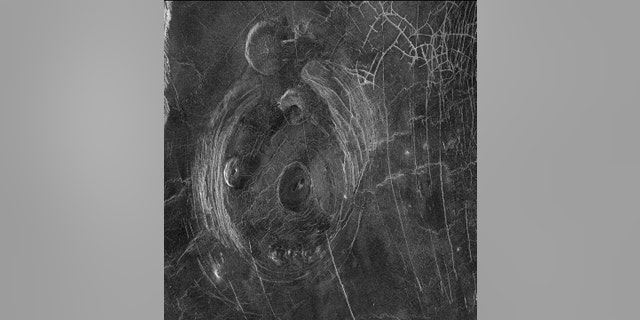 This radar image from NASA's Magellan mission shows circular fracture patterns surrounding the "Aine" corona, located in Venus' southern hemisphere. The corona is about 124 miles (200 kilometers) across and shows various features that may be associated with volcanic activity. (Credits: NASA/JPL-Caltech)
By counting the number of Venusian impact craters, scientists estimate that its surface is relatively young. Studies suggesting that Venus' youthful-looking surface is likely due to volcanic activity – driving regional resurfacing – are supported by the new research that indicates higher heat flow in coronae regions.
CLICK HERE TO GET THE FOX NEWS APP
"What's interesting is that Venus provides a window into the past to help us better understand how Earth may have looked over 2.5 billion years ago. It's in a state that is predicted to occur before a planet forms tectonic plates," Smrekar said.