Marking the one-year anniversary of President Biden and the Democrats' Inflation Reduction Act (IRA) on Wednesday, more than 40 energy groups and think tanks demanded that Congress put an end to what they described as "Green New Deal-type policies" in the law that serve to benefit China over the U.S.
The national nonprofit Power the Future released a report titled "Where Green Meets Red: How the Environmental Agenda is Making America Dependent on China," which targets Biden's green energy policies, including the IRA.
Power the Future also joined a letter signed by 41 other energy groups and think tanks saying the IRA includes "harmful energy and environmental provisions," and that legislators should push back against the law with "policy riders in appropriation bills and Congressional Review Act (CRA) resolutions of disapproval."
Daniel Turner, the founder and executive director of Power the Future, said American tax dollars from the IRA will inevitably go to Chinese companies due to China's dominance of rare earth metals.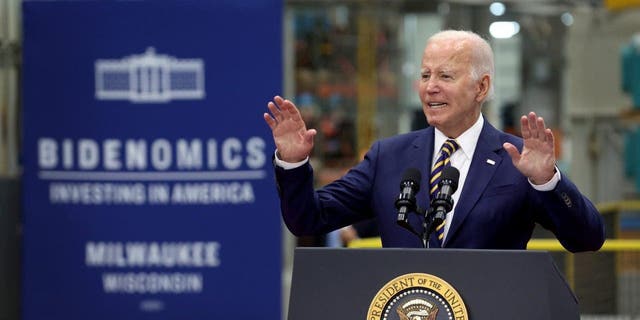 U.S. President Joe Biden speaks to guests at Ingeteam Inc., an electrical equipment manufacturer, on August 15, 2023, in Milwaukee, Wisconsin. (Scott Olson/Getty Images)
MANCHIN BACKTRACKS, DOWNPLAYS INVOLVEMENT IN INFLATION REDUCTION ACT AFTER CLAIMING HE 'WROTE' IT
"The billions in green handouts contained within the Inflation Reduction Act is a record-breaking payday for the Chinese communist party," Power the Future communications director Larry Behrens told Fox News Digital.
"It's appalling that American tax dollars will be used to support slave and child labor around the world while Joe Biden works overtime to destroy American energy jobs," he said. "Congress must act to defund the green handouts within the IRA and ensure that American energy is the priority."
Power the Future's report on China blasts a range of Democratic policies and puts forth a "five-part policy roadmap," which includes passing Wyoming Republican Sen. John Barrasso's "Supporting American Independence in Innovation Act," ending Biden's mining ban and overturning the EPA's EV mandates.
The letter to Congress, led by the Competitive Enterprise Institute (CEI), argued that "cronyism" and "irresponsible spending" are reason enough to dismantle the law, but even "more alarming are the IRA's provisions empowering the government to transform how energy is produced and used in this country."
"Americans shouldn't have to worry about whether their lights will turn on when they flick the switch," the letter read. "Yet this is what will happen as the government seeks to force a shift away from reliable sources of electricity and towards unreliable sources."
The letter argued that the IRA "presumes that the government should limit what kinds of cars Americans can buy and the types of appliances they can use."
"The push for electric vehicles (EVs) is especially illuminating. Most Americans don't want to buy EVs, and for good reason, based on their high costs and long charging times, among other problems," it continued. "Yet this apparently doesn't matter, nor do the genuine national security concerns from relying on countries like China for the minerals needed to produce EV batteries."
Daren Bakst, the director of CEI's Center for Energy and Environment, said the biggest cost hidden in the $739 billion IRA is to "our freedom."
"The federal government, through the IRA, is trying to kill off gas-powered vehicles and reliable energy, while ignoring the costs from doing so," Bakst said. "The law's massive handouts to special interests and its harm to consumers are bad enough. The biggest cost though is to our freedom."
"Legislators need to use everything in their arsenal to dismantle these policies contained in the IRA, a law that didn't secure a single Republican vote," he said.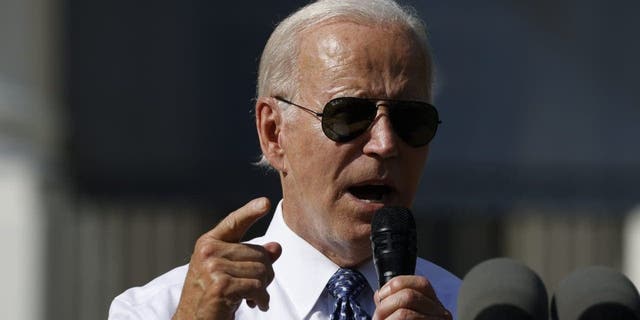 US President Joe Biden speaks during an Inflation Reduction Act event on the South Lawn of the White House in Washington, D.C., US, on Tuesday, Sept. 13, 2022. (Samuel Corum/Bloomberg via Getty Images)
Biden admitted last week that Democrats' signature Inflation Reduction Act wasn't as much about reducing inflation as he originally billed it to the American people.
"I wish I hadn't called it that. It has less to do with reducing inflation than it does providing for alternatives that generate economic growth," Biden said in Park City, Utah.
"And so, we're now in a situation where if you take a look at what we're doing in the Inflation Reduction Act, we're literally reducing the cost of people being able to make their — meet their basic needs," he said.
Meanwhile, Sen. Joe Manchin, D-W.Va., attempted to downplay his involvement in the IRA's creation, saying last month that he only provided "input" for the bill after previously taking credit for writing it.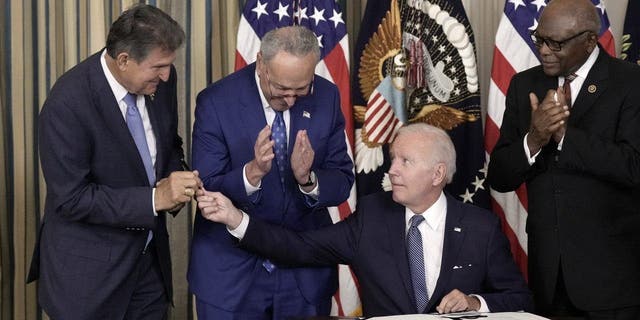 U.S. President Joe Biden (C) gives Sen. Joe Manchin (D-WV) (L) the pen he used to sign The Inflation Reduction Act with Senate Majority Leader Charles Schumer (D-NY) and House Majority Whip James Clyburn (D-SC) in the State Dining Room of the White House August 16, 2022 in Washington, DC. (Photo by Drew Angerer/Getty Images)
On Wednesday, Manchin released a statement blasting the Biden administration for seeking to undermine the law's intended goal of achieving energy security.
"With respect to energy security, and contrary to those in the Biden Administration who seek to undermine this goal, this law re-established an all-of-the-above energy policy and empowered the growth of fossil fuels and renewables," Manchin said. "If implemented as designed the IRA will ensure that all Americans have more reliable and more affordable power for years to come. Just in West Virginia, the groundbreaking for Form Energy in Weirton and BHE Renewables in Jackson County will not only create hundreds of good-paying jobs, it will help spark a new era of American manufacturing and innovation."
CLICK HERE TO GET THE FOX NEWS APP
"Make no mistake, the IRA is exactly the kind of legislation that in normal political times both political parties would proudly embrace because it is about putting the interests of Americans and West Virginians first," he continued. "Going forward I will push back on those who seek to undermine this significant legislation for their respective political agenda, and that begins with my unrelenting fight against the Biden Administration's efforts to implement the IRA as a radical climate agenda instead of implementing the IRA that was passed into law."