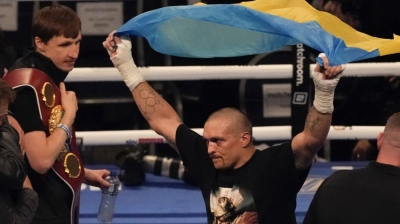 Video Ad Feedback
'It's my duty': World heavyweight boxing champ returns to Ukraine to fight

02:05

– Source:
CNN

International sport videos
16 videos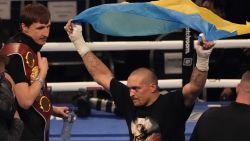 Video Ad Feedback
'It's my duty': World heavyweight boxing champ returns to Ukraine to fight
02:05

Now playing
– Source:
CNN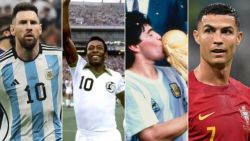 Video Ad Feedback
Watch: Expert answers who the GOAT of soccer is
02:47

Now playing
– Source:
CNN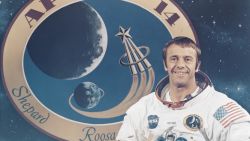 Video Ad Feedback
The incredible true story of the time an astronaut played golf on the moon
03:22

Now playing
– Source:
CNN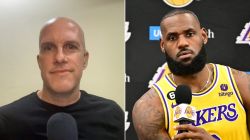 Video Ad Feedback
Hear LeBron James react to death of sports writer Grant Wahl
02:58

Now playing
– Source:
CNN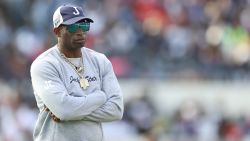 Video Ad Feedback
Deion Sanders receives backlash for leaving HBCU for Colorado
03:41

Now playing
– Source:
CNN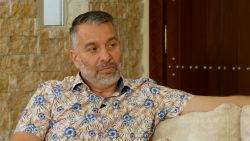 Video Ad Feedback
Grant Wahl's housemate Guillem Balagué pays tribute to US journalist
05:58

Now playing
– Source:
CNN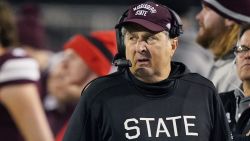 Video Ad Feedback
Mississippi State head football coach dead at 61
00:45

Now playing
– Source:
CNN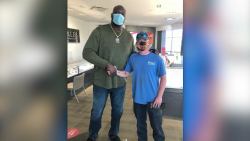 Video Ad Feedback
Shaq explains why he paid off customer's engagement ring
00:39

Now playing
– Source:
HLN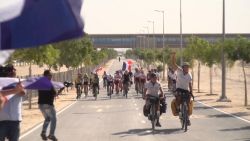 Video Ad Feedback
They cycled more than 4000 miles by bike to see the World Cup
01:58

Now playing
– Source:
CNN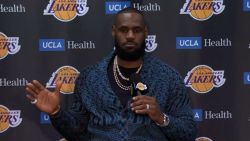 Video Ad Feedback
'Why haven't I got a question about Jerry Jones': LeBron calls out reporters
04:36

Now playing
– Source:
CNN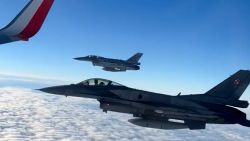 Video Ad Feedback
Watch F-16s escort the Polish soccer team to the World Cup
00:47

Now playing
– Source:
CNN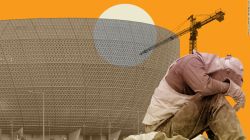 Video Ad Feedback
The Qatar World Cup's migrant worker dilemma
04:31

Now playing
– Source:
CNN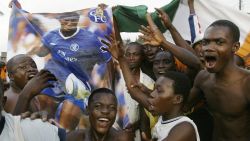 Video Ad Feedback
Didier Drogba: My World Cup memory
01:22

Now playing
– Source:
CNN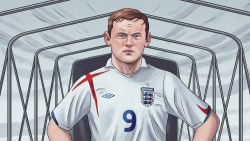 Video Ad Feedback
Wayne Rooney: My World Cup memory
00:39

Now playing
– Source:
CNN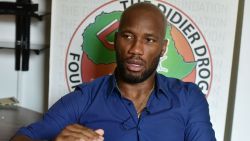 Video Ad Feedback
'I believe movement is life,' says Chelsea and Ivory Coast legend Didier Drogba
06:48

Now playing
– Source:
CNN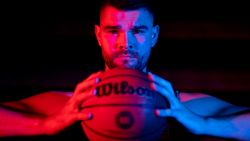 Video Ad Feedback
'Truth is that I'm gay': Isaac Humphries comes out as the only openly gay man playing top-flight basketball
09:19

Now playing
– Source:
CNN

See More Videos

CNN
—
Heavyweight boxing world champion Oleksandr Usyk said he didn't want to leave Ukraine amid the ongoing war but was urged by injured Ukrainian soldiers to "fight for the country" in his rematch against Anthony Joshua.
Usyk returned to Ukraine, took up arms and joined a territorial defense battalion in Kyiv following Russia's invasion of his homeland and spent weeks helping out in the war efforts.
Back in March, the Ukrainian sports minister said Usyk would be granted permission to return to training in the lead up to his fight with Joshua, but still the 35-year-old was reluctant.
"I really didn't want to leave our country, I didn't want to leave our city," Usyk told reporters, per Reuters. "I went to the hospital where soldiers were wounded and getting rehabilitation from the war.
"They were asking me to go, to fight, to fight for the country, fight for your pride and if you're going to go there, you're even going to help more for our country.
"I know a lot of my close people, friends, close friends, are right now in the front line and fighting. What I'm doing right now, I'm just supporting them, and with this fight, I wanted to bring them some kind of joy in between what they do."
READ: 'This is not saving, this is destruction' – Ukrainian MMA champion Yaroslav Amosov recounts the horrors of war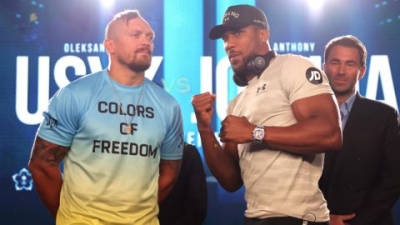 Anthony Joshua and Oleksandr Usyk face off during a press conference in London.
Alex Pantling/Getty Images Europe/Getty Images
Usyk stunned the world last September when he completely outfought and outclassed Joshua in his own back yard to take the WBA, WBO, IBF and IBO belts. On Wednesday, the rematch was confirmed for August 20 in Saudi Arabia.
Nothing could prepare Usyk for what he would face in the coming months and he says he was worried he wouldn't make it back.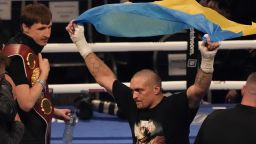 Oleksandr Usyk of Ukraine celebrates after his unanimous decision victory over Anthony Joshua of Britain in their WBA (Super), WBO and IBF boxing title bout at the Tottenham Hotspur Stadium in London, Saturday, Sept. 25, 2021. Former heavyweight champions Vitali and Wladimir Klitschko are leading some of the resistance from the mayor's office in beleaguered Kyiv. Two-time Olympic champion Vasiliy Lomachenko has an assault rifle and a place in a defense force, and current heavyweight champion Aleksandr Usyk rushed back home to take up arms against the Russians. Ukraine's rich boxing community is determined to fight, this time with guns instead of their fists. (AP Photo/Frank Augstein, File)
Frank Augstein/AP
Oleksandr Usyk: 'My soul belongs to the Lord and my body and my honor to my country,' says heavyweight champion after joining Ukrainian defense battalion
"Every day, I was praying and I was asking God: 'Please God, don't let anybody to try to kill me,'" Usyk said. "'Please don't let anybody to shoot me. And please don't let me to shoot anybody, any other person.'"
Usyk spoke to CNN back in March via a video link from a basement in Kyiv and said that it wasn't just invading forces he needed to look out for, but looters as well. He said that he was prepared to take a life, if necessary.
"If they will want to take my life, or the lives of my close ones, I will have to do it," he said. "But I don't want that. I don't want to shoot, I don't want to kill anybody, but if they will be killing me, I will have no choice."
Usyk's manager, Egis Klimas, helped coordinate the interview and translated for Usyk, who doesn't speak English. Despite the terrifying situation that many Ukrainians now find themselves in, Usyk said that he wasn't afraid.
"Maybe, it'll sound sentimental," he explained, "but my soul belongs to the Lord and my body and my honor belong to my country, to my family. So there is no fear, absolutely no fear. There's just bafflement – how could this be in the 21st century?"