New York City Mayor Eric Adams headed to El Paso this weekend to visit the U.S.-Mexico border as his city has become overwhelmed with thousands of migrants that have been bused north in recent months, straining public resources to their limits.
After arriving in El Paso Saturday evening, Mayor Adams called the surge of migrants a "national crisis" that demands a national solution.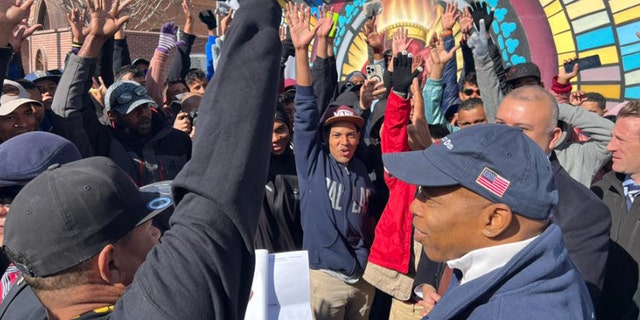 NYC Mayor Eric Adams meets with a group of asylum seekers outside Sacred Heart Church in El Paso, Texas. 
(Fabien Levy)
Adams said that he and El Paso Mayor Oscar Leeser were "on the front lines, and we need federal support."
The visit came after the city submitted an emergency mutual aid request to New York State for help to shelter arriving asylum seekers.
GEORGE SOROS-BACKED OPEN BORDER GROUP SUING DESANTIS OVER MIGRANT FLIGHTS VIOLATES FEDERAL TAX LAWS: REPORT
"We are now seeing more people arrive than we have ever seen – averaging over 400 people each day this last week, with 835 asylum seekers arriving on one single day alone, the largest single-day arrival we've seen to date," Adams said in a statement. "All this is pushing New York City to the brink."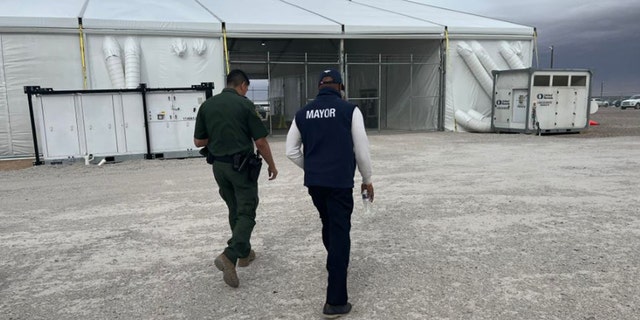 NYC Mayor Eric Adams visits a CBP processing facility. 
(Fabien Levy)
The city reportedly received more than 3,100 asylum seekers in the past week, with 835 arriving last Thursday alone.
Since the spring of 2022, Adams noted that the city had taken in around 40,000 asylum seekers, opening 74 emergency shelters and four humanitarian relief centers.
TEXAS MEN ARRESTED NEAR MEXICO BORDER AFTER TROOPER FINDS ILLEGAL IMMIGRANTS IN TRUNK OF CAR
Mayor Adams told Caribbean Power Jam Radio on Friday he expected the influx of migrants to cost the city as much as $2 billion.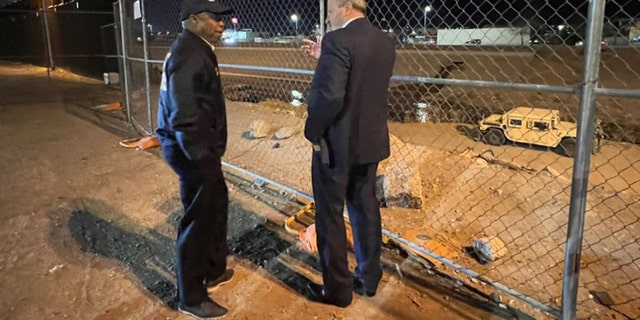 NYC Mayor Eric Adams and El Paso Mayor Leeser visit an area where asylum seekers are known to cross the border. 
(Fabien Levy)
Adams' press secretary said Friday the mayor's trip to El Paso will include "multiple stops at and near the U.S. southern border" as the city "continues to face an unprecedented influx" of asylum-seekers.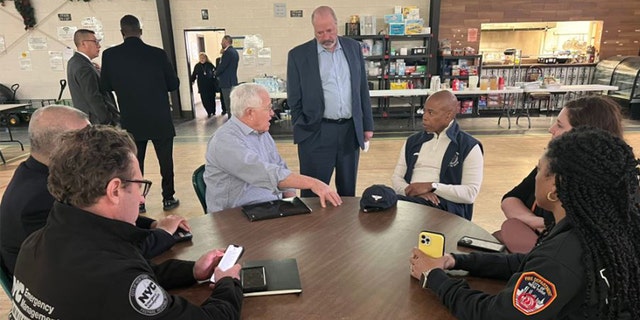 NYC Mayor Eric Adams meets with faith leaders at Sacred Heart Church to discuss the border crisis. 
(Fabien Levy)
Levy said Adams visited the Office of New Americans-El Pasto County, Texas "to learn about what they are hearing from arriving seekers."
"The reality of the situation is these migrants are being promised things before they cross the border that are just not available," Levy said.
BORDER CRISIS: 3 GIRLS ABANDONED NEAR RIO GRANDE, MEXICAN OFFICIALS MAKE RESCUE
Levy said the mayor arrived in El Paso Saturday night. A post shows Adams and Leeser taking an "impromptu visit to an area where asylum seekers have been known to cross the border, as well as an area where many asylum seekers are sleeping."
Levy also shared a video of Mayors Adam and Leeser stopping by El Paso's Healing Garden and the memorial at Walmart to pay respects to the nearly two dozen migrants murdered in 2019 "in a racist, anti-immigrant shooting."
Another video from Levy shows Adams speaking with asylum seekers outside Sacred Heart Church. Levy said the migrants "overwhelmingly" raised their hands to tell the mayor they want to work.
A few reportedly told The New York Post they wanted the mayor to "take me with you" back to New York when asked what their message to Adams would be.
CLICK HERE TO GET THE FOX NEWS APP
The mayor's visit has drawn comparisons to President Biden's brief visit to El Paso to see the U.S.-Mexico border. In the span of about four hours, the president walked a stretch of the border and inspected a busy port of entry where border officers demonstrated how they search vehicles for drugs, money, and other contraband. Still, many critics chided the president for not visiting areas most impacted by illegal border crossings.
Fox News' Julia Musto contributed to this report.