In his remarks celebrating the birthday of the Rev. Martin Luther King Jr., President Biden repeated the questionable claim that he frequented a Black church during the civil rights movement.
Biden gave a speech at King's historic Ebenezer Baptist Church in Atlanta Sunday on what would have been the slain civil rights icon's 94th birthday. The president opened his remarks by repeating a claim – connecting himself to the civil rights movement – that has been disputed repeatedly in the past.
"Let's lay one thing to rest. I may be a practicing Catholic, but used to go to 7:30 Mass every morning in high school and then in college, before I went to the Black church," Biden said. "Not a joke. Andy knows this."
"Andy, it's so great to see you, man," the president continued, addressing former U.N. Ambassador and former Southern Christian Leadership Conference executive director Andrew Young. "You're one of the greatest we've ever had. Andy and I took on apartheid in South Africa and a whole lot else. They didn't want to see him coming. But we used to – that's when we would organize to march and to desegregate the city."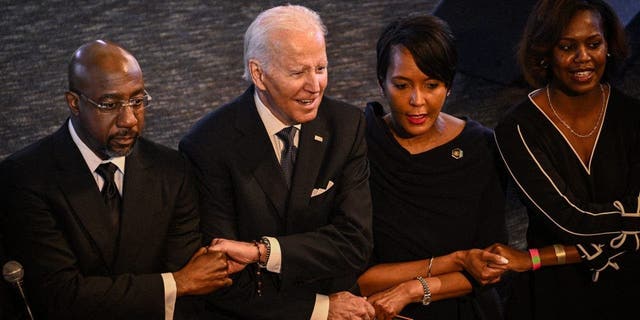 President Joe Biden holds hands with Sen. Raphael Warnock, the pastor at Ebenezer Baptist Church, during a worship service in Atlanta, Georgia, on Jan. 15, 2023, the eve of the national holiday honoring Martin Luther King Jr.
(Brendan Smialowski/AFP via Getty Images)
BIDEN SAYS HOUSE BURNED 'WITH MY WIFE IN IT,' ADDING TO LONG LIST OF EMBELLISHED STORIES
During his 2020 presidential campaign, Biden frequently mentioned how he would help organize anti-segregation protests at Union Baptist Church, a prominent Black church led by the late Rev. Otis Herring in Wilmington, Delaware.
"When I was a teenager in Delaware, for real, I got involved in the civil rights movement," Biden said at the Bethlehem Baptist Church in South Carolina in January 2020. "I'd go to 8 o'clock Mass, then I'd go to Rev. Herring's church where we'd meet in order to organize and figure where we were going to go, whether we were going to desegregate the Rialto movie theater or what we were going to do."
While Richard "Mouse" Smith, the former president of the Delaware NAACP, defended Biden in a 2019 op-ed, claiming, "We know Joe as the ally who was there beside us to protest the Rialto Theater's discriminatory policy to segregate moviegoers based on race," his claim about attending Herring's church was disputed.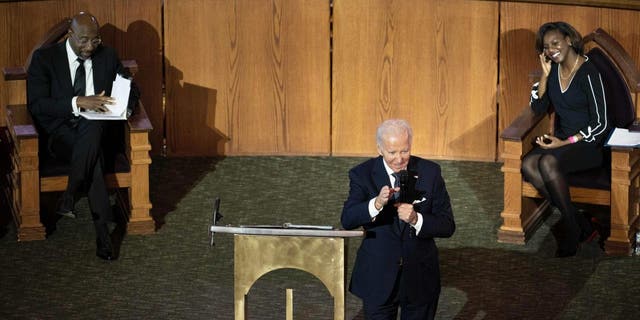 President Joe Biden delivers a sermon at Ebenezer Baptist Church in Atlanta, Georgia, on Jan. 15, 2023.
(Brendan Smialowski/AFP via Getty Images)
BIDEN REPEATS DEBUNKED AMTRAK STORY FOR FIFTH TIME DURING PRESIDENCY
Longtime congregants told the Washington Free Beacon at the time that they didn't recall Biden attending the church. The revelation came about the same time Biden was forced to admit his repeated claims about being arrested with Young in apartheid-era South Africa were untrue.
"I was never arrested and I don't think [Biden] was, either," Young said at the time.
"I guess I wasn't arrested, I was stopped," Biden admitted.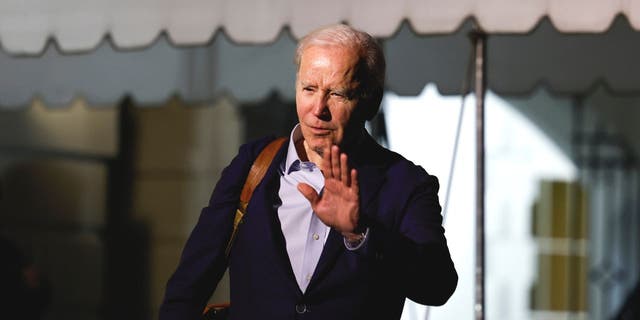 President Joe Biden walks to speak to reporters as he and first lady Jill Biden leave the White House on Dec. 27, 2022.
(Anna Moneymaker)
Biden also acknowledged in the 1980s that he was not a civil rights activist and never marched during the movement.
"During the '60s, I was, in fact, very concerned about the civil rights movement," Biden, who was running for president at the time, said during a speech in 1987. "I was not an activist. I worked at an all-Black swimming pool in the east side of Wilmington, Delaware. I was involved in what they were thinking, in what they were feeling."
"But I was not out marching, I was not down in Selma," he continued. "I was not anywhere else."
Biden's speech Sunday at Ebenezer comes as he is embroiled in controversy over the alleged mishandling of Obama-era classified documents.
CLICK HERE TO GET THE FOX NEWS APP
Attorney General Merrick Garland on Thursday announced the appointment of a special counsel to investigate how the president handled classified documents after leaving the vice presidency in 2017. The White House on Saturday revealed that five additional classified records were found at Biden's home in Wilmington.
Biden was invited to Ebenezer by Democratic Sen. Raphael Warnock, the senior pastor.
The White House did not respond to Fox News Digital's request for comment.
Fox News' Thomas Catenacci and The Associated Press contributed to this report.