President Biden's longtime Wilmington, Delaware, residence has become a focal point of recent revelations that the classified documents were stored in the president's garage, where numerous individuals have visited over the years.
The Wilmington files are the latest batch of Obama-era classified documents found among Biden's personal possessions. The revelations came just three days after the White House confirmed the existence of similar classified material in the president's office at the Penn Biden center in Washington, D.C.
On Thursday, Biden sparred with Fox News' Peter Doocy when pressed on the whereabouts of the Wilmington files, confirming that classified documents, along with his Corvette, were stored in a locked garage.
"And by the way my Corvette is in a locked garage. It's not like it's sitting out in the street," Biden added.
As speculation swirls over the Wilmington classified files, here is who might have had access to the garage in question.
MORE CLASSIFIED DOCUMENTS FOUND IN BIDEN'S DELAWARE GARAGE, WHITE HOUSE REVEALS
Hunter Biden
Though it is still unclear when the Obama-era classified files were placed in the president's garage, Hunter Biden appeared to reside at his parent's Wilmington home during 2018 and 2019 — two years after the Obama administration left the White House.
Hunter Biden.
(Kevin Lamarque)
A scan of Hunter Biden's laptop files shows the president's son was issued a Delaware license in May 2018, listing his father's Wilmington home as his primary residence, the Washington Free Beacon first reported.
The scandal-embroiled Hunter Biden also appeared to change his banking address to the Wilmington home in December 2018, as well as listing the address in the billing information for several purchases throughout 2019, Fox News reported.
Hunter Biden may have accessed his father's garage while Biden was serving out his second term as vice president.
In October 2016, Biden appeared on the premiere of "Jay Leno's Garage," a YouTube series where television personality Jay Leno teams up with celebrities to chat cars. Then-Vice President Biden suggested that his two sons accessed the garage at least once when upgrading the engine of his prized 1967 Chevrolet Corvette.
"My two sons, Beau, who passed away, and my son Hunter decided as a Christmas gift to have the engine rebuilt for me," Biden told Leno.
EMAILS SUGGEST HUNTER BIDEN HAD ACCESS TO GARAGE WHERE PRESIDENT KEPT CLASSIFIED DOCS, CORVETTE
Biden's presidential and campaign staff
With the onset of the COVID-19 pandemic, Biden converted the basement of his Wilmington residence into a de facto campaign headquarters in March 2020.
Biden frequently hosted virtual events from his residence long after then-President Trump resumed in-person rallies and fundraisers on the 2020 campaign trail.
As president, Biden has continued to spend considerable time in his home state, staying in Delaware approximately 194 days so far in his first term, either at his Wilmington or Rehoboth Beach residences, according to an Associated Press tally.
On these weekend visits, the president is typically accompanied by a full security detail and his top aides.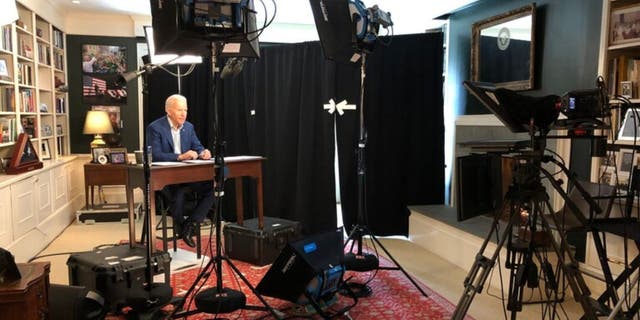 President Biden converted his Wilmington basement into a de facto campaign headquarter with the onset of the COVID-19 pandemic.
(Biden for President)
Though Biden confirmed his garage is locked, it is unclear whether this area of the residence is off limits for use by his staff or if staff could have accessed the garage from inside the house.
Many questions remain unanswered on the exact whereabouts of the classified files, when they were placed in the garage and who might have had access outside of Biden's family and staff.
Though Republicans continue to press the White House to release a visitor log of Biden's Wilmington residence, it is unclear whether a log even exists, adding further obscurity to the situation. White House press secretary Karine Jean-Pierre also dodged questions on whether a visitor log would be made public.
CLICK HERE TO GET THE FOX NEWS APP
"I'm going to get the chance to speak on all of this, God willing it'll be soon," Biden said Thursday.