close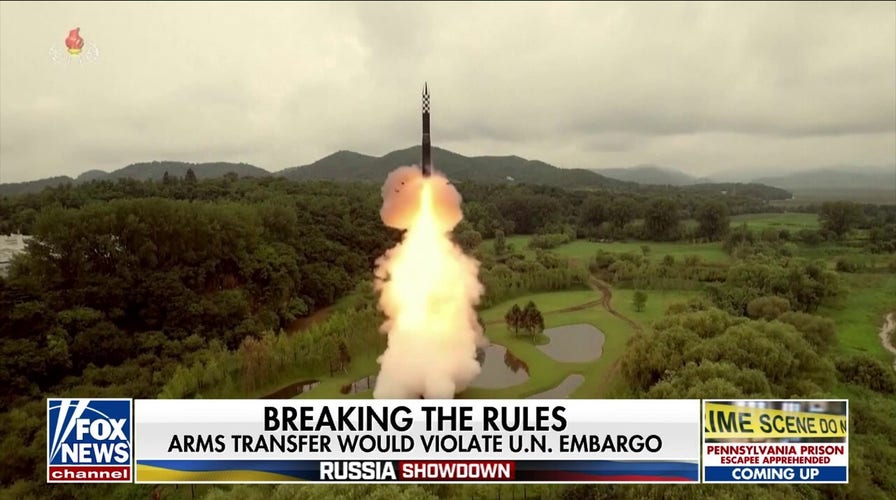 Video
North Korean leader meets with Vladimir Putin in Siberia
FOX News' Greg Palkot reports on Kim Jong Un's trip to Russia.
Railway traffic across the border of North Korea and Russia has surged since last month with unknown cargo.
US-based Korean unification think tank Beyond Parallel examined satellite imagery of railcars and transportation facilities between the two countries and found traffic "far greater" than any point in the last five years.
"In the aftermath of the Kim-Putin summit, satellite images as of October 5, 2023, captured a dramatic and unprecedented level of freight railcar traffic at North Korea's Tumangang Rail Facility located on the North Korea-Russia border," Beyond Parallel wrote in a report published Friday.
RUSSIA'S TURN TO NORTH KOREA FOR MUCH-NEEDED AMMO A 'LAST RESORT' IN UKRAINE CONFLICT: 'HITTING THE DREGS'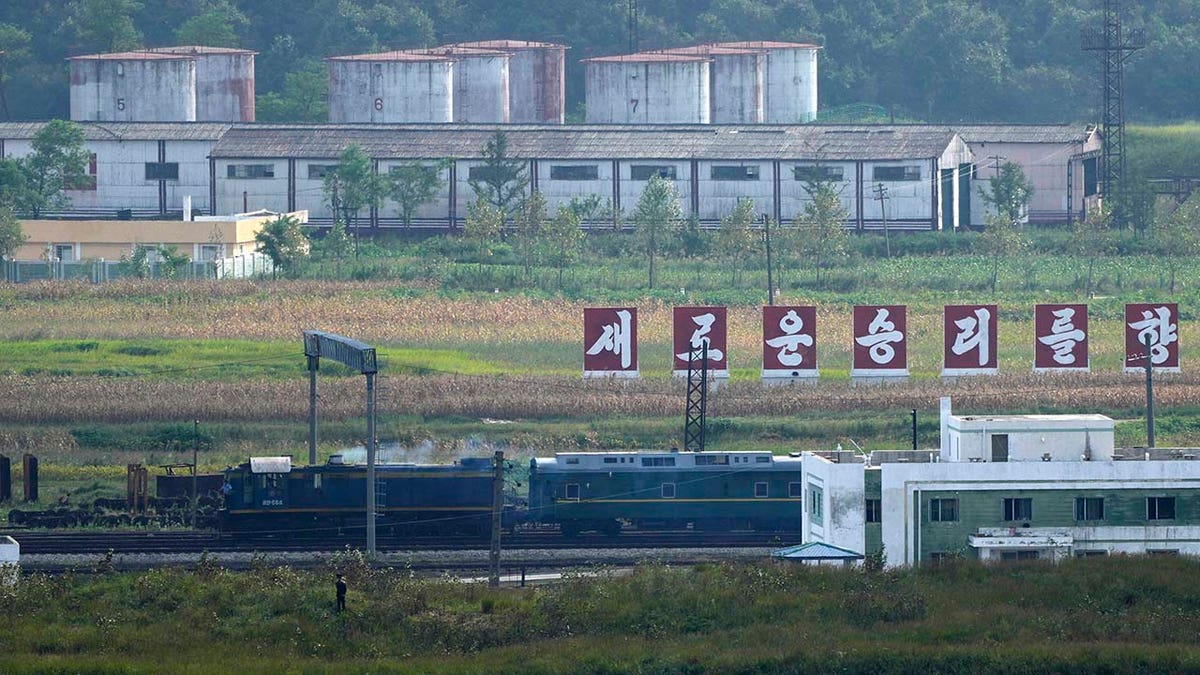 A green train with yellow trimmings, resembling one used by North Korean leader Kim Jong Un on his previous travels, is seen steaming by a slogan which reads "Towards a new victory" on the North Korea border with Russia and China seen from China's Yiyanwang Three Kingdoms viewing platform in Fangchuan in northeastern China's Jilin province. (AP Photo/Ng Han Guan)
The report continued, "In light of a U.S. government official's statement yesterday that North Korea has begun transferring artillery to Russia, it is probable that these shipments are to support Russia in its war with Ukraine."
A steady increase of freight cars has been observed at Tumangang Rail Facility in North Korea.
Approximately 73 railcars have been documented, compared to the maximum 20 previously documented at any given time over the past five years.
RUSSIAN COMMANDER PURPORTEDLY SEEN IN VIDEO FROM STATE MEDIA AFTER UKRAINE DECLARED HIM KILLED IN STRIKE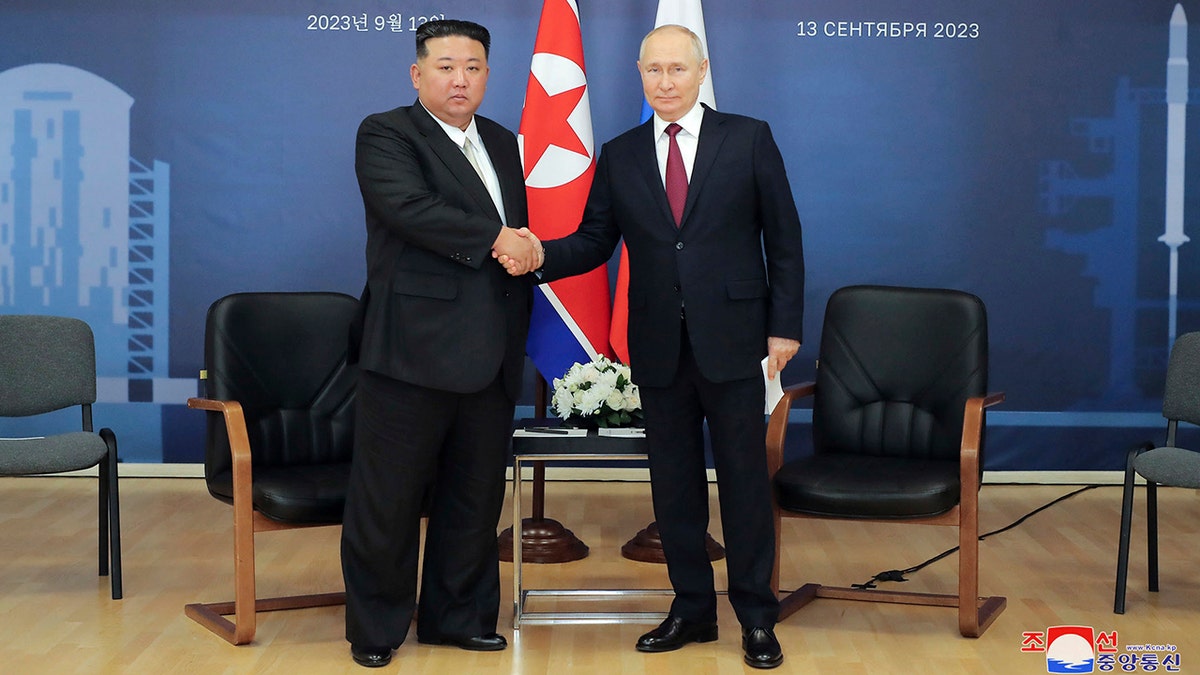 In this photo provided by the North Korean government, North Korean leader Kim Jong Un, left, and Russian President Vladimir Putin shake hands before their talk at the Vostochny cosmodrome in the far eastern Amur region of Russia. (AP/Korean Central News Agency)
"Given that Kim and Putin discussed some military exchanges and cooperation at their recent summit, the dramatic increase in rail traffic likely indicates North Korea's supply of arms and munitions to Russia," Beyond Parallel claimed.
However, extensive use of tarps and freight coverings have intentionally obscured the contents of the cargo shipments between the two nations.
Putin this month hosted North Korean leader Kim Jong Un to discuss a potential arms deal, though neither leader signed any formal agreement by the end of the six-day trip. North Korea would reportedly receive advanced weapons technology and food supplies from Russia in exchange for more ammo and artillery.
CLICK HERE FOR THE FOX NEWS APP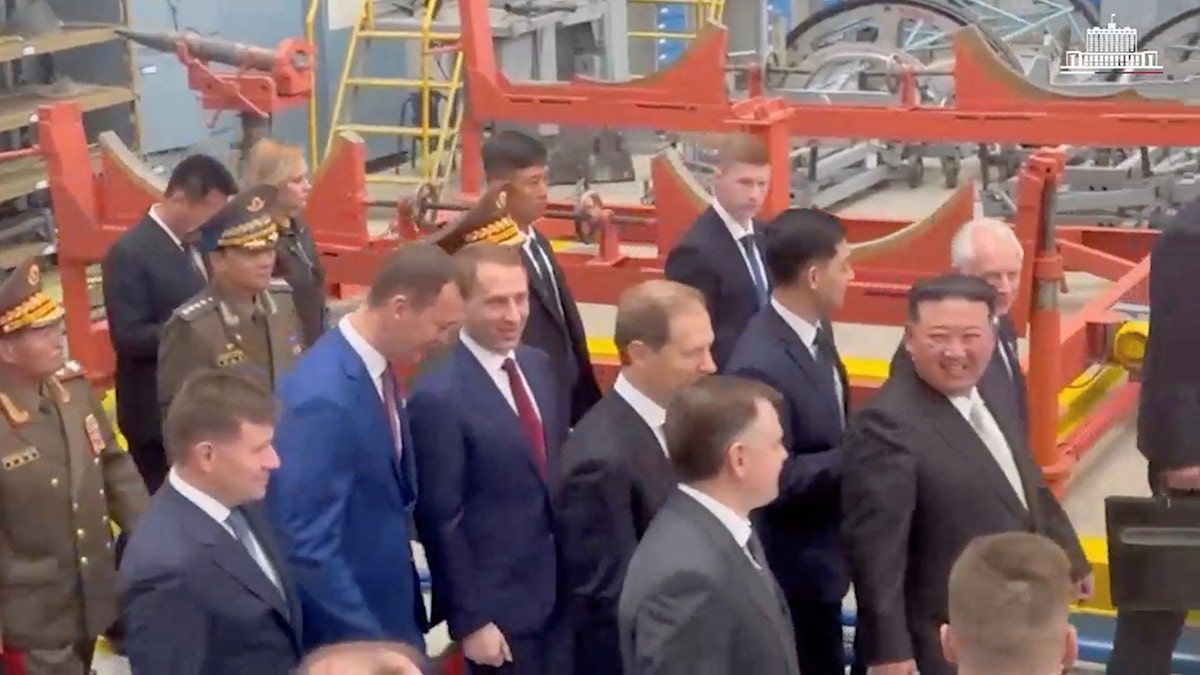 North Korean leader Kim Jong Un visiting a plane manufacturing facility as part of his tour of Russia last month. (Government of Russia via Telegram/Handout via Reuters)
North Korea's potential partnership with Russia, which would see the country supply Moscow with much-needed munitions, is likely to make little impact in the ongoing Ukraine conflict, experts told Fox News Digital.
"If you're going to North Korea for help, you're kind of hitting the dregs," said Seth Jones, director of both the International Security Program and Transnational Threats Project at the Center for Strategic and International Studies. "North Korea is a desperate country. It's been sidelined by pretty much everybody, it's got massive famine in the country – if you're going to the North Koreans for help, this is a last resort."
Moscow's invasion of Ukraine, which is about to enter its 20th month, has consumed a vast amount of munitions and destroyed significant numbers of heavy artillery on both sides, driving both Russian President Vladimir Putin and Ukrainian President Volodymyr Zelenskyy to find any additional support they can in order to last longer than the other side.
Fox News Digital's Peter Aitken contributed to this report.
Timothy Nerozzi is a writer for Fox News Digital. You can follow him on Twitter @timothynerozzi and can email him at [email protected]