close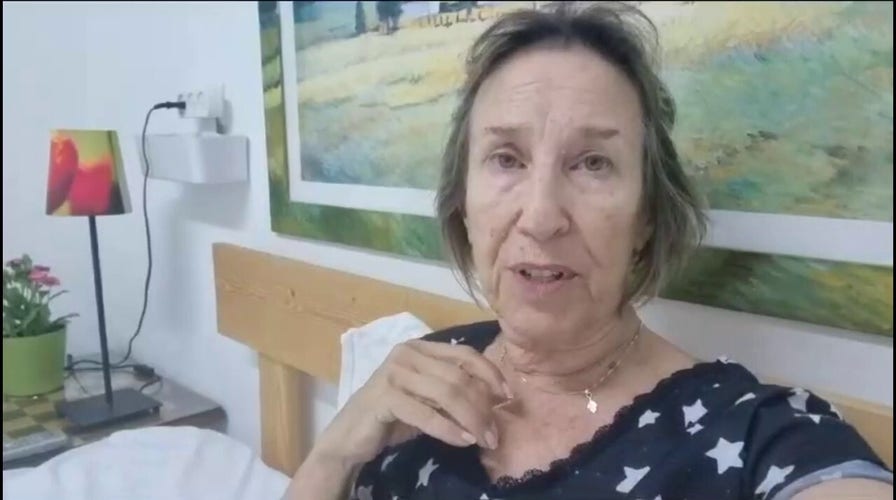 Video
Eyewitness account by Israeli woman as community is attacked by terrorists
Adele Raemer, a resident of Kibbutz Nirim locked herself in her house with terrorists outside her house trying to break in. (TPS News Agency)
JERUSALEM, Israel – When Adele Raemer heard sirens wailing early on Saturday morning, she thought it was just another round of rocket fire from militant Palestinian groups inside Gaza. Used to such attacks, which happen regularly in southern Israel, Raemer quickly made her way to the safe room in her home on Kibbutz Nirim.
Residents of Nirim, and other similar small agricultural communities that sit along Israel's border with Gaza, have become used to barrages of rocket fire, and running to their reinforced safe rooms for cover or even sleeping in them since the Hamas terrorist group forcibly took over Gaza after Israel withdrew unilaterally from the Palestinian enclave in 2005.
"My son is visiting for the weekend," Raemer told Fox News Digital in a phone call on Saturday afternoon. "I woke him up and we went into the safe room, waiting for the all-clear to leave."
Raemer said that after hearing a massive barrage of rockets overhead, she received a text message telling Nirim residents to lock all the doors and windows of their homes and stay inside their safe room until further notice.
AT LEAST 100 DEAD AS HAMAS LAUNCHES UNPRECEDENTED ATTACK ON ISRAEL, NETANYAHU SAYS NATION IS 'AT WAR'
Rockets into Israel from Gaza Strip (Photos Majdi Fathi/TPS)
"We've been here ever since," Raemer, a U.S. citizen who moved to Nirim in 1975, said. "I've only been out only twice to use the bathroom and get us some water. We've eaten nothing all day."
Raemer, who is hard of hearing, said that when she went out to get the water, she saw that the windows in her living room had been smashed. Her son, she said, reported hearing loud voices outside speaking Arabic and both of them heard multiple rounds of gunfire, in addition to more sirens and rocket attacks.
Nirim was one of multiple Israeli communities along the border that were infiltrated on Saturday morning in a well-planned and coordinated attack by Palestinian terrorists that appeared to have taken the Israeli military by total surprise. Magen David Adom, Israel's first aid agency, was reporting that at least 100 people have been killed so far, and hundreds injured.
"I am assuming that the massive rocket attack was designed to hide the infiltrators, while the army was busy dealing with the rockets they came into Israeli territory," said Raemer.
ISRAEL QUIETLY ARMS AZERBAIJAN IN THE RECAPTURE OF SEPARATIST REGION NAGORNO-KARABAKH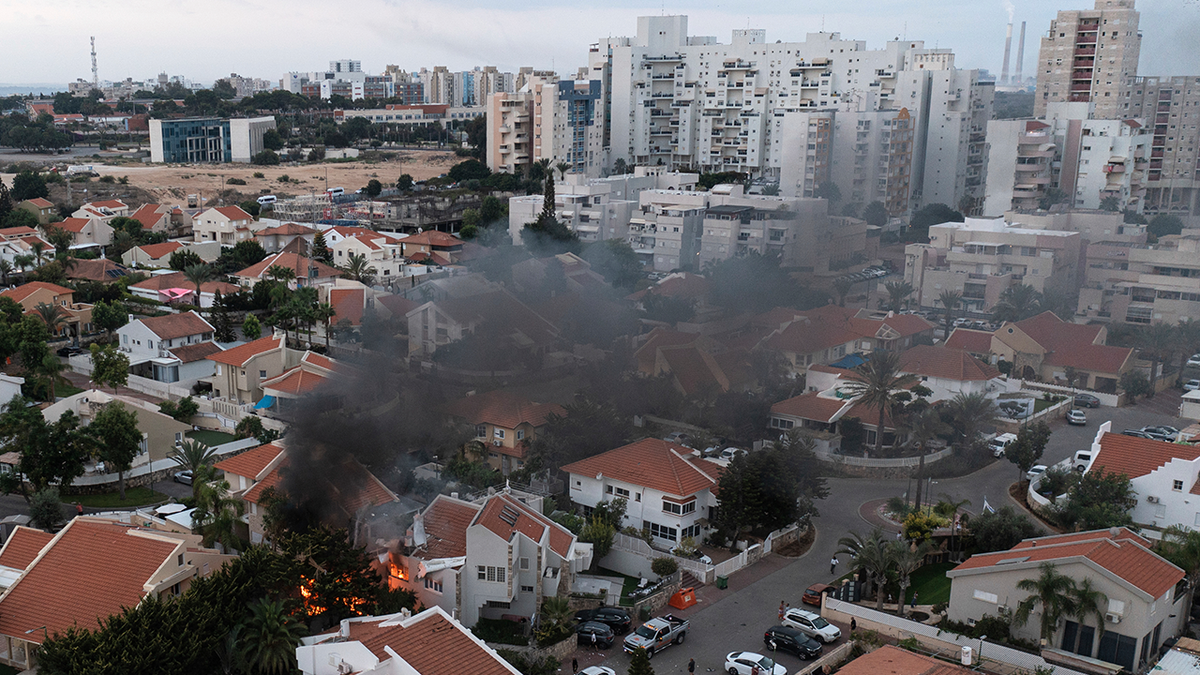 Smoke rises after a rocket fired from the Gaza Strip hit a house in Ashkelon, southern Israel, Saturday, Oct. 7, 2023. The rockets were fired as Hamas announced a new operation against Israel. (AP)
Unconfirmed video footage shared on social media by Hamas and other Palestinian sources, showed armed Palestinian militants paragliding over Israel's high-tech border fence and landing via the sea into Israel. Others showed tractors and bulldozers tearing down the fence, with groups of Palestinian terrorists infiltrating not only the small farming communities like Nirim but also nearby Israeli towns such as Sderot and Ofakim.
Eight hours after the attack began, the Israeli military and local news sources reported that there were still whole communities being held hostage by the Palestinian terrorists, including 50 men, women, and children on Kibbutz Be'eri.
Israeli news channels switched to emergency news coverage, interviewing some of the hostages live on television, who reporting losing contact with family members who were taken away by the terrorists and others who said homes were set on fire in attempt to smoke out the residents.
ISRAEL AMBASSADOR WARNS UN 'CONTAMINATED' BY ANTISEMITISM, SAYS PEACE WITH SAUDIS CAN 'TRANSFORM' REGION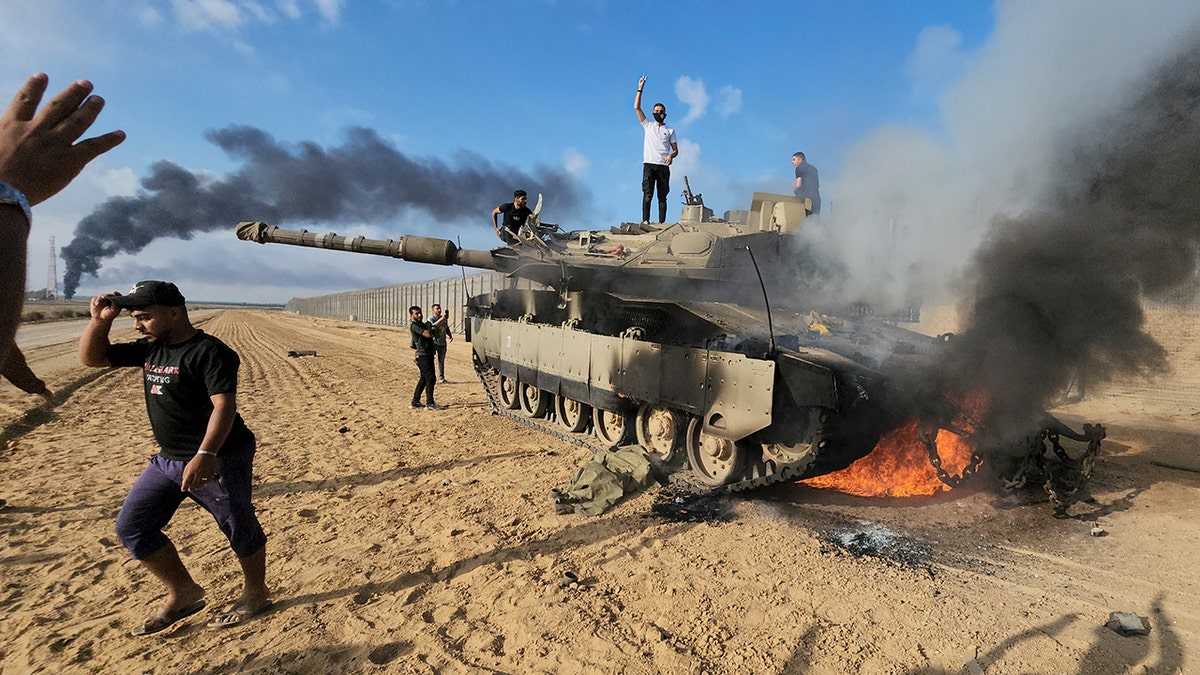 Palestinians celebrate by a destroyed Israeli tank at the Gaza Strip fence east of Khan Younis southern Saturday, Oct. 7, 2023. The militant Hamas rulers of the Gaza Strip carried out an unprecedented, multi-front attack on Israel at daybreak Saturday, firing thousands of rockets as dozens of Hamas fighters infiltrated the heavily fortified border in several locations by air, land, and sea and catching the country off-guard on a major holiday.  (AP Photo/Hassan Eslaiah)
Elsewhere along the border, thousands of young Israelis who were attending a trance party reported being attacked with RPG rocket launchers and automatic rifles by a Hamas cell. Unconfirmed video clips showed groups of partygoers being taken prisoner by the Hamas terrorists, including some riding through Gaza with dead bodies.
According to residents in the area, including Raemer, the army was slow in reaching the communities even as civilians hunkered down inside their homes hiding from the terrorists.
"We knew there were terrorists running around the kibbutz," said Raemer. "My neighbors have been sending out messages detailing how the terrorists have been running around smashing cars and trying to break into homes."
CLICK HERE TO GET THE FOX NEWS APP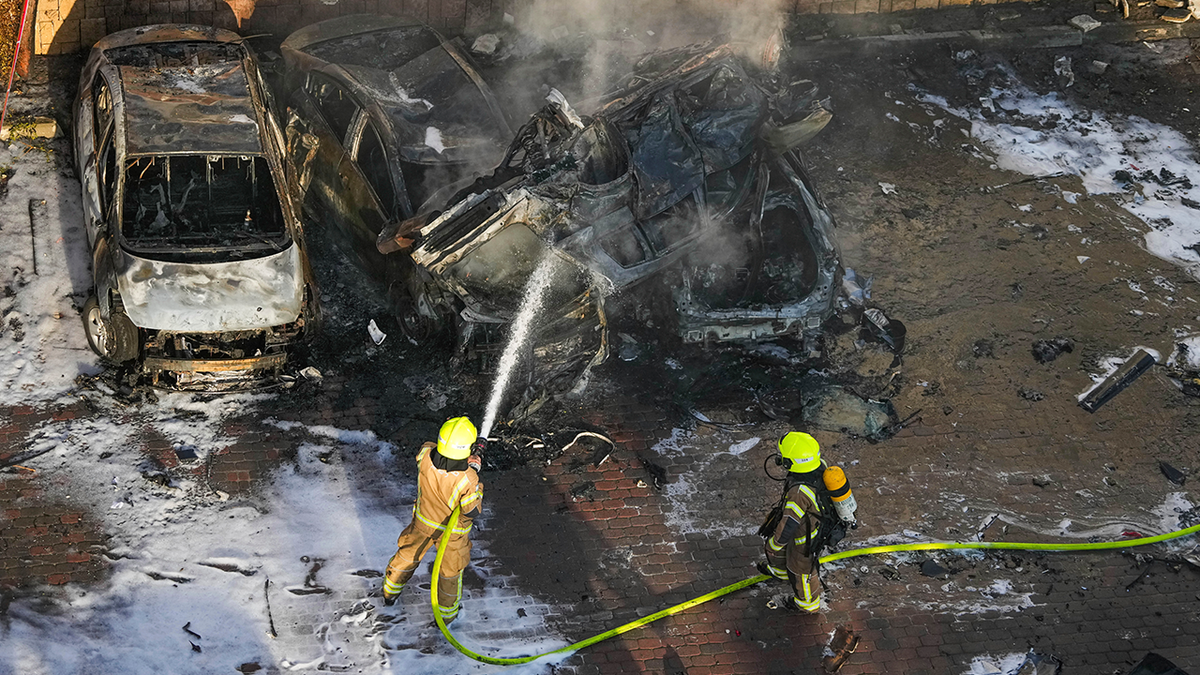 Israeli firefighters extinguish fire after a rocket fired from the Gaza Strip hit a parking lot in Ashkelon, southern Israel, Saturday, Oct. 7, 2023. (AP)
Raemer said that since underground tunnels running below the border fence were discovered by Israel more than a decade ago, there has always been a fear that at some point Palestinian terrorists would break through and enter civilian communities.
"This is worse than my nightmare scenario," she said. "My nightmare scenario was that one or two terrorists would infiltrate only one kibbutz, when it's one kibbutz then the army can respond quickly but what is happening now is something I did not think was possible. This has taken us totally by surprise."
Ruth Marks Eglash is a veteran journalist based in Jerusalem, Israel. She reports and covers the Middle East and Europe. Originally from the U.K, she has also freelanced for numerous news outlets. Ruth can be followed on Twitter @reglash