close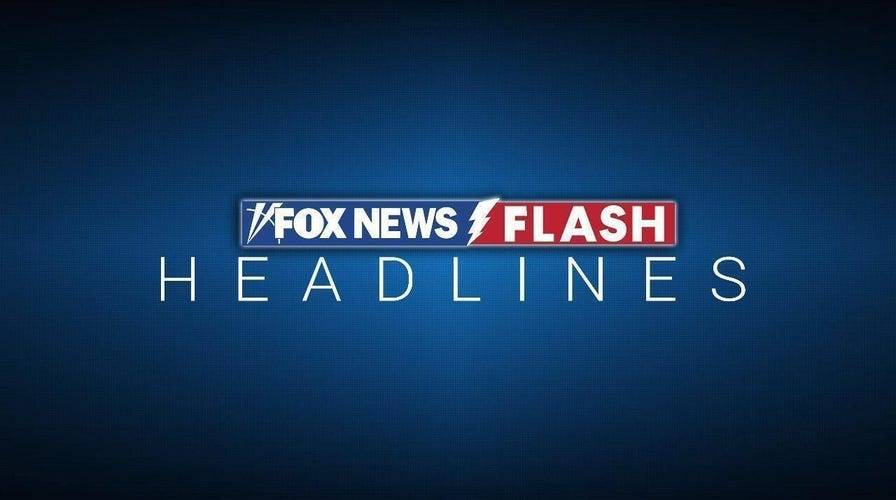 Video
Fox News Flash top headlines for August 30
Fox News Flash top headlines are here. Check out what's clicking on Foxnews.com.
North Korea fired two short-range ballistic missiles into the Sea of Japan on Wednesday, amid ongoing military drills between the U.S., South Korea and Japan.
The U.S. and Japan flew two long range B-1 Lancer bombers over the Sea of Japan on Wednesday as part of exercise Ulchi Freedom Shields. Defense officials say the North Korean launch was likely a response to the exercises, which are scheduled to continue through Thursday.
North Korea has launched a record number of missiles over the past 12 months as it seeks to project power against South Korea. Ulchi Freedom Shields is one of several joint training exercises that the U.S. and South Korea take part in each year.
"U.S. Forces and the Japan Self-Defense Forces conducted a bilateral bomber exercise over the Sea of Japan on August 30, 2023, demonstrating the enduring deterrence options readily available to the U.S.-Japan Alliance," a spokesperson for the U.S. Forces in Japan told Fox News.
NORTH KOREAN, RUSSIAN DEFENSE MINISTERS HOLD MEETING IN PYONGYANG AMID CELEBRATIONS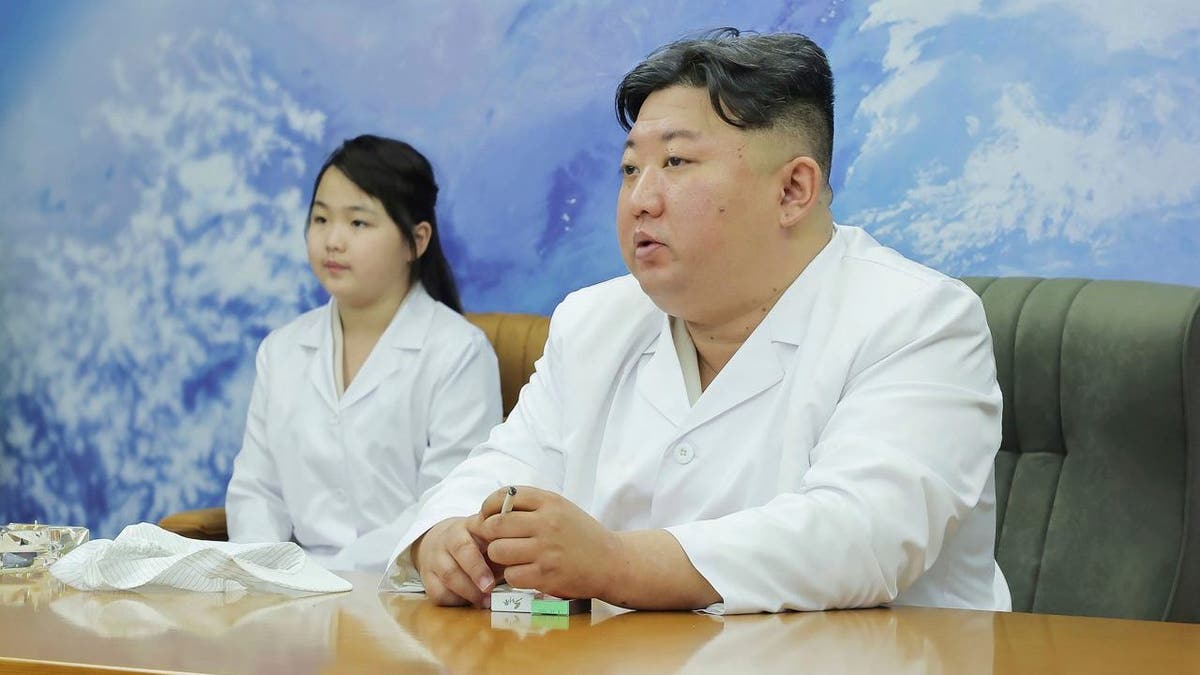 North Korea fired two short-range ballistic missiles into the Sea of Japan on Wednesday amid ongoing military drills between the U.S., South Korea and Japan. (Korean Central News Agency/Korea News Service via AP)
"Two B-1 Lancer bombers with the U.S. Air Force integrated with eight Japan Air Self-Defense Force F-2 fighter aircraft and four F-15 fighter aircraft, exemplifying our alliance's ability to quickly and decisively respond to threats against Japan and the region," the spokesperson continued. "The U.S. remains committed to peace and prosperity throughout the Indo-Pacific alongside our Japanese allies, together acting as the cornerstone of regional peace and security and presenting an ironclad defense of Japan."
NORTH KOREAN PLANE TAKES OFF FROM BEIJING, SIGNALING PYONGYANG'S BORDER REOPENING POST-PANDEMIC
The exercise coincides with increased aggression from North Korea in recent months. North Korean leader Kim Jong Un announced on Tuesday that his country's navy will soon be equipped with nuclear weapons. The leader blamed the U.S. military for increasing "the danger of a nuclear war" during an address on the country's Navy Day.
"Owing to the reckless confrontational moves of the U.S. and other hostile forces, the waters off the Korean Peninsula have been reduced into the world's biggest war hardware concentration spot, the most unstable waters with the danger of a nuclear war," Kim was quoted as saying by the Korean Central News Agency.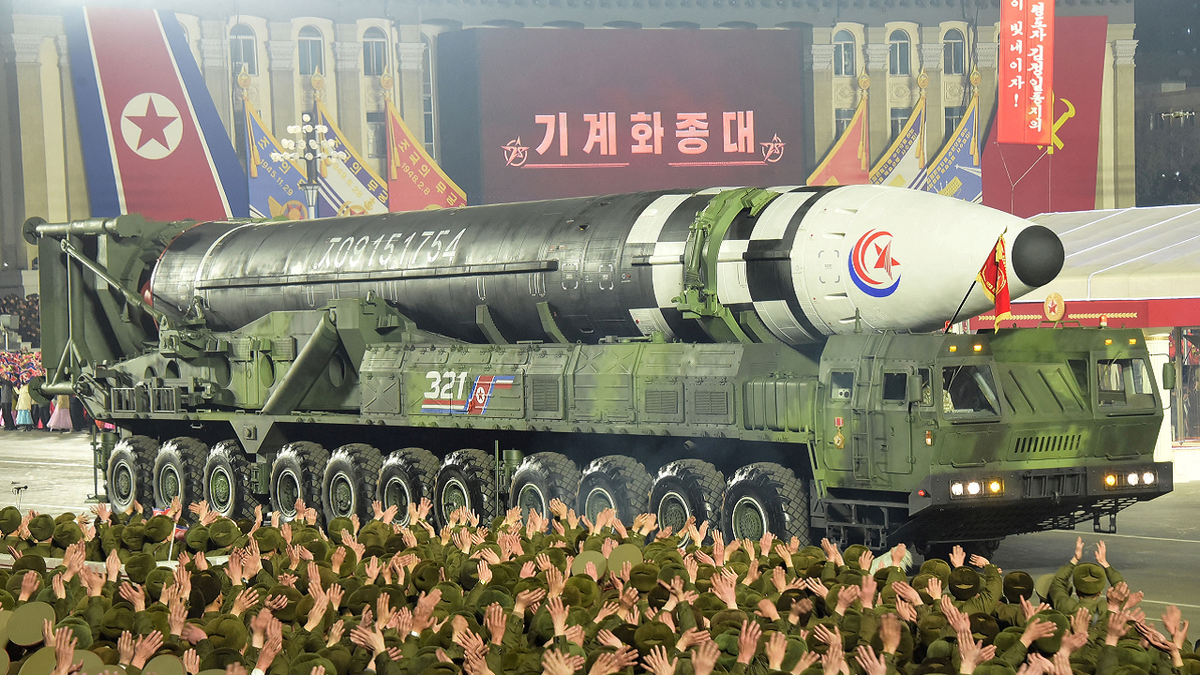 A missile is displayed during a military parade to mark the 75th founding anniversary of North Korea's army, in Pyongyang, North Korea, on Feb. 8, 2023. (Reuters/KCNA)
North Korea's military failed its second attempt to deploy a satellite in orbit last week, with its rocket failing in the third stage of flight. North Korea's National Aerospace Development Administration said it will attempt to launch a spy satellite again in October.
PENTAGON DISPUTES PYONGYANG'S CLAIM THAT US SOLDIER TRAVIS KING WILLINGLY SOUGHT 'REFUGE' IN NORTH KOREA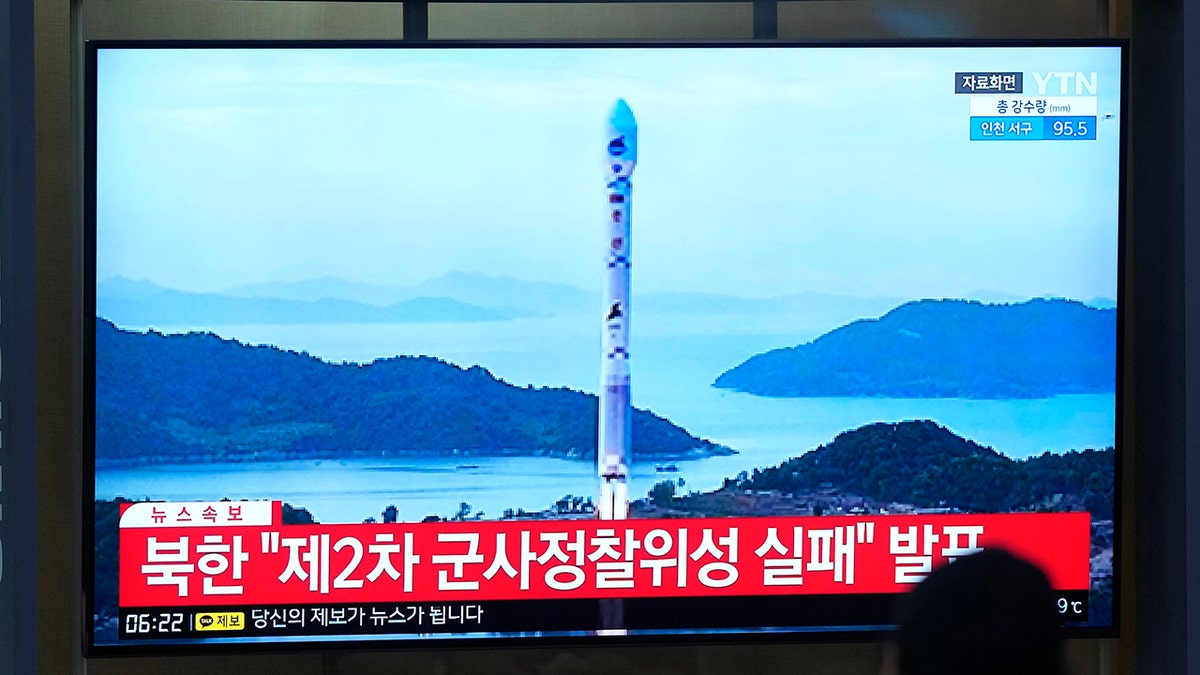 A TV screen shows a report of North Korea's rocket launch with file image during a news program at the Seoul Railway Station in Seoul, South Korea. (AP Photo/Lee Jin-man)
The country has also increasingly allied itself with U.S. adversaries like China and Russia. The U.S., Japan, U.K. and South Korea released a statement on Wednesday condemning a potential arms deal between Russia and the DPRK.
CLICK HERE TO GET THE FOX NEWS APP
"We cannot – and we will not – stay silent as we receive more information that Russia continues to turn to rogue regimes to try to obtain weapons and equipment in order to support its brutal war of aggression," U.S. Ambassador to the U.N. Linda Thomas-Greenfield said in a statement.
Fox News' Liz Friden contributed to this report.
Anders Hagstrom is a reporter with Fox News Digital covering national politics and major breaking news events. Send tips to [email protected], or on Twitter: @Hagstrom_Anders.