close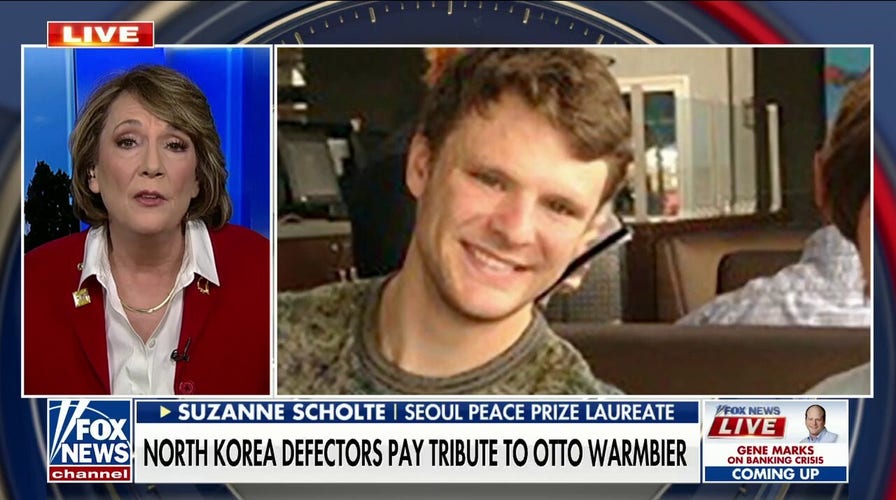 Video
North Korean defectors honor Otto Warmbier, Kim Jong Un's victims

'The North Korean Freedom Foundation' chair Suzanne Scholte joins 'Fox News Live' to discuss the protests in front of North Korea's mission to the United Nations.
North Korean leader Kim Jong Un announced that his country will launch its first-ever military spy satellite, with the launch date undisclosed.
The "military reconnaissance satellite No. 1" has already been built, and Kim ordered officials to speed up preparations for its launch.
Kim addressed the satellite plans during a visit to the North Korean aerospace agency Tuesday. He stressed the need for a satellite as part of ensuring that the country effectively uses its nuclear-capable missiles.
He cited what he described as "serious security threats" posed by "the most hostile rhetoric and explicit action" from the United States and South Korea.
NORTH KOREAN MISSILE PROMPTS JAPAN TO CALL FOR FALSE ALARM EVACUATIONS IN HOKKAIDO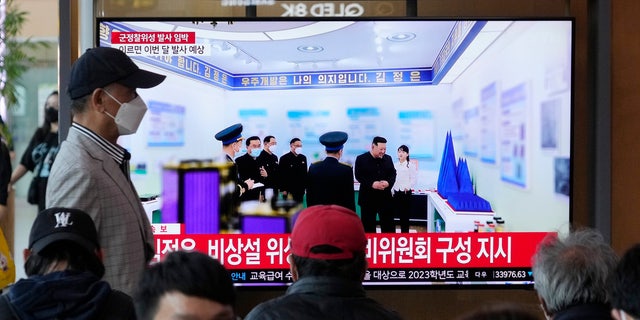 A TV screen shows an image of North Korean leader Kim Jong Un, second from right, and his daughter during a news program at the Seoul Railway Station in Seoul, South Korea, Wednesday, April 19, 2023. (AP Photo/Ahn Young-joon)
Kim stressed the need for several satellites to establish a stronger intelligence-gathering capacity, the official Korean Central News Agency reported. North Korea launched a test satellite in December and published black-and-white photos showing a view of South Korean cities from space.
Critics claimed the photos were too crude for surveillance purposes, with only large targets like warships or military installations helping to identify the area.
Kim's sister and senior North Korean official Kim Yo Jong said the test satellite carried a commercial camera because there was no reason to use an expensive, high-resolution camera for a single-shot test.
NORTH KOREA IGNORES SOUTH'S PHONE CALLS 5 DAYS IN A ROW, LIKELY PROTESTING US MILITARY DRILLS
In this photo provided by the North Korean government, North Korean leader Kim Jong Un, and his daughter visit the National Aerospace Development Administration in North Korea Tuesday, April 18, 2023. Independent journalists were not given access to cover the event depicted in this image distributed by the North Korean government. The content of this image is as provided and cannot be independently verified. (Korean Central News Agency/Korea News Service via AP)
Kim Jong Un said one of the objectives for its spy satellite is acquiring an ability to "use pre-emptive military force when the situation demands."
Setting up the spy satellite will prove tricky, as any launch requires long-range rockets, which the U.N. has banned as part of a wider restriction against North Korea for testing long-range ballistic missiles. South Korea's foreign ministry said the launch of a spy satellite would therefore violate multiple U.N. Security Council resolutions.
Tensions on the Korean peninsula have hit new highs after North Korea launched a "new type of ballistic missile" last week that briefly prompted Japan to issue evacuation warnings to for Hokkaido.
NORTH KOREA CLAIMS SUCCESSFUL TEST OF UNDERWATER NUCLEAR-CAPABLE DRONE
A TV screen shows a file image of North Korea's missile launch during a news program at the Seoul Railway Station in Seoul, South Korea, Wednesday, April 19, 2023. North Korean leader Kim Jong Un said his country has completed the development of its first military spy satellite and ordered officials to go ahead with its launch as planned, state media reported Wednesday. (AP Photo/Ahn Young-joon)
China blamed the U.S. and South Korea for the flaring tensions in the region, arguing that the missile test happened as a response to joint drills between the two allies and Japan at the start of April.
The naval anti-submarine drills marked the first joint exercise in six months, and North Korea promised to retaliate to the drills.
CLICK HERE TO GET THE FOX NEWS APP
"The current round of tension on the peninsula has its causes. The negative impact of the U.S. military drills and deployment of strategic weapons around the peninsula is obvious to all," Chinese Ministry of Foreign Affairs spokesman Wang Wenbin said, according to Agence France Presse.
The Associated Press contributed to this report.
Peter Aitken is a Fox News Digital reporter with a focus on national and global news.