close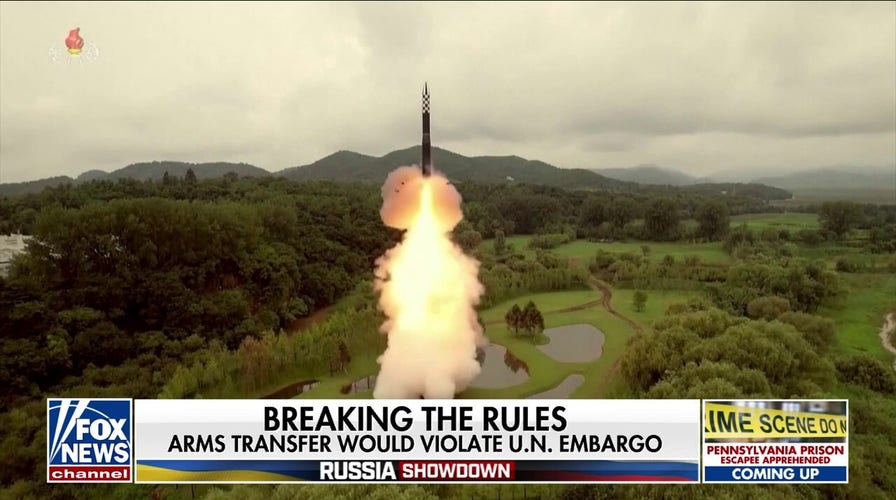 Video
North Korean leader meets with Vladimir Putin in Siberia
FOX News' Greg Palkot reports on Kim Jong Un's trip to Russia.
North Korea has likely supplied Russian President Vladimir Putin with several types of missiles for his ongoing invasion of Ukraine, according to South Korean intelligence.
South Korea's military said the hermit nation is suspected of sending an unspecified number of short-range ballistic missiles, anti-tank missiles and portable anti-air missiles to Russia, in addition to rifles, rocket launchers, mortars and shells, The Associated Press reported.
North Korea has been pushing to expand cooperation with Russia and China in the face of protracted security tensions with the United States and pandemic-caused domestic hardships. In an apparent sign of its economic troubles, the country is moving to close some of its overseas diplomatic missions.
NORTH KOREA SHUTS DOWN MULTIPLE EMBASSIES, SOUTH KOREA SPECULATES FINANCIAL ISSUES ARE THE REASON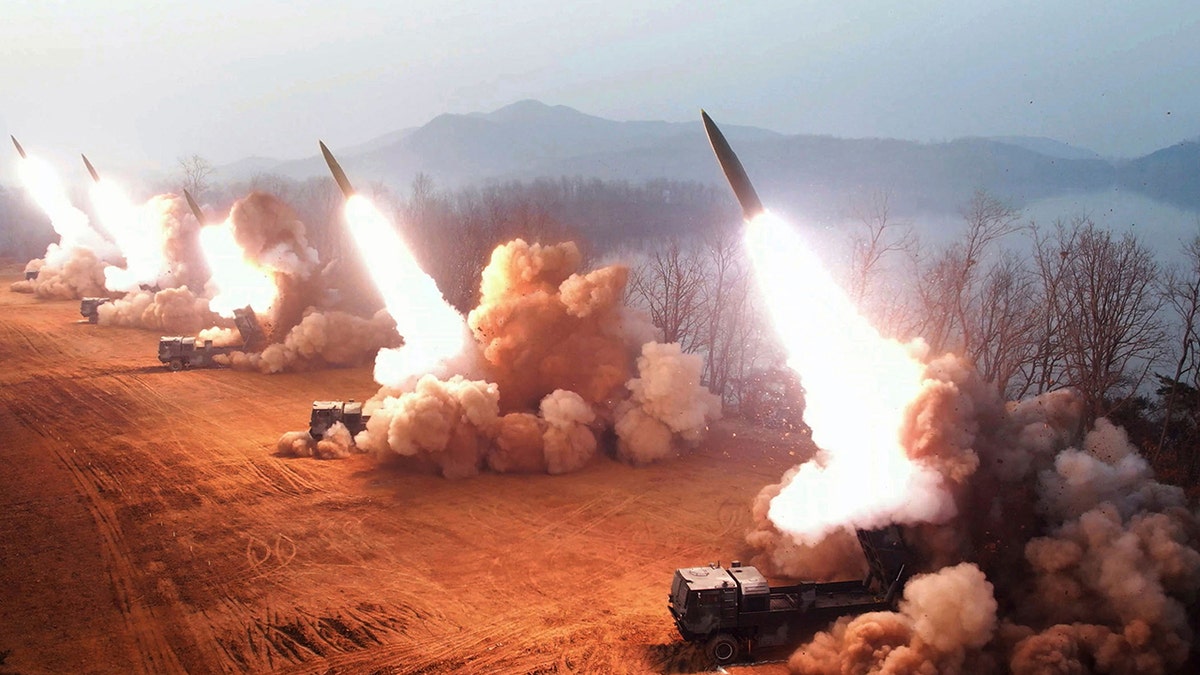 This photo provided by the North Korean government shows what it says is an artillery drill at an undisclosed location in North Korea on March 9, 2023. (Korean Central News Agency/Korea News Service via AP)
Last week, South Korea, the U.S. and Japan strongly condemned North Korea's alleged supplying of munitions and military equipment to Russia, saying such weapons shipments sharply increased the human toll of Russia's war in Ukraine. Any weapons trade with North Korea would be a violation of multiple U.N. Security Council resolutions that Russia, a permanent U.N. Security Council member, previously endorsed.
Russia and North Korea have both disputed the allegations.
NORTH KOREAN FOREIGN MINISTER DEFENDS RUSSIA ARMS SALES AGAINST 'GROUNDLESS CRITICISM'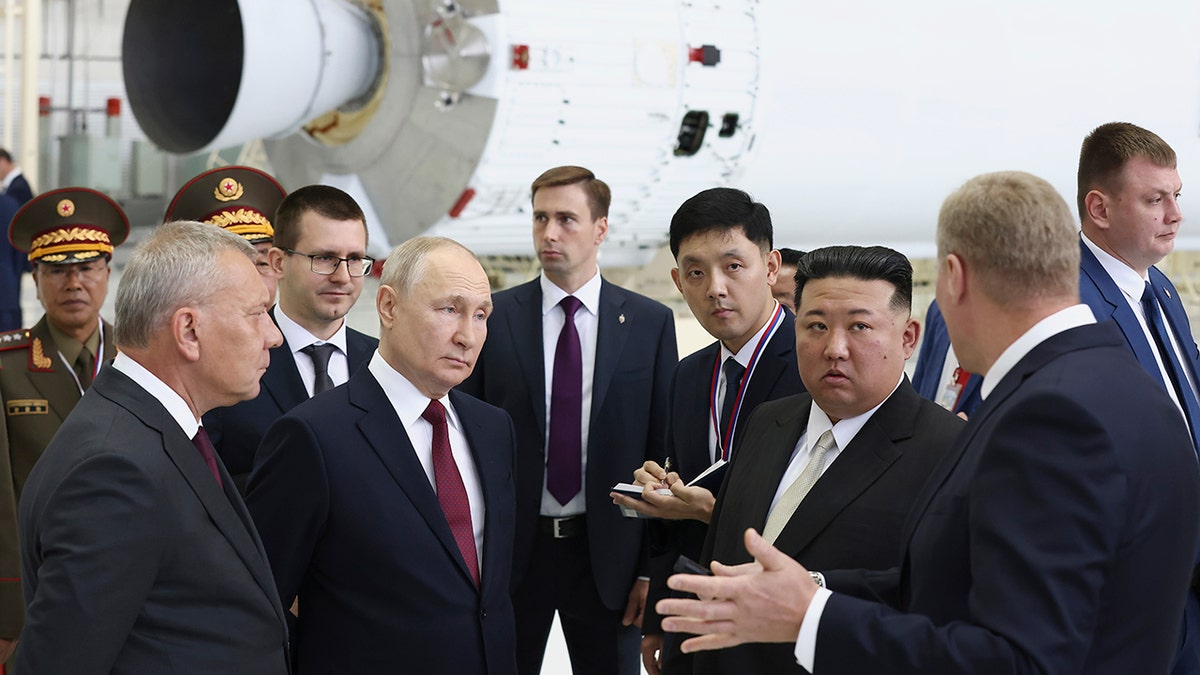 Russian President Vladimir Putin, second left in front, and North Korea's leader Kim Jong Un, second right in front, examine a rocket assembly hangar during their meeting at the Vostochny cosmodrome outside the city of Tsiolkovsky, about 200 kilometers (125 miles) from the city of Blagoveshchensk in the far eastern Amur region, Russia on Sept. 13, 2023. (Artyom Geodakyan, Sputnik, Kremlin Pool Photo via AP)
In response to the criticism, North Korean Foreign Minister Choe Son Hui said North Korea's adversaries, "have vital geopolitical interests in illegalizing the DPRK-Russia relations, in view of the present international political situation and the crises the U.S., Japan and [South Korea] are facing at home and abroad."
"The bilateral relations are developing on the basis of such recognized principles of international law as national sovereignty, mutual respect, non-interference, equality and mutual benefit under the DPRK-Russia treaty of friendship, good neighborliness and cooperation, a legitimate constitution of international law," Choe said Saturday. "This is an intrinsic attribute of the DPRK-Russia relations."
NORTH KOREA ACCUSES ISRAEL OF 'GENOCIDE' IN GAZA, LABELS US AN 'ACCOMPLICE'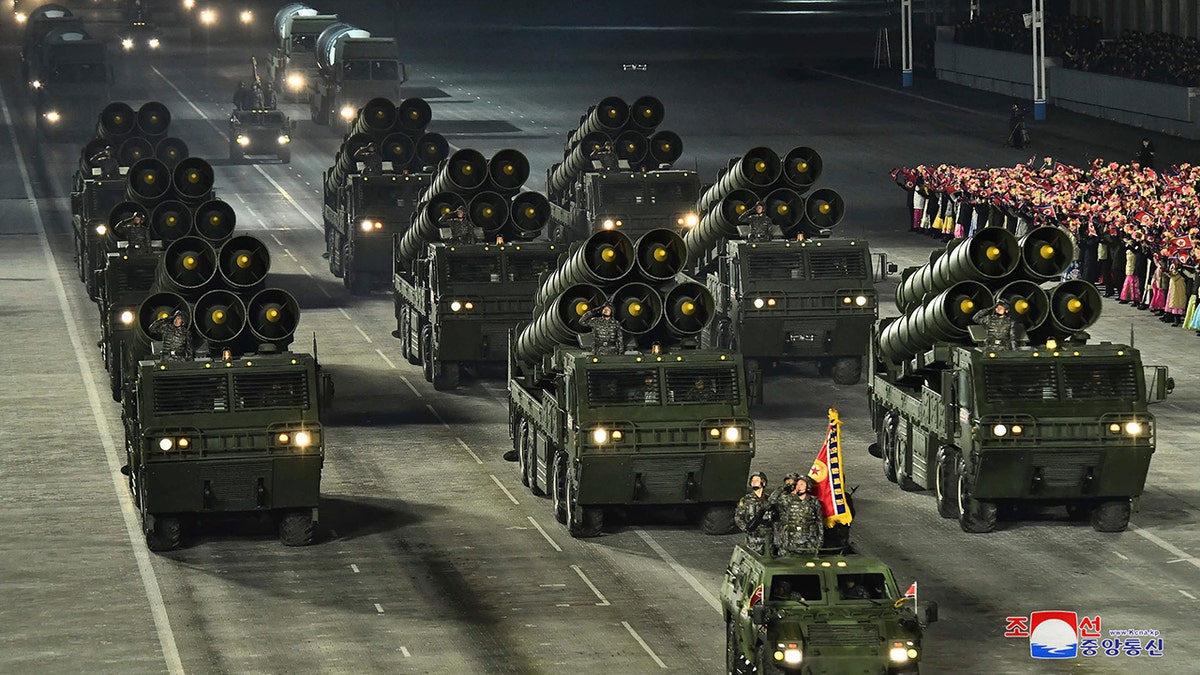 This photo provided by the North Korean government shows a military parade marking the ruling party congress, at Kim Il Sung Square in Pyongyang, North Korea on Jan. 14, 2021. (Korean Central News Agency/Korea News Service via AP)
DPRK stands for "Democratic People's Republic of Korea," the official name of North Korea.
South Korea's National Intelligence Service (NIS) briefed lawmakers on Wednesday and said that more than a million North Korean artillery shells have been sent to Russia since August on ships and transport planes. The NIS said the deliveries roughly amounted to two months' worth of shells for the Russians, lawmaker Yoo Sang-bum told The Associated Press.
CLICK HERE TO GET THE FOX NEWS APP
South Korea believes North Korea has been operating its munitions factories at full capacity to meet Russian demand for ammunition, and that the Russians are providing technological assistance to launch a North Korean spy satellite in exchange.
South Korea's military said North Korea also wants nuclear-related technologies, fighter jets or related aircraft equipment and assistance with creating an anti-air defense network from Russia, The Associated Press reported.
Fox News Digital's Timothy H.J. Nerozzi and The Associated Press contributed to this report.
Chris Pandolfo is a writer for Fox News Digital. Send tips to c[email protected] and follow him on Twitter @ChrisCPandolfo.