A New Jersey congressman is demanding an investigation into whether offshore wind projects are killing whales off the coast of the Garden State and the state of New York.
Rep. Jeff Van Drew, R-N.J., announced on Friday that he would be calling for an investigation into the increasing number of dead whales that have washed up off the coast of New Jersey over the last month once committee assignments for the 118th Congress are finalized.
In less than two months, seven dead whales have washed up along the New Jersey-New York coastline, local media have reported.
Van Drew, who sits on a House maritime transportation subcommittee, called for the cessation of "all offshore wind activity" until an investigation is conducted to determine whether such projects could be to blame for the excess whale deaths.
"Since offshore wind projects were being proposed by Governor Murphy to be built off the coast of New Jersey, I have been adamantly opposed to any activity moving forward until research disclosed the impacts these projects would have on our environment and the impacts on the fishing industry," Van Drew said in a press release Friday.
DEM-TURNED-GOP CONGRESSMAN FIRES BACK AT AOC'S 'COALITION GOVERNMENT' PROPOSAL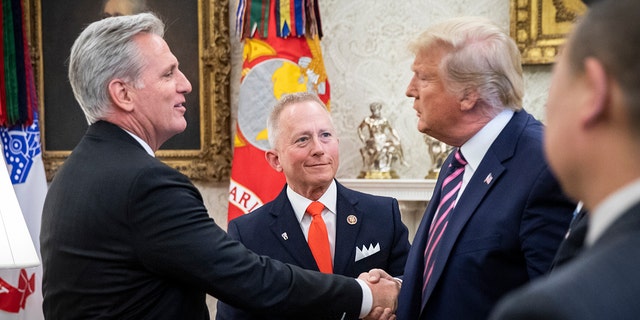 Rep. Jeff Van Drew, R-N.J., announced on Friday that he would be calling for an investigation into the now-seven dead whales that have washed up on the Jersey Shore over the last month once the committee assignments for the 118th Congress are finalized.
(Drew Angerer/Getty Images)
"Ocean life is being put at risk as our Governor and President force through their Green New Deal policies, without giving full consideration to their real-world impacts," the Republican lawmaker continued. "We have seen a complete lack of transparency from New Jersey's leaders, as well as D.C. politicians who are ramming through these projects in order to push their climate agenda."
"Once committees for the 118th Congress are finalized, I will be calling for congressional investigations into the matter," he added. "I demand that all offshore wind activity be halted until it is properly determined what the effects of these activities are having on our marine life."
PUSH FOR WIND ENERGY IN THE WEST THREATENS GOLDEN EAGLES
Van Drew's call for an investigation came after the most recent dead whale sighting occurred on a Jersey Shore beach. The humpback whale was the seventh dead whale discovered on a New Jersey beach in less than two months. Another humpback whale was discovered on a beach in Atlantic City, New Jersey, last month.
New Jersey Gov. Phil Murphy said the state's government would look into the cause of the uptick in beached whales.
But the Biden administration, New Jersey, led by Murphy, and New York continue to push for clean energy development including offshore wind projects as part of their climate agenda. In July, President Biden argued that offshore wind would create jobs and power millions of homes in the future. And the Department of Interior has expanded plans for offshore lease sales for wind development along the nation's eastern and western coastlines and in the Gulf of Mexico.
There are currently three offshore wind projects being constructed off the coast of New York in federal waters and another four projects in federal waters off the coast of New Jersey, according to the Bureau of Ocean Energy Management. Last year, Interior Secretary Deb Haaland joined Murphy and New York Gov. Kathy Hochul to announce a shared vision for increasing offshore wind output.
MAINE LOBSTERMEN WARN BIDEN ADMIN IS TRYING TO PUT THEM OUT OF BUSINESS WITH HARSH ECO RULES
"We are at an inflection point for domestic offshore wind energy development," Haaland said during the event with Murphy and Hochul. "We must seize this moment – and we must do it together."
Murphy added that offshore wind development held "tremendous promise for our future in terms of climate change, economic growth, strengthening our work force, and job creation."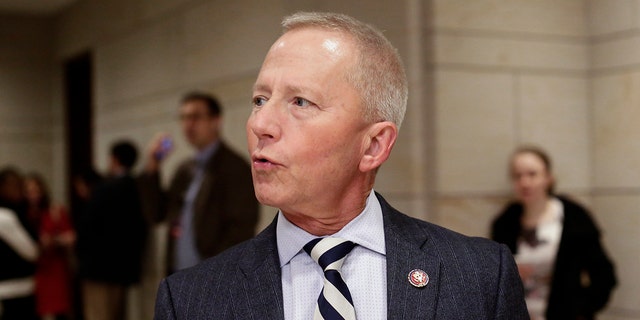 Seven dead whales have beached along the New Jersey-New York coastline over the past month.
(AP)
However, like Van Drew, environmentalists and maritime experts have warned that offshore wind activity may play a major role in ecological destruction.
For example, in August 2021, a group of "environmentally-concerned citizens" filed a lawsuit opposing wind development off the coast of New England over concerns it would reduce endangered whale species.
CLICK HERE TO GET THE FOX NEWS APP
"Offshore wind is by far the most expensive way to get zero-emission electricity and is probably the most environmentally damaging way to do so," Dave Stevenson, the director of the Center for Energy Competitiveness at the Caesar Rodney Institute, previously told Fox News Digital. "It just is the worst option we could come up with."
Stevenson filed comments with the Department of the Interior last month in opposition of an offshore Maryland wind project proposal.
Some eco groups have also expressed concerns that noise and sonar produced from pre-construction work for wind projects may interfere with marine life.