close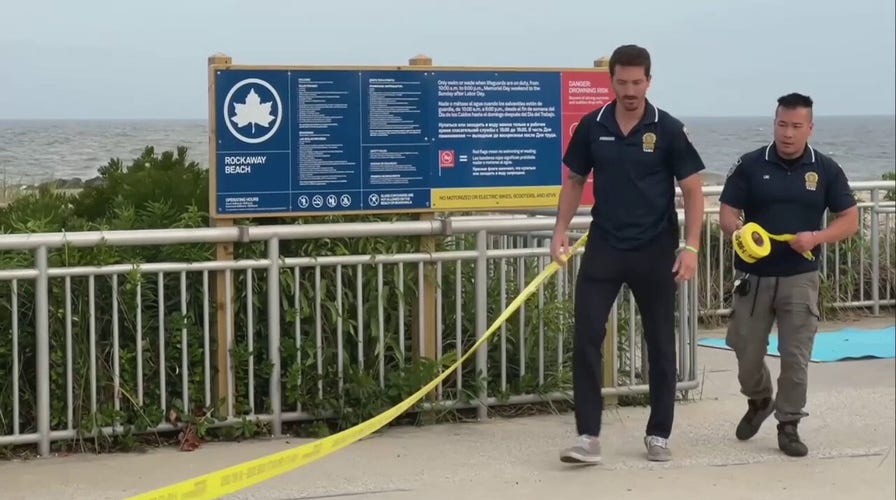 Video
Shark attack in New York
Woman bitten by a shark on Rockaway Beach in New York (via Peter Gerber)
Rockaway Beach will reopen Wednesday for the first time since Monday night's unprecedented shark attack – the first recorded in New York City since the 1950s.
"Drone and harbor unit surveillance this morning did not observe any shark sightings, and Rockaway Beach has reopened for swimming as of 10 a.m," the New York City Parks Department announced on X, formerly Twitter. "NYC Parks, NYPD, and FDNY will continue land, drone, and boat surveillance on Rockaway Beach throughout the day and into the evening."
A swimmer, identified in reports as 65-year-old Tatyana Koltunyuk, is said to have lost approximately 20 pounds of flesh from her upper left thigh during what officials declared an "extremely rare" shark attack Monday evening. Lifeguards were credited for saving her life, as they quickly used buoy rope as a tourniquet to slow blood loss from the grisly leg wound.
EMS rushed the unconscious woman to Jamaica Hospital in critical condition, but her condition has since been upgraded to serious/non-life threatening.
WOMAN HOSPITALIZED AFTER RARE SHARK ATTACK AT NEW YORK BEACH: OFFICIALS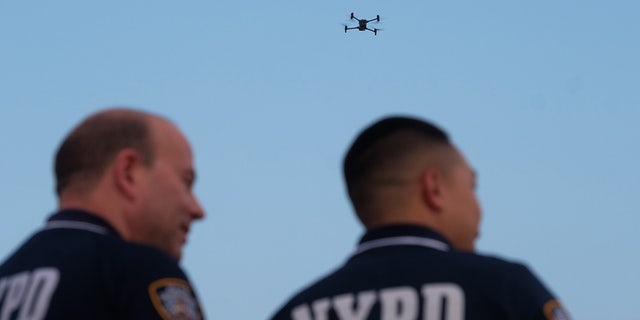 Police deploy a drone to search the water at Rockaway Beach at Beach 59th Street in Queens, New York City after a swimmer was attacked by a shark on Monday, August 7, 2023.  (Gardiner Anderson for NY Daily News via Getty Images)
Officials said they were ramping up drone and other surveillance of the waters earlier Wednesday before making a call on whether to reopen Rockaway Beach in Queens.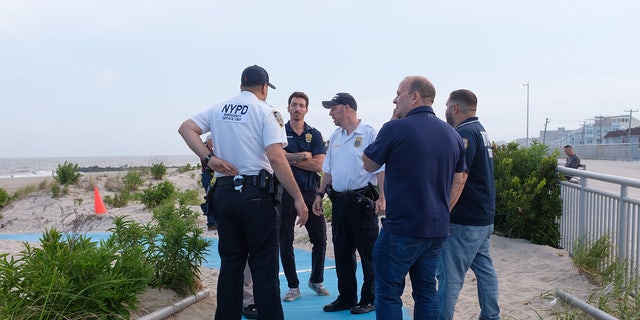 Police respond to Rockaway Beach at Beach 59th Street in Queens, New York City after a swimmer was attacked by a shark on Monday, Aug. 7, 2023. (Gardiner Anderson/New York Daily News/Tribune News Service via Getty Images)
Rockaway Beach was closed to swimming Tuesday, as was Jones Beach on Long Island due to a possible shark sightings there.
NEW YORK TEENAGER BITTEN BY SHARK WHILE SURFING OFF FIRE ISLAND
Before Monday, officials say there had been no shark attacks at Rockaway Beach, nor New York City as a whole, in recent memory.
Despite this, officials said five people – including two 15-year-olds – reported having been bitten by sharks over the Fourth of July weekend alone in neighboring Long Island.
Last year, eight people reported being bitten by sharks swimming in the shallows off Long Island's beaches. Prior to 2022, New York had only recorded a dozen unprovoked bites. Over the last decade, there were just four people bitten by sharks, according to data compiled by the International Shark Attack File, which tracks shark attacks around the world.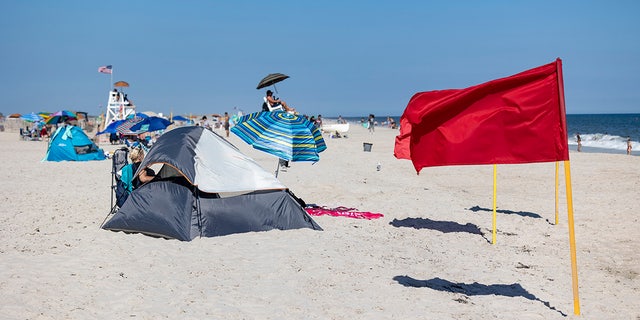 Jones Beach State Park in Wantagh, New York, was forced to temporarily ban swimming after sharks were spotted feeding on bunker fish on Aug. 3, 2022.  (Howard Schnapp/Newsday RM via Getty Images)
Some observers have credited the increase in shark sightings – and attacks – to improving water quality and thriving bunker fish populations due to conservation efforts.
CLICK HERE TO GET THE FOX NEWS APP
In 2019, New York passed legislation signed by former Democratic Gov. Andrew Cuomo to protect Atlantic menhaden, the main food source for many species like dolphins, whales, tuna, seals, striped bass and sharks. Shark populations have since rebounded in New York and elsewhere in the Northeast.
FDNY First Deputy Fire Commissioner Joseph Pfeifer had a different theory.
"Well we know something's happening, and we call that climate change," Pfeifer said at an early Wednesday press conference. "The waters are a lot warmer, they're also a lot cleaner, so we're getting schools of fish there, but what we're doing here is that we have eyes in the sky through our drones, through our helicopters. Then we have boats in the water. Our fire boats, our harbor boats. The Coast Guard are looking for sharks. And we can't forget we have people on land, our lifeguards who are out there every day looking at the water to protect all our beach-goers."
The Associated Press contributed to this report.
Danielle Wallace is a reporter for Fox News Digital covering politics, crime, police and more. Story tips can be sent to [email protected] and on Twitter: @danimwallace.