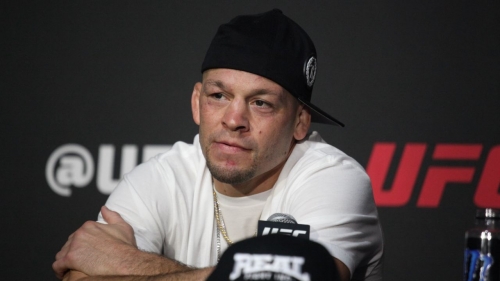 Nate Diaz speaks to the media following his victory at UFC 279 on September 9, 2022.
Amy Kaplan/Icon Sportswire/Getty Images/FILE

CNN
—
MMA fighter Nate Diaz used homophobic slurs during a confrontation with an employee of Jake Paul's betting company ahead of his fight against the YouTuber-turned-boxer.
Diaz was participating in a press conference before the fight, which is happening on Saturday at the American Airlines Center in Dallas, Texas when he was confronted by Betr's Derek Sullivan.
Diaz reacted angrily after Sullivan said he couldn't wait to watch Paul knock Diaz out and invited Sullivan on the stage. Diaz used homophobic slurs to refer to both Sullivan and Paul during the verbal tirade that ensued.
After this incident, the two fighters faced off in a separate press conference as is customary before a bout, however, it descended into chaos with the security details for both men engaged in a huge brawl on stage.
CNN has reached out to Diaz for comment.
This isn't the first time Diaz has used homophobic slurs against his opponents.
He was suspended by the UFC 10 years ago for using a homophobic slur to describe MMA fighter Bryan Caraway on Twitter.