Illustration of the Escapade spacecraft in orbit around Mars.
Rocket Lab USA/UC Berkeley
Blue Origin, the rocket company founded by Jeff Bezos, will send a mission to Mars for NASA as soon as next year. 
The space agency announced Thursday it has selected the company's upcoming New Glenn rocket to launch the Escape and Plasma Acceleration and Dynamics Explorers (Escapade) mission.
The mission involves sending two twin spacecraft to orbit the Red Planet and study Mars' magnetosphere with the goal of understanding how it interacts with the solar wind.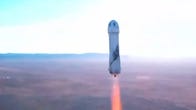 Now playing:
Watch this:

Michael Strahan and crew launch to space aboard Blue…
11:35

The contract is a big deal for Blue Origin, which thus far has conducted only suborbital flights using its New Shepard rocket designed to touch the edge of space and return to the Earth's surface. 
New Glenn is the company's big orbital rocket that it hopes will be able to compete with the likes of the SpaceX Falcon 9 and Falcon Heavy. It has been under development at the company's Cape Canaveral facility for years but hasn't been proven just yet. 
The two-stage New Glenn rocket will lift the pair of orbiters out of Earth's atmosphere and send them on their way toward Mars, with a targeted launch date sometime in late 2024. 
The two spacecraft will then take about 11 months to complete their journey to Mars. The hope is that the data they collect will provide understanding and insights that can help protect future astronauts and satellites from the ravages of space weather.