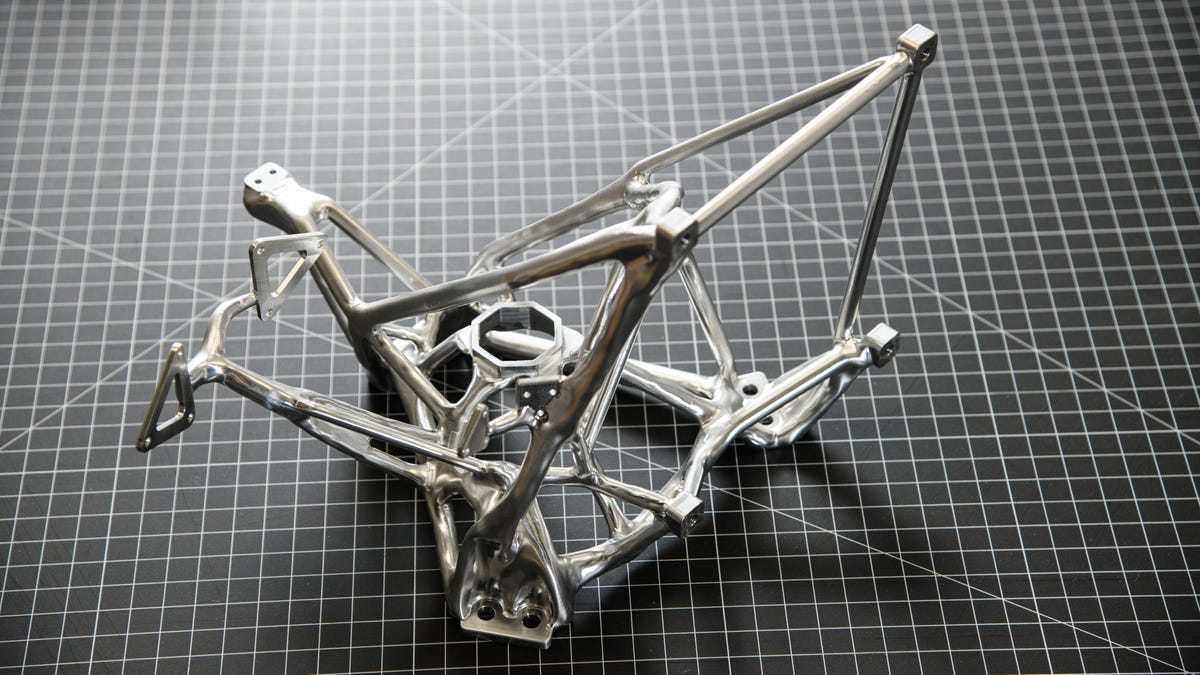 AI designed this part that was made from a block of aluminum. It has connections for mirrors and instruments, with room for humans to get their hands in there to connect sensors.
Henry Dennis
It takes a lot of brain power to build a NASA mission, and those brains are both human and computer. NASA has been calling on the talents of artificial intelligence to come up with creative ways to build hardware for spacecraft and other missions. The resulting designs are beautiful, funky and practical.
In a statement on Thursday, NASA said AI-designed parts "may resemble bones left by some alien species, but they weigh less, tolerate higher structural loads, and require a fraction of the time parts designed by humans take to develop."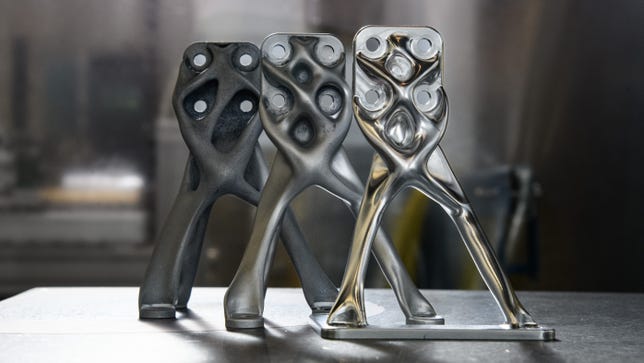 Enlarge Image
This AI-designed aluminum scaffold is for the back of the Excite telescope. "The curved, criss-crossed reinforcing structures were designed to resist significant off-centered forces," NASA said.

Henry Dennis

Research Engineer Ryan McClelland of NASA's Goddard Space Flight Center has pioneered the space agency's use of AI-assisted hardware design. The process is handy for making specialized structures. The resulting designs can be used for space mission hardware, but also for missions like the Exoplanet Climate Infrared Telescope (Excite), which will travel on a long-duration, high-altitude balloon flight.  
This isn't an example of AI just doing its own thing. Human designers lay out the goals and parameters of the part, such as having connectors for hardware or space for human hands to work in. Real people also scrutinize the results. "Human intuition knows what looks right, but left to itself, the algorithm can sometimes make structures too thin," McClelland said.
See also…

Google ChatGPT Rival Bard Flubs Fact About NASA's Webb Space Telescope
The Humanoid Robot NASA Is Helping Build
Complex NASA equipment often calls for one-off parts with demanding specifications. The parts may need to handle interfaces between different materials, withstand harsh conditions or be very lightweight. AI shines in helping to sort out all these needs. 
McClelland sees opportunities for expanding AI design for future missions, even ones that aren't on this planet. "These techniques could enable NASA and commercial partners to build larger components in orbit that would not otherwise fit in a standard launch vehicle, they could even facilitate construction on the moon or Mars using materials found in those locations," he said.
Imagine being a future Mars explorer and getting AI to help you work out the best design for a habitat using Martian concrete. 
Out of context, the hardware parts created with AI assistance resemble sculptures, like shiny works of art that could sit on a plinth in a gallery. "They look somewhat alien and weird," McClelland said, "but once you see them in function, it really makes sense."