close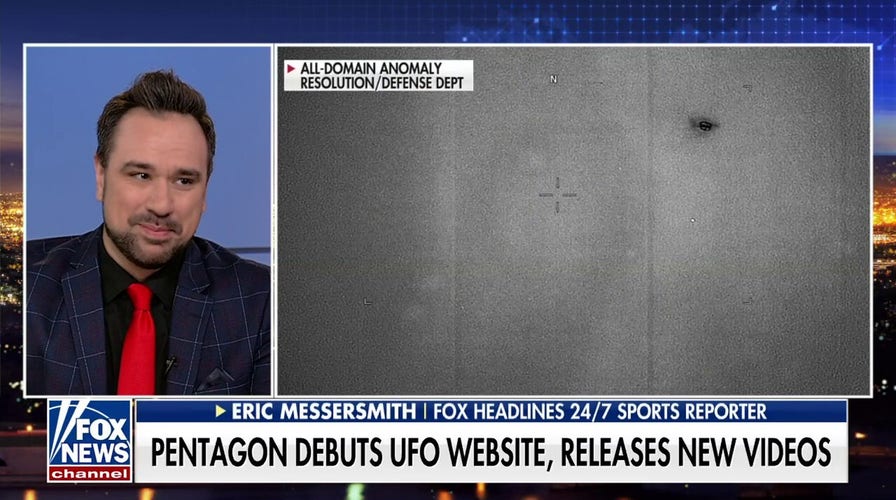 Video
Is Pentagon's new UFO website good for Americans?
Fox News Headlines 24/7 sports reporter Eric Messersmith joins "Fox News @ Night" to discuss the Pentagon "one-stop shop" for declassified information about UFOs and NIL rules.
NASA is looking for "signs of life past or present," NASA Administrator Bill Nelson said, and there are a "small handful" of incidents that "we don't know what they are."
As it stands today, NASA doesn't have enough high-quality data to make a "definitive, scientific conclusion" about the origin of UFOs, according to the space agency's independent UAP research team's 36-page report that was released Thursday.
"If you ask me, do I believe there's life in a universe that is so vast that it's hard for me to comprehend how big it is? My personal answer is yes," Nelson said. "It would have to be a very advanced civilization [but] the distances is light years, hundreds of lights, billions of light years away."
Dr. Nicola Fox, NASA's associate administrator, elaborated on Nelson's point, saying what "we need to find is a rocky planet around a hospitable star that isn't too violent, that is in just that right place that has signatures of water and signatures of carbon. So, the building blocks of life, and we continue to strive to do that."
UFO 'HOTSPOTS' MAP REVEALS CLUSTER OF SIGHTINGS LINKED TO ATOM BOMBS, WAR ZONES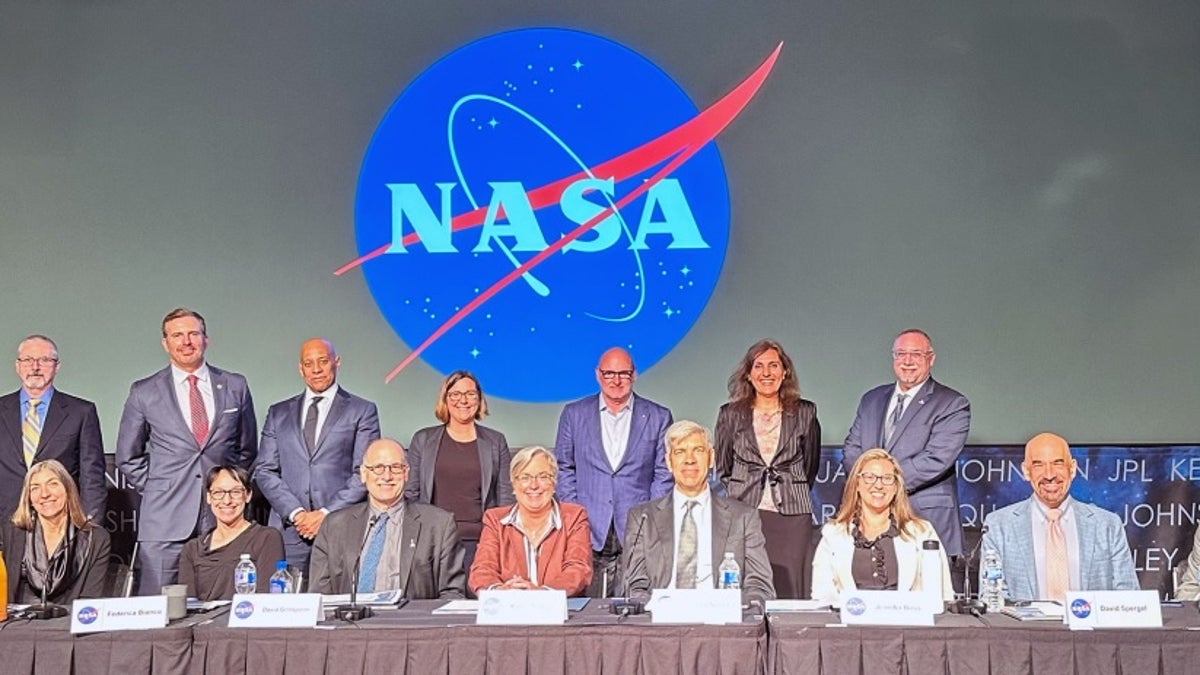 These are the 16 members of NASA's UAP study. (NASA)
NASA's report acknowledged there are credible witness sightings of UAPs – unidentified anomalous phenomena, which is the scientific word for UFO – but they "cannot be immediately identified as known human-made or natural phenomena."
"The limitation on this data is that at any given time most of the Earth's surface is not covered by commercial satellites at high resolution — for a particular UAP event, we will need to be fortunate to obtain high-resolution observations from space."
LAWMAKERS FIGHT TO UNCOVER DETAILS OF ALLEGED SECRET UFO PROGRAM
An underlying roadblock isn't the anomalous event but the conventional events, the report says.
"We know the range of velocities and accelerations that can be achieved by state-of-the art platforms, drones, balloons and planes," NASA said in its report.
"Deviations from this behavior, such as any well-characterized observation of velocities and accelerations outside of that range, are scientifically interesting for UAP assessment and analysis."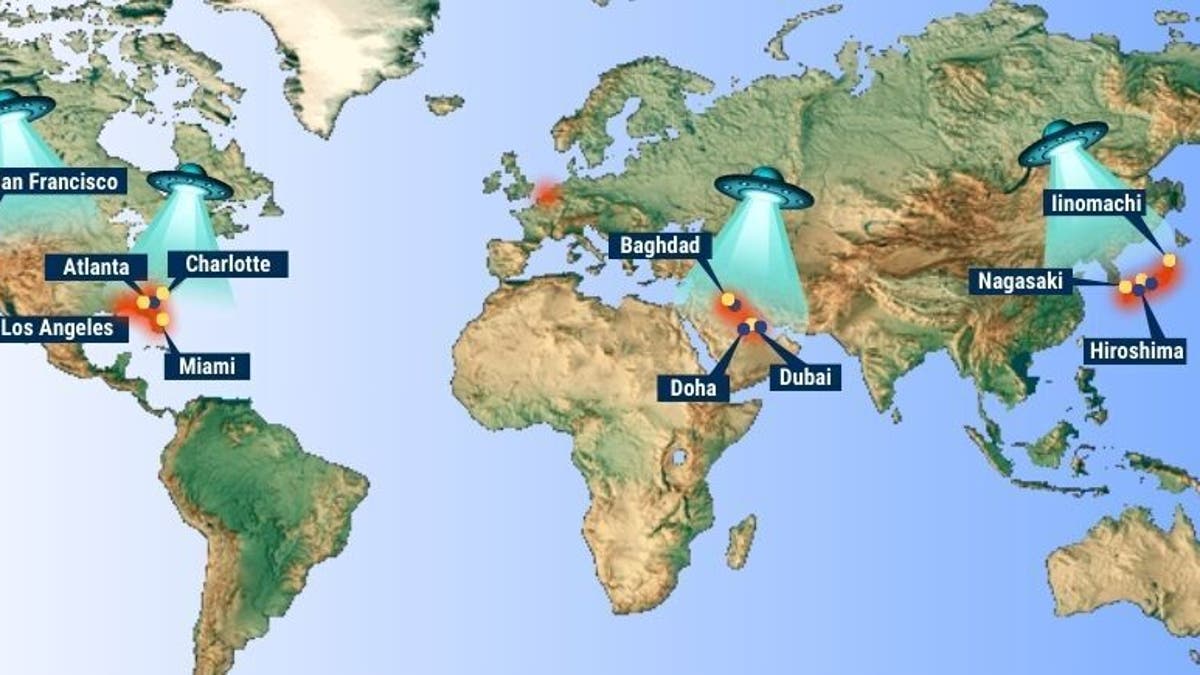 This is a Fox News Digital-created UFO hotspot map based off information from the Department of Defense. (Julia Bonavita / Fox News Digital based on AARO data)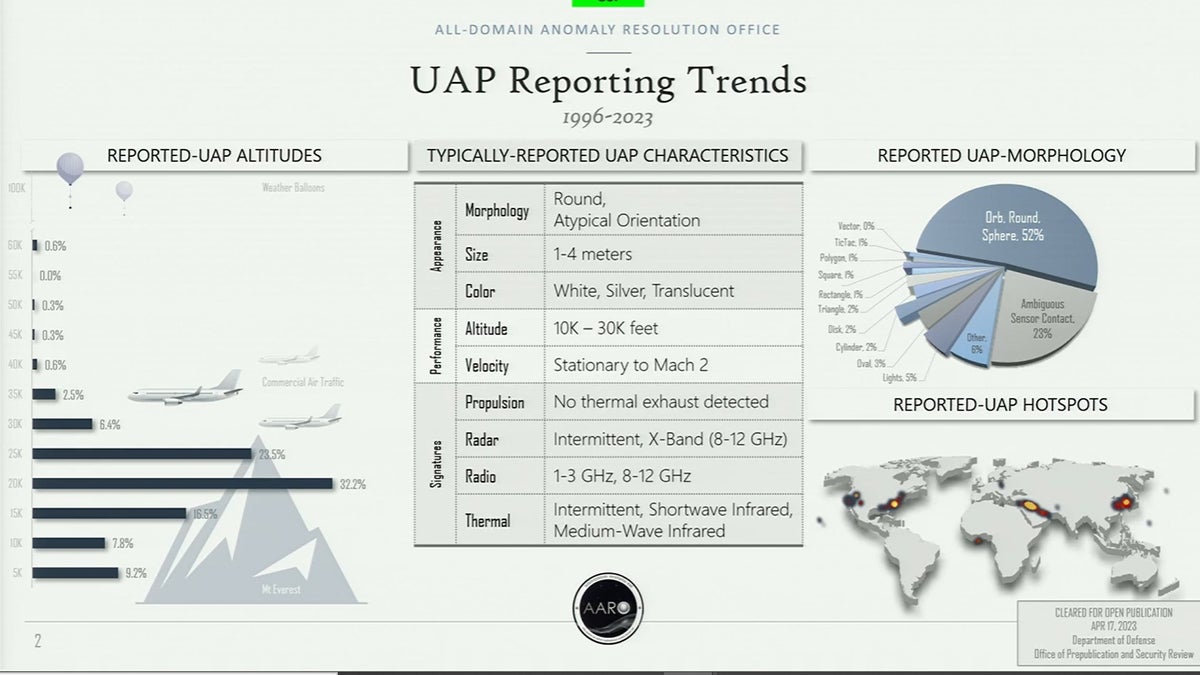 UAP reporting trends were presented during the April 19, 2023, Senate hearing. (U.S. Senate Committee on Armed Services)
David Spergel, the chair of NASA's independent UAP study team, simplified the report's language by comparing the hunt for UAPs to finding a needle in a haystack.
"If you want to find the needle, you've got two choices," Spergel said. "Either you know exactly what the needle looks like, and you design a very good filter to look for the needle. … Or you don't know what you're looking for, and with anomalies that's really the case. We're looking for things we don't understand."
"So, if you want to find something strange in a haystack, you better know exactly what hay looks like and you better be able to characterize that really well."
RUSSIAN UFO ENGAGEMENTS, SECRET 'TIC TAC' REPORT AND 3 KEY FIGURES SLIP UNDER RADAR AT CONGRESSIONAL HEARING
He gave an example of balloons, which are often confused with UFO sightings.
"You need to know what balloons look like when pilots see them so under unusual conditions so that you can eliminate those events," he said. "And that's why in identifying anomalies, understanding 'normal' is a very important part of it and understanding that under different observing conditions."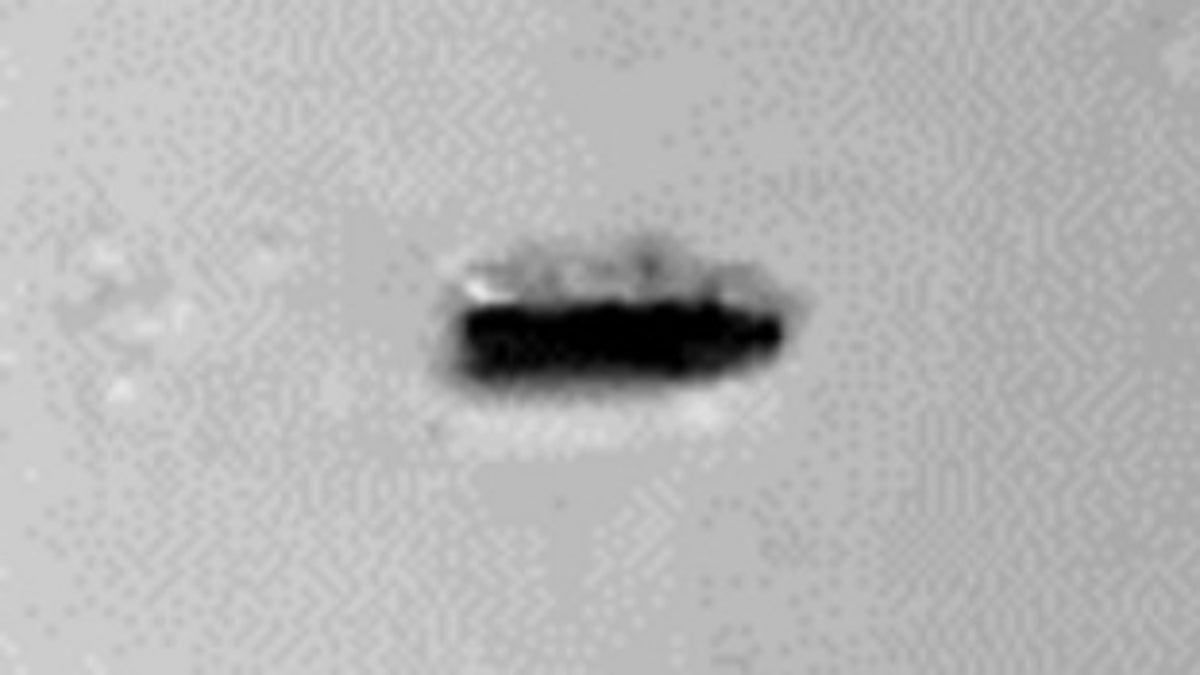 This footage taken by an MQ-9 Reaper drone shows an unidentified object in South Asia with an apparent atmospheric wake or cavitation – later assessed as a likely commercial aircraft by the All-domain Anomaly Resolution Office. The cavitation is likely a sensor artifact resulting from video compression. (NASA)
WATCH VIDEO OF INFAMOUS 'TIC TAC' UFO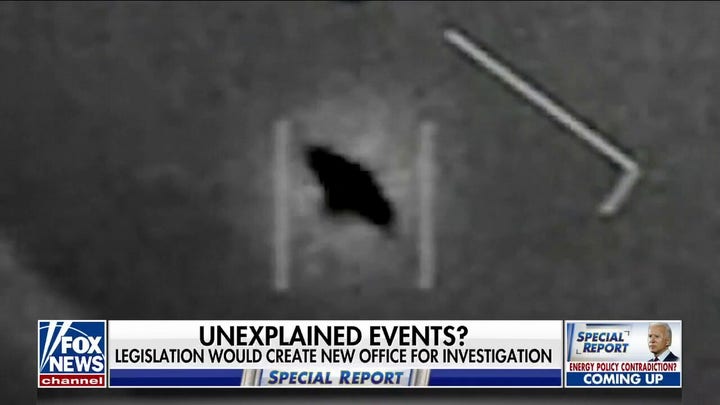 Video
But finding answers to the origins of UAPs – whether alien in origin or man-made – is vital because there's a "self-evident" threat to U.S. airspace.
The document lays out several bullet points to acquire and comb through large datasets that include the use of artificial intelligence and relies on a more robust reporting system from both military and commercial pilots, as well as the public.
UFO WHISTLEBLOWER TESTIFIES HIS LIFE WAS THREATENED OVER SECRET ALIEN TECH RETRIEVAL
"The panel finds that a particularly promising avenue for deeper integration within a systematic, evidenced-based framework for UAP is the Aviation Safety Reporting System (ASRS), which NASA administers for the FAA," the report says.
And "artificial intelligence (AI) and machine learning (ML) are essential tools for identifying rare occurrences, potentially including UAP, within vast datasets."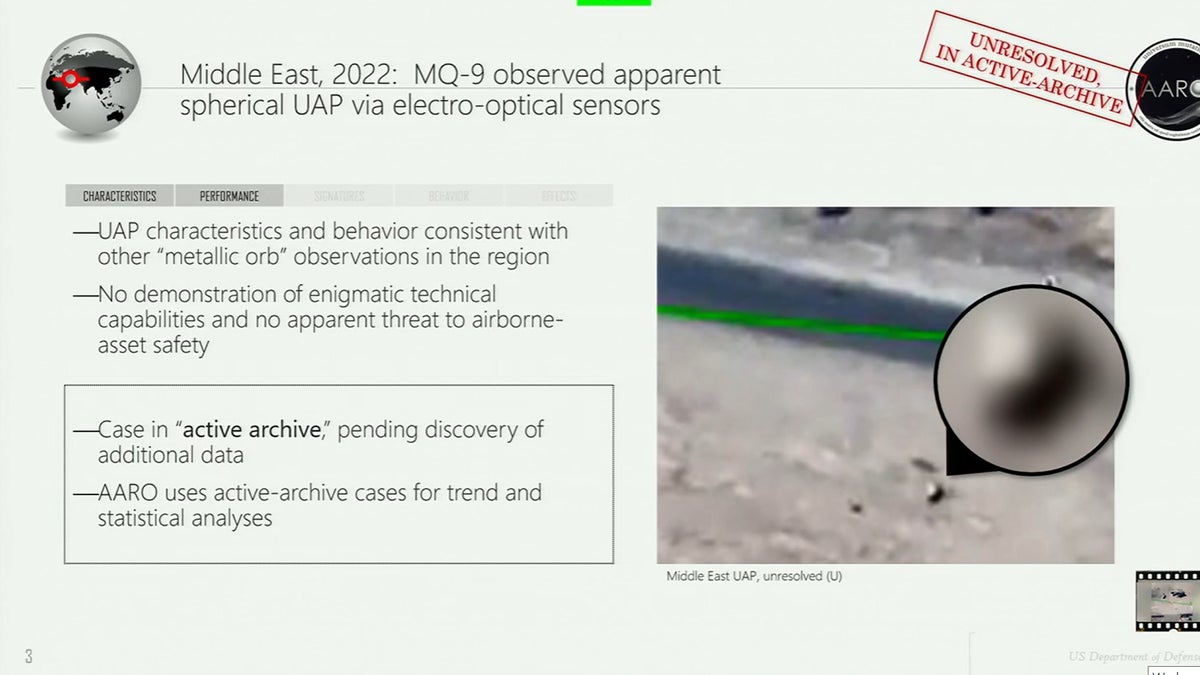 This slide was first shown during the Pentagon's briefing to Congress and included in NASA's Sept. 14 report. (NASA / DOD)
WATCH: KIRKPATRICK EXPLAINS UAP OVER MIDDLE EAST IN 2022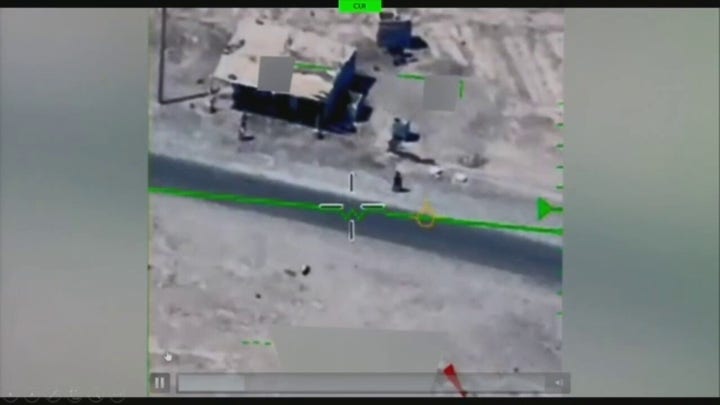 Video
NASA also announced that it named a new director of UAP research, although officials declined to say who it was and sidestepped questions about that director's identity.
Part of the reasoning is the constant harassment team members have faced since they began this undertaking last June that "rose to actual threats of violence," said Dan Evans, assistant deputy associate administrator for research within NASA's Science Mission Directorate.
ALIENS 'HAVE BEEN ON EARTH A LONG TIME': STANFORD PROFESSOR
"As a result, we at NASA take the sanctity of the scientific process and the security and safety of our team extremely seriously," Evans said. "And yes, that's in part why we are not splashing the name of our new director out there because science needs to be free."
That led NASA officials to discuss the destigmatization of reporting UFO sightings, which was considered a taboo subject for decades and damaged careers and public perceptions of scientists, whistleblowers and pilots for decades.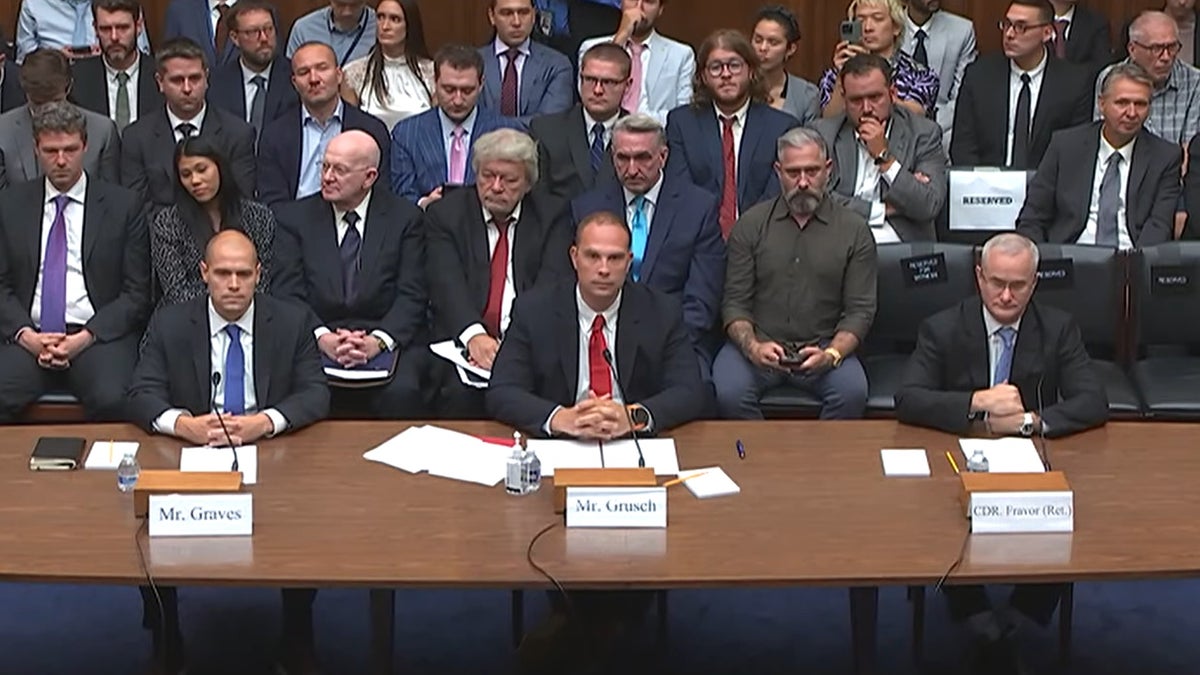 Former Navy pilot Ryan Graves, ex-Navy commander David Fravor and former U.S. intelligence officer David Grusch testify before the House of Representatives subcommittee focused on UFOs. (House subcommittee on National Security, the Border and Foreign Affairs)
READ NASA'S FULL SEPT. 14 REPORT
NASA's independent UFO panel background
In June 2022, NASA established an external independent study team to find a way we can use our open-source, unclassified data and resources to shed light on UAP incidents.
NASA's study of UAPs is separate from the Pentagon's investigation through the All-domain Anomaly Resolution Office (AARO), although the two investigations are running on parallel tracks that include corroborative efforts.
CLICK HERE TO GET THE FOX NEWS APP
Much like a team of peer reviewers, NASA commissions independent study teams as a formal part of NASA's scientific process, and such teams provide the agency external counsel and an increased network of perspectives from esteemed scientific experts.
They were assigned to pinpoint the data available around UAP and produce a report that outlines a roadmap for how NASA can use its tools of science to obtain usable data to evaluate and provide suggestions moving.
Chris Eberhart is a crime and US news reporter for Fox News Digital. Email tips to [email protected] or on Twitter @ChrisEberhart48.