Chock full of celeb cameos, some of the best Super Bowl LVII ads are going viral. If you are like me, watching the Super Bowl commercials is almost as much fun as watching the game itself.
I love that we don't have to wait until Feb. 12 to see many of the ads because a lot of the companies start rolling out teasers or even full versions weeks in advance on social media.
CLICK TO GET KURT'S CYBERGUY NEWSLETTER WITH QUICK TIPS, TECH REVIEWS, SECURITY ALERTS AND EASY HOW-TO'S TO MAKE YOU SMARTER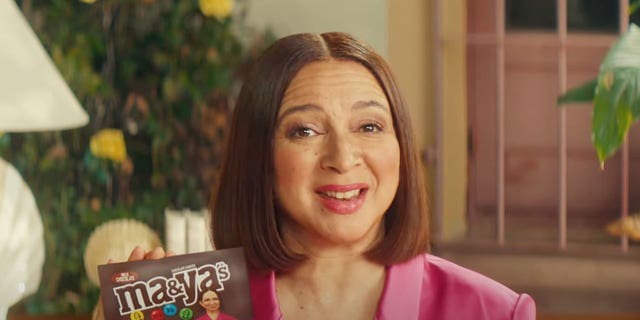 Maya Rudolph starring in an M&M's commercial for the Super Bowl. (Fox News)
From what I've seen so far, this year's Super Bowl commercials are already delivering big-time with celebs galore, and the beer company ads are the ones that are standing out the most so far.
SAMSUNG UNVEILS GALAXY S23: HERE'S WHY YOU SHOULD CARE
Bud Light: Miles Teller gets his groove on
The ad features actor Miles Teller, his wife Keleigh Sperry and their cute French bulldog, Bugsy. The couple passes the time with a couple of cans of Bud Light while dancing to a phone's hold music while enduring a 50-minute wait to speak with a customer service rep.
VRBO FIGHTS DISORDERLY PARTY HOUSE BOOKINGS AHEAD OF SUPER BOWL LVII
Michelob ULTRA: Swing and chill
Get ready to swing and chill with some big shots of sports and an ice-cold drink in hand! This ad packs a punch with pro golfer Rickie Fowler, NFL great Tony Romo and Olympic Gold Women's soccer pro Alex Morgan. They joined together to give us a sneak peek of the upcoming series "Full Swing." The show debuts on Netflix on Feb. 15, and Michelob Ultra drinkers can scan a code on the ad to access the first episode one day ahead of time.
SCAM ALERT: THAT PARKING TICKET MIGHT NOT BE REAL
Michelob ULTRA: Unforgettable match
Michelob Ultra has released a celebrity-filled ad inspired by the movie "Caddyshack," featuring tennis star Serena Williams competing against "Succession" actor Brian Cox in an unforgettable match. An extended version of the ad is also available here.
THE END OF FREE RIDES: HOW NETFLIX IS TACKLING ACCOUNT SHARING
Budweiser: Six-pack away
Budweiser teased us with its mysterious short 10-second Super Bowl clip featuring just Kevin Bacon's voice, saying, "They say that all people are six degrees of separation away from each other, but some are just a six-pack away."
BEST DESKTOP COMPUTERS OF 2023
Budweiser: Six degrees of Bud
Budweiser also released this companion ad also featuring Kevin Bacon as the narrator, where a six-pack of bottles is being shared among friends, playing on the concept of six degrees of separation. The commercial updates the classic Budweiser tagline to "This Bud's for you."
WHY SOME OF YOUR EMAIL IS DISAPPEARING
Busch Light: The Busch guide
Busch Light released this humorous 30-second commercial where outdoorsy spokesperson "Busch Guy" has a funny yet confusing encounter with singer-songwriter Sarah McLachlan. In the spot, the "Busch guy" offers tips on surviving in the wilderness, telling viewers to seek out food, drink, and shelter. Suddenly, McLachlan suddenly emerges from a tent alongside an arctic wolf while her famous song "Angel" plays. She urges viewers to "help helpless animals find shelter," a nod to the song's longtime use as a call to action advocating against animal cruelty. The Busch guy moves quickly to end the confusion – after all that is a wolf alongside her.
10 COOL VALENTINE'S DAY GIFTS FOR YOUR KIDS AND GRANDKIDS
Sam Adams: Your cousin's brighter Boston
Boston-based Sam Adams beer commercials are back with their spokesperson, "your cousin from Boston." The 60-second Super Bowl ad is chalked full of laugh-out-loud moments. It better be Sam Adams is shelling out roughly $14 million for the pricey commercial. In the spot, Sam Adams' remastered Boston Lager inspires the cousin to dream of a brighter Boston while drinking a Sam Adams Boston Lager. The dream features a utopian version of the city in which Red Sox and Yankee fans hug it out and brash Bostonians turn on the nice to create a better future for Boston, symbolized by the pouring of a beer. The commercial ends with the tagline "Boston Lager Now Brighter. "
SEAGLIDER TAKES OFF: ANOTHER MAJOR AIRLINE JOINS THE PUSH FOR BATTERY-POWERED WATER FLIGHTS
Miller Lite and Coors Light: High-stakes beer ad
Molson Coors and online betting site DraftKings partnered for a one-minute complex Super Bowl 2023 ad where eligible viewers can win a portion of $500,000 by accurately predicting the outcome of the Miller Lite and Coors Light ad. It is the first ad you can play on Draft Kings. The commercial shows some of the questions you will be able to answer like — Which beer is mentioned first? Who wins the big game commercial in the end? Number of people with facial hair & What type of dog is pictured behind the bar? It ends with a call to action, "Make your picks for free on Draft Kings."
GET THE BEST TELEVISION DEALS IN TIME FOR THE SUPER BOWL
Crown Royal: Dave Grohl learns something new
We know Dave Grohl as a singer, guitarist and songwriter for the rock band Foo Fighters. We've also seen him act in a few films, TV shows and a few commercials. Well, he's at it again with this Super Bowl ad for Canadian whiskey brand Crown Royal, where he reads off a series of objects in a teaser. What ties those things together? We'll have to wait until Super Bowl Sunday when Crown Royal's ad reveals that to us.
HOW TO ADD YOUR CREDIT CARDS AND LOYALTY PASSES TO YOUR IPHONE
Heineken 0.0: 'Ant-Man and The Wasp'
Heineken is shifting its attention away from traditional Super Bowl ads by promoting its non-alcoholic Heineken 0.0. The short 15-second teaser stars Paul Rudd as Ant-Man. It is a collaboration with Marvel Studios' "Ant-Man and The Wasp: Quantumania." It ends with the tagline – "Now you can before saving the day."
WHY YOUR PHONE GETS SO HOT DURING CALLS, AND HOW TO PREVENT IT
Rakuten: Cher from 'Clueless' is back
Get ready to "As If" because Cher Horowitz from "Clueless" is back and making a stylish comeback during this Super Bowl ad. In the 15-second teaser, Alicia Silverstone struts her stuff as Cher, decked out in a yellow plaid outfit with shopping bags in hand, ready to teach us about the latest e-commerce sensation, Rakuten. She looks into the camera and says, "Don't bug. Your girl is back." Then the words, "Get a clue," with 2.12.23 pop on screen.
BEST HOME-DELIVERY GROCERY APPS OF 2023
Avocados from Mexico: Anna Faris makes it better
The scream queen of Scary Movie, Anna Faris, is now the face of Avocados from Mexico in a playful new Super Bowl trailer. Get ready to discover that these tasty treats are actually fruits, and brace yourself for the big reveal, "The world is about to get better." If anyone can make it better, it's Anna Faris.
SAY IT WITH PHOTOS: BEST DIGITAL FRAMES FOR VALENTINE'S DAY
Workday: Ozzy the new employee
Rocker Ozzy Osbourne is playing a buttoned-up, tie-wearing new employee in this fun Super Bowl ad for Workday, an enterprise software company. This is the company's first Super Bowl ad. In the teaser, Ozzy throws his office mates a zinger when he asks, "Which one of you wants a piercing." He will be joined by other musicians when the full commercial airs on 2-12, including Joan Jett. "
BEST TECH FOR PERSONAL PROTECTION IN 2023
Doritos: Jack Harlow discovers love triangle
In this Doritos Super Bowl ad, rapper Jack Harlow is flanked by paparazzi while getting into his vehicle. Then one of the paparazzi asks, "Is it true about the love triangle?" Jack answers, "Maybe," as he chows down on a Doritos BBQ chip. Then the pap screams, "Baby, you're having a baby?"
AMAZON PRIME MEMBERS FORCED TO PAY MORE FOR FREE GROCERY DELIVERY
Pringles: Made you look
Meghan Trainor is showing off her TikTok dance moves in a Pringles Super Bowl commercial. The Grammy-winning singer films herself using a tripod-mounted phone while wearing black clothing and sunglasses. She dances to her hit song "Made You Look" while snacking on cheddar cheese-flavored Pringles chips. In the teaser, she struggles to remove her hand from the Pringles can after reaching for another chip, causing her to shake the container and express her frustration saying, "come on", sighs, "uh oh."
HOW A HIGH-TECH TOILET CAN KEEP YOU FROM OVERSPENDING ON ROLLS OF TOILET PAPER
FanDuel: Kick of Destiny
The sports betting platform, FanDuel is taking things to the next level with its first Super Bowl commercial, adding some real excitement and suspense. It will air a live commercial featuring former four-time Super Bowl champ Rob Gronkowski. The former tight end will try to score a 25-yard field goal on live TV during the third quarter. If successful, FanDuel will distribute $10 million worth of free bets among its big-game bettors.
HOW TO SPEED UP YOUR WIFI, INTERNET CONNECTIONS
PopCorners: Breaking Bad reunion
A decade after the conclusion of their hit AMC show "Breaking Bad," Bryan Cranston and Aaron Paul are reprising their popular roles as Walter White and Jesse Pinkman in a Super Bowl ad for PopCorners snack from Frito-Lay.
WHY YOU NEED TO DELETE 3 APPS RIGHT NOW IF YOU HAVE AN ANDROID
M&M's: Maya Rudolph renames candies
This M&M's Super Bowl ad features "SNL" alum Maya Rudolph being super fun with her humorous take on the iconic M&M characters, by renaming the candies "Ma&Ya's."
HOW TO USE DIFFERENT KEYBOARDS ON YOUR SMARTPHONE
Oikos yogurt: Deion Sanders and family's strength challenge
In this fun Super Bowl commercial, former NFL star Deion Sanders and his family, compete in a strength challenge at a family picnic while promoting Oikos yogurt. All I have to say is beware of Grandpa. The ad ends with a tag line, "Stronger makes everything better."
What is your favorite ad so far? We'd love to hear from you.
CLICK HERE TO GET THE FOX NEWS APP
For more of my tips, subscribe to my free CyberGuy Report Newsletter by clicking the "Free newsletter" link at the top of my website.
Copyright 2023 CyberGuy.com. All rights reserved. CyberGuy.com articles and content may contain affiliate links that earn a commission when purchases are made.