The Missouri's House of Representatives kicked off its new session by tightening its dress code and requiring female lawmakers to cover their arms and wear blazers while in the state's capitol-much to the dismay and outrage of House Democrats.
Lawmakers met on Wednesday to debate changes to the House rules, as is customary at the start of a new General Assembly every two years. The existing dress code, which was last updated in 2021, states that women are required to wear a "dress or skirts or slacks worn with a blazer or sweater and appropriate dress shoes or boots."
Republican state Rep. Ann Kelley proposed an amendment that would require women to wear jackets, defined as both blazers and knit blazers, with dresses, skirts, or slacks, and dress shoes or boots. Kelley stated that the update is necessary because "it is essential to always maintain a formal and professional atmosphere."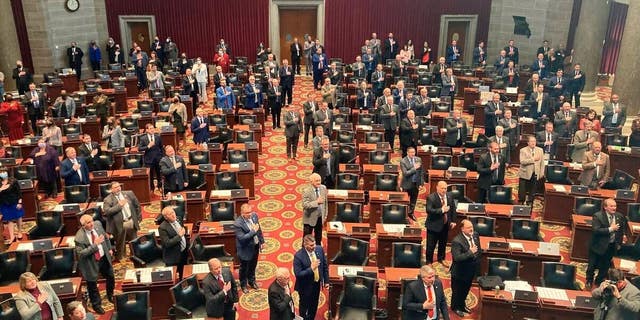 Members of the Missouri House of Representatives recite the Pledge of Allegiance as they begin their annual legislative session Wednesday, Jan. 5, 2022, in Jefferson City, Missouri.
(AP Photo/David A. Lieb, File)
She was met by swift opposition from Democrats who called it "ridiculous."
The state House eventually approved a modified version of Kelley's proposal, which allows for cardigans as well as jackets, but still requires women's arms to be concealed.
NEW SENATE GOP CAMPAIGN COMMITTEE CHAIR VOWS TO 'DO WHATEVER IT TAKES TO WIN'
The move was decried as sexist as the men's dress code was left unchanged. Men also must adhere to a dress code in the Chambers with male lawmakers required to wear "business attire, including coat, tie, dress trousers, and dress shoes or boots."
Among those critics was state Rep. Pete Merideth (D), who called out his Republican colleagues for hypocrisy over how they handled health and safety guidelines when it came to wearing a mask to help prevent the spread of COVID-19.
"The caucus that lost their minds over the suggestion that they should wear masks during a pandemic to respect the safety of others is now spending its time focusing on the fine details of what women have to wear (and specifically how many layers must cover their arms) to show respect in this chamber," Merideth tweeted.
1 DEAD, 2 INJURED IN MO POLICE CHASE
"Do you know what it feels like to have a bunch of men in this room looking at your top trying to decide whether it's appropriate or not?" state Rep. Ashley Aune (D) said on the state House floor, adding that the update motion was "ridiculous."
Rep. Brenda Shields, a Republican, defended Kelley's proposal as an effort to clarify the rules that were already in place and suggested adjusting the language to let cardigans count as jackets.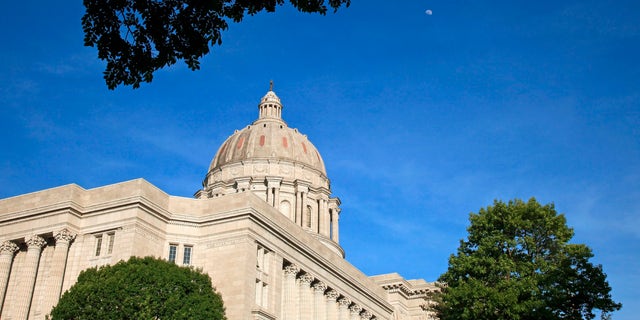 Moon rises over the afternoon sun lighted Missouri state capitol building in Jefferson City, Jefferson City is located in the center of Missouri along the Missouri River. 
(Education Images/Universal Images Group via Getty Images)
In a Facebook post, Rep. Kelley shared that she has received "lots of hateful calls emails, and messages regarding this amendment, which is funny because we already have a dress code all I was doing was fixing the errors and clarifying the rule."
She added that she brought the amendment to the floor because the House's chief clerk had "requested for many years to get [this] fixed in our rules." And she denied wasting anyone's time, saying her speech had only taken five minutes and blamed Missouri Democrats for prolonging the debate.
CLICK HERE TO GET THE FOX NEWS APP
"How is encouraging professionalism wrong?" Kelley added. "If there is ever a time to honor traditions and be professional it is on the House Chamber Floor in the Missouri House of Representatives; I will not apologize for standing up for these things."