The crown at the 71st Miss Universe Competition went to the first Filipino-American to win Miss USA on Saturday night at the international beauty pageant in New Orleans.
R'Bonney Gabriel, a fashion designer, model and sewing instructor from Texas, beat out 83 other contestants.
Gabriel closed her eyes and clasped hands with runner-up Miss Venezuela, Amanda Dudamel, at the moment of the dramatic reveal of the winner, then beamed after her name was announced.
Thumping music rang out, and she was handed a bouquet of flowers, draped in the winner's sash and crowned with a tiara onstage.
MISS UNIVERSE 2023 WILL BE HOSTED BY OLIVIA CULPO AND JEANNIE MAI JENKINS
The Miss Universe Organization suspended the organizers of the Miss USA pageant — Miss Brand Corp — after allegations surfaced that the competition was rigged and the winner predetermined back in October 2022.
Miss Texas R'Bonney Gabriel was crowned Miss USA on Oct. 3.
Shortly after her win, contestants began to complain that she had actually been "preselected" to be the next titleholder.
MISS PUERTO RICO AND MISS ARGENTINA REVEAL THEY SECRETLY GOT MARRIED AFTER KEEPING 'RELATIONSHIP PRIVATE'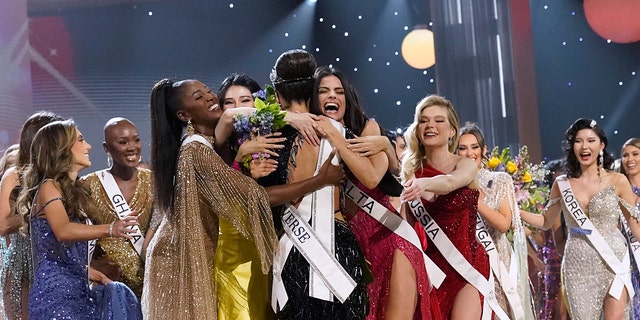 Miss USA R'Bonney Gabriel, back to camera, is hugged by other contestants after being crowned Miss Universe at the 71st Miss Universe pageant, in New Orleans on Saturday, Jan. 14, 2023. 
(AP Photo/Gerald Herbert)
Miss Universe 2021 Harnaaz Sandhu held back tears and nearly fell as she took the stage one last time.
She has gained weight since winning the crown and said in August 2022 that she had been constantly criticized on social media.
"I was bullied for gaining weight," said the Indian-born beauty queen. "It was kind of uncomfortable and really surprising for me to see how people started having opinions, which should not really matter. It's not about how you look, it's about who you are from inside and how you treat people and what you believe in."
The second runner-up of Saturday's competition was Miss Dominican Republic, Andreina Martinez.
In the Q&A at the last stage of the competition for the three finalists, Gabriel was asked how she would work to demonstrate Miss Universe is "an empowering and progressive organization" if she were to win.
"I would use it to be a transformational leader," she responded, citing her work using recycled materials in her fashion design and teaching sewing to survivors of human trafficking and domestic violence.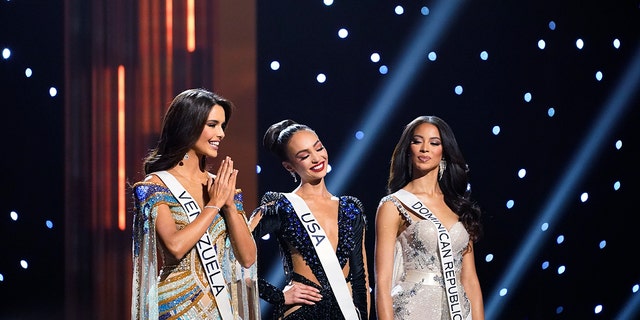 The final three contestants react during the 71st Miss Universe pageant, in New Orleans on Saturday, Jan. 14, 2023. From left are Miss Venezuela Amanda Dudamel, Miss USA R'Bonney Gabriel and Miss Dominican Republic Andreína Martínez. 
(AP Photo/Gerald Herbert)
CLICK HERE TO GET THE FOX NEWS APP
"It is so important to invest in others, invest in our community and use your unique talent to make a difference," Gabriel continued. "We all have something special, and when we plant those seeds to other people in our life, we transform them and we use that as a vehicle for change."
Fox News' Stephanie Nolasco, Lauryn Overhultz and the Associated Press contributed to this report.