close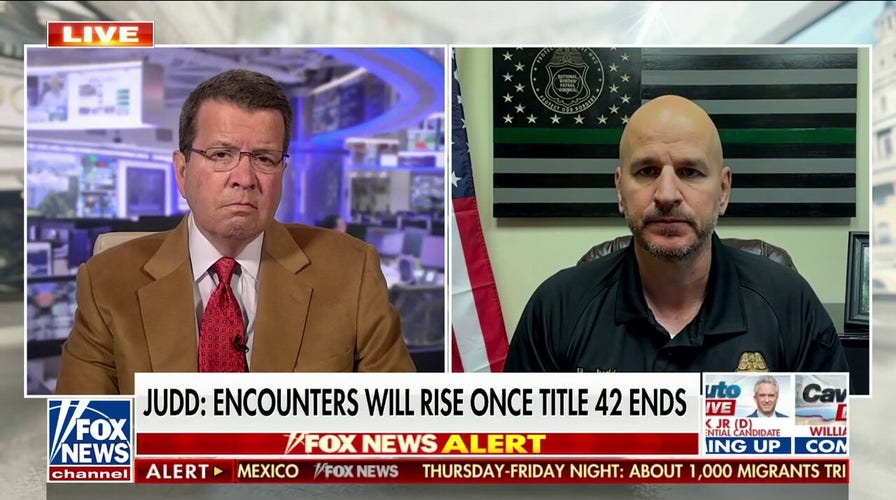 Video
Biden admin will not back up its border rhetoric with facts: Brandon Judd
National Border Control Council President Brandon Judd discusses the Biden administration's management of the border crisis, rising border crossings and the impact from lifting Title 42. 
Around two dozen makeshift tents at a camp holding migrants from Mexico and Central America across the Texas border were set ablaze this week.
The sprawling camp in Matamoros – near Brownsville, Texas – currently holds around 2,000 people, most of whom are from Venezuela, Haiti, and Mexico.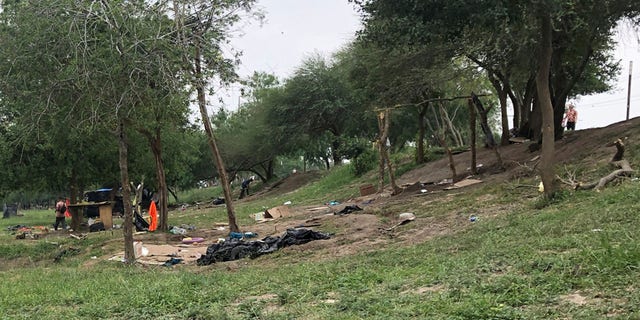 Makeshift tents and debris are seen at a migrant camp in Matamoros, Mexico, Friday, April 21, 2023. (AP Photo/Valerie Gonzalez)
More than two dozen rudimentary shelters made of plastic, tarps, branches, and other materials were torched in a sparsely populated part of the camp.
There were no reports of deaths or significant injuries, but many who lived there also lost clothing, documents and whatever other modest belongings may have been left inside.
9 MEN WHO ENTERED THE UNITED STATES ILLEGALLY THROUGH CANADA RESCUED, TREATED FOR EXPOSURE TO COLD
It was not clear who is responsible for setting the tents on fire. Cartel-backed gangs, known for preying on migrants and demanding money for passage through their territory, are often blamed in such border attacks.
Multiple officials suggested the fires could have been set by a group of migrants frustrated over their long wait in Matamoros to cross the border.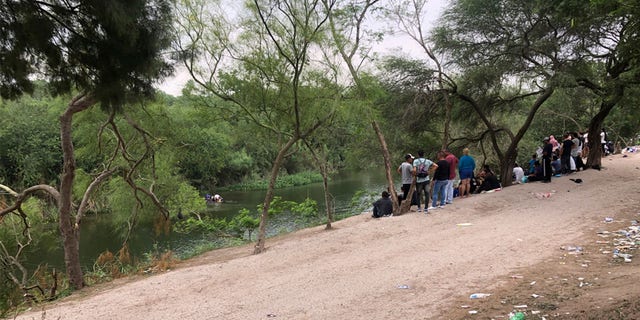 Makeshift tents and debris are seen at a migrant camp in Matamoros, Mexico, Friday, April 21, 2023.  (AP Photo/Valerie Gonzalez)
Juan José Rodríguez, director of the Tamaulipas Institute for Migrants, a state agency coordinating with Mexico's federal government, said he had no information that a gang was responsible for the fires.
Rodríguez attributed them to a group of migrants and said some 10 tents that had already been abandoned were burned. He added that they apparently set the fires to express frustration with a U.S. government mobile app that assigns turns for people to show up at the border and claim asylum.
MAYORKAS TAKES HEAT FOR REPEATING BORDER IS 'SECURE' CLAIM DURING HOUSE HEARING: 'THIS IS NONSENSE'
Migrants have been applying for 740 slots made available daily on the app, CBPOne, which allows them to enter the U.S. legally at an official crossing. There are far more migrants than available slots, exacerbating tensions in Mexican border cities that house them, often in shelters and camps like the one in Matamoros.
Fox News Digital has reached out CBP for more information.
The tent fires come a day after a group of around 1,000 migrants tried to cross from Matamoros into Brownsville, Texas, prompting U.S. border officials to close the Gateway International Bridge for several hours, police told Border Report.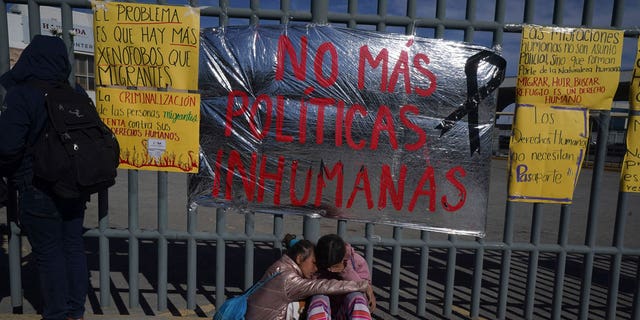 A pair of Venezuelan sisters comfort each other sitting on a sidewalk outside an immigration detention center where dozens of migrants fearing deportation set mattresses ablaze, starting a fire that killed dozens in Ciudad Juarez, Mexico, on March 28, 2023. (AP Photo/Fernando Llano)
The blaze also comes nearly a month after migrants protesting their possible deportation set fire to mattresses at an immigration detention center in Ciudad Juárez, Chihuahua, starting a blaze that killed more than three dozen migrants.
The Biden administration has increasingly turned to Mexico while preparing to end pandemic-era asylum restrictions, known as Title 42 authority, on May 11. Mexico recently began accepting people from Cuba, Haiti, Nicaragua and Venezuela who cross the border irregularly and are turned back by the U.S.
CLICK HERE TO GET THE FOX NEWS APP
President Biden also is putting the final touches on a policy under which asylum would be denied to people who pass through another country, such as Mexico, to reach U.S. soil.
Fox News Chris Pandolfo and The Associated Press contributed to this report.
Bradford Betz is a Fox News Digital breaking reporter covering crime, political issues, and much more.