close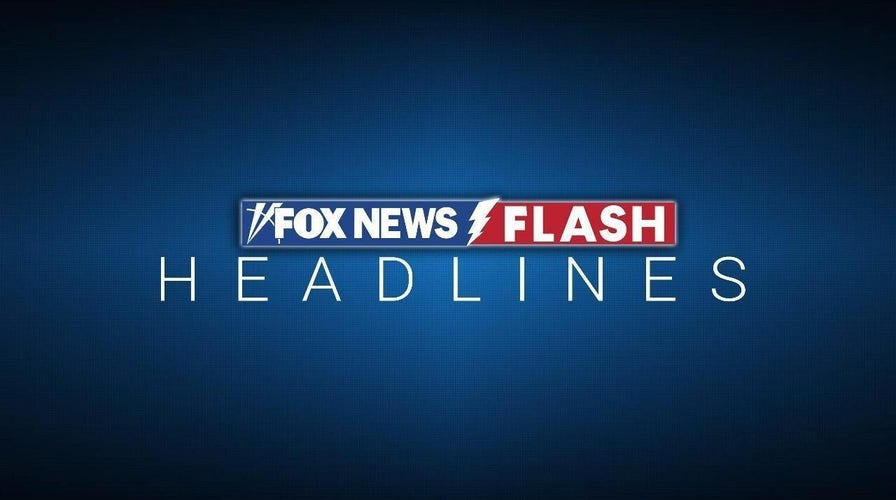 Video
Fox News Flash top headlines for January 12
Fox News Flash top headlines are here. Check out what's clicking on Foxnews.com.
The mayor of Mexico City announced Thursday that 6,060 National Guard officers will be posted in the city's subway system after a series of accidents that officials suggested could be due to sabotage.
Mayor Claudia Sheinbaum said mechanical problems in recent months may have been due to "not normal" causes. She appeared to suggest, but did not say, that it could involve some form of sabotage.
"In recent months, incidents have been occurring that we categorize as not normal," Sheinbaum said, adding that she had asked President Andrés Manuel López Obrador to dispatch the quasi-military National Guard and he agreed.
The mayor said Guard officers would be posted at subway stations "and some other facilities" in the system and would be there "for some months."
She did not explain how the Guard officers, mostly drawn from the army and assigned to law enforcement, could help control a situation that appears to be caused by maintenance, design or operational flaws.
The Miguel Agustín Pro Juárez human rights center said the announcement "is concerning, because it is obvious that this agency reproduces the military's problems with a lack of transparency and excessive use of force."
MEXICO CITY SAYS EXTORTION GANG RESPONSIBLE FOR SHOOTING ATTACK ON REPORTER
Accidents on the subway have been a recurrent embarrassment for Sheinbaum, who is considered the most likely candidate of López Obrador's Morena party to succeed him in the 2024 elections. Like the president, Sheinbaum often ascribes setbacks to a conservative conspiracy against her.
López Obrador was somewhat more specific, saying the Guard would be there to prevent "provoked," or intentional accidents.
"What we want is for there not to be psychosis, for people not to have to worry about some accident in the subway, and that it could have been provoked," the president said.
"If they call that militarization or whatever, then we will take responsibility for that," he said.
The latest accident came Saturday, when two subway trains collided while between stations, killing one person and injuring dozens. Local media reported there had previously been signaling problems on that stretch of track.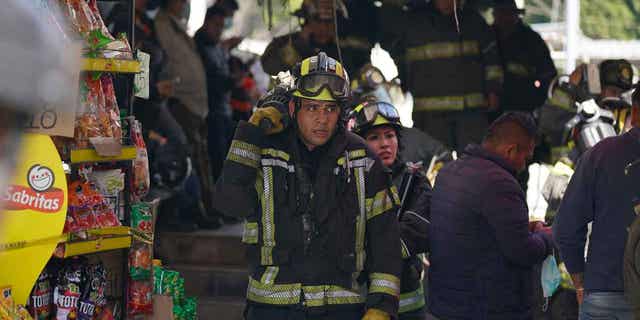 Rescue workers exit the Raza station in Mexico City where two subway trains collided on Jan. 7, 2023. Mexican authorities announced that another person has died and more than a dozen people were injured in the accident.
(AP Photo/Fernando Llano)
In May 2021, an elevated section of the subway system collapsed, causing 26 deaths and injuring nearly 100 people. An investigation blamed deficiencies in construction, and 10 former officials have been charged with a form of manslaughter, injury and damage to property, but none have been jailed.
Poor welding, a lack of maintenance, antiquated electronic systems and the city's frequent earthquakes and soft soil conditions have all been blamed in the past for problems on the subway, but sabotage has never before been seen as a cause.
MEXICO CITY RESIDENTS ANGERED BY INFLUX OF AMERICANS SPEAKING ENGLISH, GENTRIFYING AREA: REPORT
But in the last several days, Sheinbaum said, there had been three "not normal" problems found on subway cars or tracks, including the failure of a tire "that had just been inspected." The city's subway cars run on both tires and rails.
Subway riders were skeptical about sending the National Guard into the largely underground metro system.
Manuel Alejandro, a clothing and sneaker vendor who rides the subway almost every day, said, "The National Guard isn't going to solve anything … it would be better to give the subway the periodical maintenance it needs."
"It stops a lot, the lights go off," Alejandro said of the trains. "It seems like they are looking for excuses."
Tarcisio Montaño, a building maintenance worker who generally supports López Obrador and his anti-poverty programs, said he sees politics playing a role in some of the criticism of subway problems.
"They are attacking the metro to smear the government," Montaño said, suggesting the president's political rivals have an interest in publicizing the issue.
But also he acknowledged the subway system is underfunded and poorly maintained. "Where does all the money from the tickets go?" he asked, noting that trains can take a long time to come.
Montaño agreed the National Guard is not the answer.
"I don't see any reason for the National Guard," he said. "They are there to defend the country, not to keep watch for you on the subway."
The Mexico City subway system has 141 miles of track and 195 stations. It serves an average of 4.6 million passengers every day. With tickets costing the equivalent of 25 cents, it is also one of the cheapest subway systems in the world and has suffered from insufficient budgets for years.
CLICK HERE TO GET THE FOX NEWS APP
The tech publication "Rest of the World" reported this week that current and former subway workers say the metro system's communication network is so bad that they have been forced to rely on messaging apps on their cellphones to keep in touch between train operators and avoid accidents.
In 2021, a fire in the antiquated control center of the subway system killed one person and sent 32 others to the hospital, while knocking out service on half of the subway lines in the city of 9 million inhabitants. Some of the technology at the control center appeared to be 1970s-era analog equipment.