close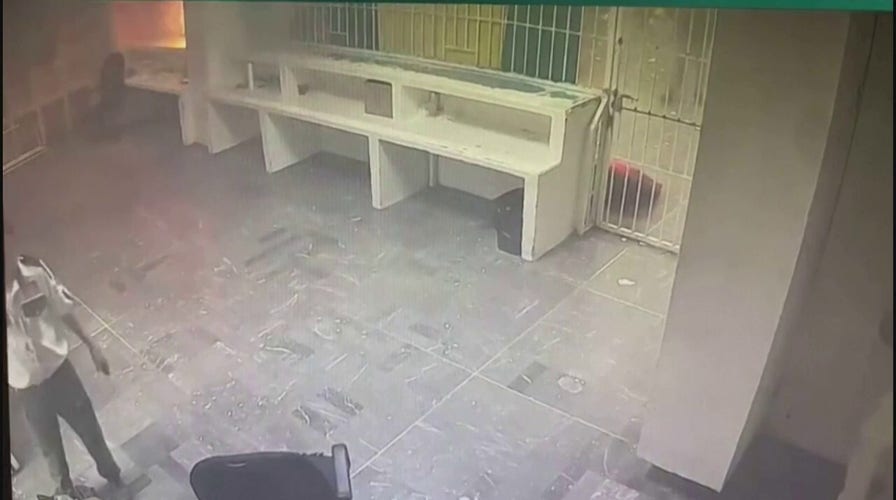 Video
Mexico migrant facility video shows deadly fire breaking out
Surveillance video from inside a Ciudad Juarez migrant facility near the U.S.-Mexico border appears to show a guard failing to unlock a cell as a fire grew Monday. (Reuters)
The families of nearly 40 migrant men who died in a fire at a detention facility in the Mexican border city of Ciudad Juárez on Tuesday say that guards at the facility neglected to release the men, contributing to the high death toll.
Mexican authorities said the inferno started in the men's section of the facility after detained migrants set fire to their mattresses in protest over rumors that they would be deported back to South and Central America. Surveillance video released Tuesday shows that as smoke filled the men's cells, guards made no apparent attempt to release the men before evacuating the premises.
Immigration authorities said 68 migrant men were housed in the facility at the time the fire started. The men were mostly from Guatemala, Honduras, Venezuela and El Savador, traveling north on their way to the United States. The official toll is 38 dead and 28 seriously injured, who were transported to local hospitals for emergency care.
According to Mexico's National Institute of Migration (INM), the guards released 15 women when the fire broke out, but no explanation has been offered for why the men were left locked inside. Family members of the killed and injured are demanding answers.
FIRE AT MEXICO MIGRANT FACILITY THAT KILLED 38 STARTED IN DEPORTATION PROTEST, PRESIDENT SAYS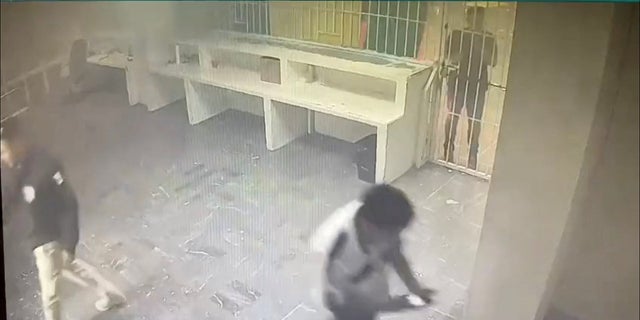 Alleged staff members walk away from the cell where flames and smoke begin to spread, appearing to ignore migrant detainees, who are locked behind a cell door at a detention centre in Ciudad Juarez, Mexico March 27, 2023. Alejandra Corona, a representative of the Jesuit Refugee Service, which visits the facility once a week to monitor conditions, confirmed the video showed the men's cell. The door the men were kicking on was the only exit, she said. (Video obtained by REUTERS)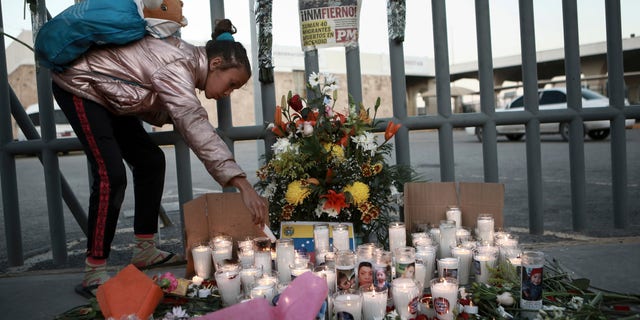 A girl lights candle during a vigil for the victims of a fire at an immigration detention center that killed dozens in Ciudad Juarez, Mexico, Tuesday, March 28, 2023. According to Mexican President Andres Manuel Lopez Obrador, migrants fearing deportation set mattresses ablaze at the center, starting the fire. (AP Photo/Christian Chavez)
"There was smoke everywhere. The ones they let out were the women, and those (employees) with immigration," said Infante Padrón, whose husband, Eduard Caraballo López, is one of the survivors.
In an interview with the Associated Press, Padrón said she frantically searched for her husband as emergency responders began pulling foil-wrapped bodies out of the burning building.
"The men, they never took them out until the firefighters arrived," she said. "They alone had the key. The responsibility was theirs to open the bar doors and save those lives, regardless of whether there were detainees, regardless of whether they would run away, regardless of everything that happened. They had to save those lives."
Surveillance video leaked Tuesday showed migrants, reportedly fearing they were about to be moved, placing foam mattresses against the bars of their detention cell and setting them on fire.
In the video, later confirmed by the government, two people dressed as guards rush into the camera frame, and at least one migrant appears by the metal gate on the other side. However, the guards do not appear to make any effort to open the cell doors and instead hurry away as billowing clouds of smoke fill the structure within seconds.
MEXICAN PRESIDENT CALLS US 'LIARS' AFTER HUMAN RIGHTS SLAP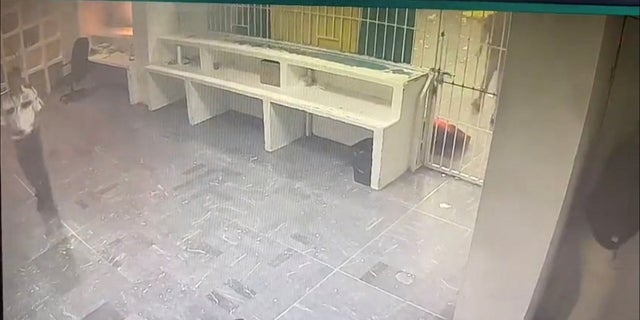 An alleged staff member walks away from the cell where flames and smoke begin to spread as migrant detainees are locked behind a cell door at a detention centre in Ciudad Juarez, Mexico March 27, 2023 in this still image from video. (Video obtained by REUTERS)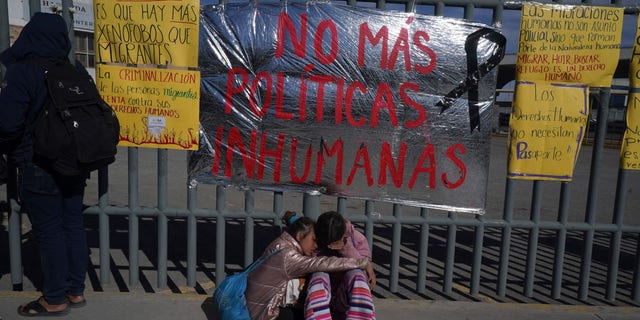 A pair of Venezuelan sisters comfort each other sitting on a sidewalk outside an immigration detention center where dozens of migrants fearing deportation set mattresses ablaze, starting a fire that killed dozens in Ciudad Juarez, Mexico, Tuesday, March 28, 2023. The sign behind the sisters reads in Spanish "No more inhuman policies." (AP Photo/Fernando Llano)
In a statement released Tuesday, INM said the proper authorities were investigating the incident and pledged to assist investigators "in order to clarify these unfortunate facts."
"The National Institute of Migration strongly rejects the acts that led to this tragedy," the agency said, without specifying which "acts" it was referring to.
Earlier Tuesday, nearly 100 migrants gathered outside the immigration facility to learn the fate of their relatives.
Katiuska Márquez, a 23-year-old Venezuelan woman with her two children, ages 2 and 4, told the Associated Press she was looking for her half-brother, Orlando Maldonado, who had been traveling with her.
"We want to know if he is alive or if he's dead," she said, wondering aloud how all the guards survived the blaze but many of the migrants didn't. "How could they not get them out?"
MEXICAN SEIZURE OF US COMPANY'S FACILITY MARKS LATEST DIPLOMATIC FUROR AMID TENSIONS OVER FENTANYL, CARTELS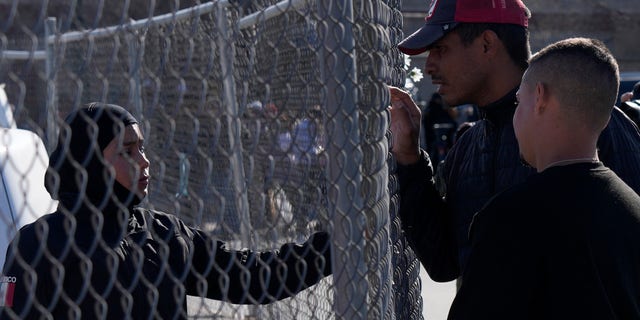 Migrants, right, as a member of the Mexican National Guard if there is any new information available regarding the victims of a fire at an immigration detention center that killed dozens, in Ciudad Juarez, Mexico, Tuesday, March 28, 2023. (AP Photo/Fernando Llano)
Immigration activists slammed the Mexican government's response, claiming this incident was the latest in a series of human rights abuses inflicted by treating migrants as criminals.
"You could see it coming," a coalition of more than 30 migrant shelters and other advocacy organizations said in a statement Tuesday. "Mexico's immigration policy kills."
Mexican President Andrés Manuel López Obrador called the fire a "terrible misfortune."
Irineo Mujica, an immigration activist, told the Associated Press that the migrants are afraid of being deported to southern Mexico, from where they will attempt to travel across the country again as they seek to reach the U.S.
"When people reach the north, it's like a ping-pong game — they send them back down south," Mujica said.
"We had said that with the number of people they were sending, the sheer number of people was creating a ticking time bomb," Mujica said. "Today that time bomb exploded."
AMERICANS WHO SURVIVED MATAMOROS CARTEL KIDNAPPING BREAK SILENCE ON 'NIGHTMARE' IN MEXICO
Mexican authorities and firefighters remove injured migrants, mostly Venezuelans, from inside the National Migration Institute building during a fire, in Ciudad Juarez, Mexico March 27, 2023. (REUTERS/Jose Luis Gonzalez)
The migrants were being held in Ciudad Juárez, which is across the border from El Paso, Texas, because U.S. policy does not permit them to make asylum claims within the country. They had been detained as part of a crackdown after frustrating city residents by panhandling and blocking traffic at border crossings.
Earlier this month, at least 1,000 migrants mostly from Venezuela stormed the Paso Del Norte bridge linking Mexico to the U.S. in El Paso in an attempt to gain entry into the U.S. Customs and Border Protection repelled the migrants.
Republicans have blamed the Biden administration on the increase in encounters after rolling back Trump-era policies like the Remain-in-Mexico policy, ending wall construction and narrowing interior ICE enforcement as reasons for the crisis.
CLICK HERE TO GET THE FOX NEWS APP
The Biden administration has pushed back on those accusations and have accused Republicans of failing to vote for more border funding and not supporting a sweeping immigration reform proposal introduced on day one of the administration.
In his State of the Union address, President Biden again appealed for Republicans to pass parts of the bill, but lawmakers have balked at the inclusion of a pathway to citizenship for illegal immigrants, which Democrats have indicated is a must.
Fox News' Greg Wehner, Bill Melugin, and the Associated Press contributed to this report.
Chris Pandolfo is a writer for Fox News Digital. Send tips to c[email protected] and follow him on Twitter @ChrisCPandolfo.