Meta's new VR headset costs $1,500. I just want to get that part out there and let it sink in. For anyone used to spending $300 to $400 on the Meta Quest 2 as an entry ticket to the metaverse, this may come as a shock. 
The Meta Quest Pro, announced at Meta's Connect conference on Tuesday, arrives Oct. 25. I got a chance to try it out during a recent visit to Meta's Reality Labs Research headquarters in Redmond, Washington, and it isn't trying to be your everyday home headset.
In fact, after using it for about an hour or two, it reminded me more of Microsoft's professional-level HoloLens 2 than any consumer VR headset I've ever worn. And its price, while it initially seems super expensive, falls right in the range where business AR and VR headsets are anyway.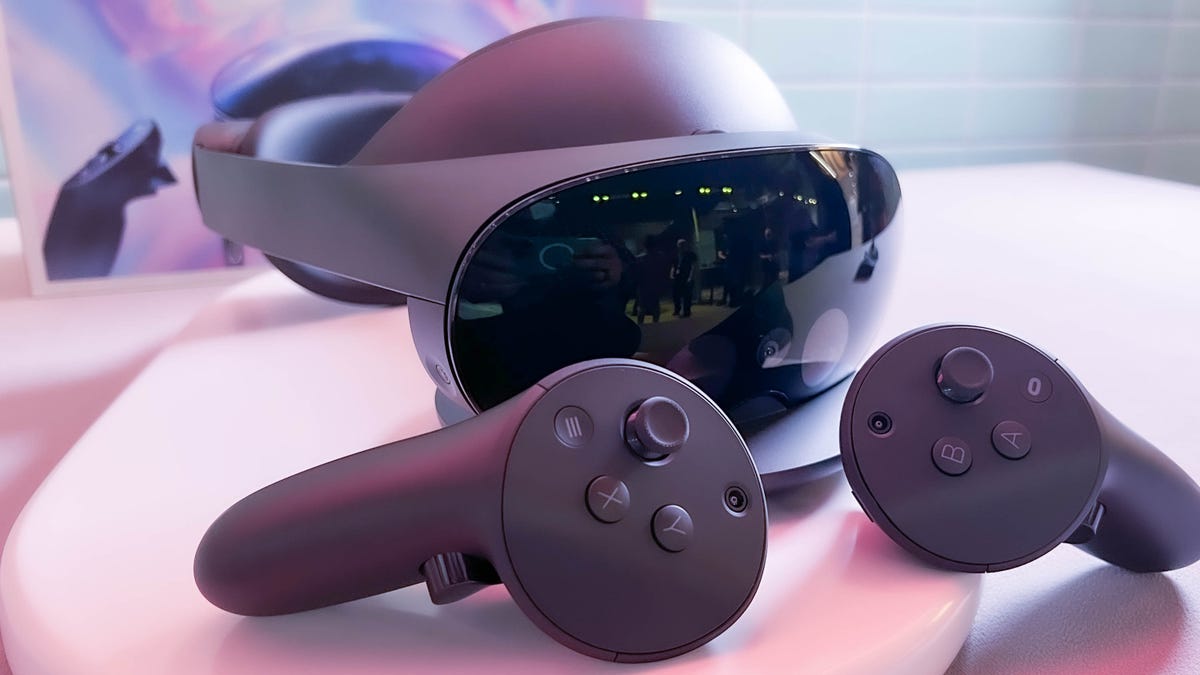 The Meta Quest Pro virtual reality headset and its new controllers.

Scott Stein/CNET

Think of the Quest Pro as what might happen if the HoloLens 2 and Quest 2 got married, and this was their kid. The Quest Pro is still a standalone VR headset, just like the Quest 2, but its capabilities extend to scanning the real world using cameras and depth sensors and overlaying that with virtual objects. The mixed-reality experience it creates feels like the AR experiences that Magic Leap and HoloLens create, but instead of using see-through lenses with projected ghostly 3D images on top, it shows color video of the world around you on its display, while adding VR to the mix. (The Quest 2 headset has some of these abilities too, but with a much grainier black-and-white camera.) The new controllers are smaller, have better haptics and promise more reliable tracking — they also have their own cameras now. 
Meta Quest Pro
$1,500 at Best Buy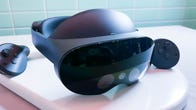 The Pro also has a more powerful processor — a new Qualcomm Snapdragon XR2 Plus that promises up to 50% more performance power over the Quest 2 — and eye and face tracking inside the headset, which Meta plans on using for both improved graphics over time, and creating more emotionally reactive VR avatars that could smile, frown or make actual eye contact. (This won't be the last headset doing mixed reality like this. Qualcomm said in a statement that upcoming headsets this year will also use the XR2 Plus platform.)
Sliding the slimmer headset onto my face, I immediately appreciated that it fits over my glasses perfectly. Also, the outside world wasn't blocked off from my peripheral vision, even as I saw virtual objects, shown in VR, layered on top of the world around me. It was like AR experiences you'd have on a phone, but in full 3D. I could reach out and move things, using the Pro's improved controllers. When one of my demos was over, someone nearby said to me "welcome back." But the funny thing is, with the Quest Pro's mixed reality, it feels like I never left the room. Instead of being taken to virtual places, the virtual things came to me.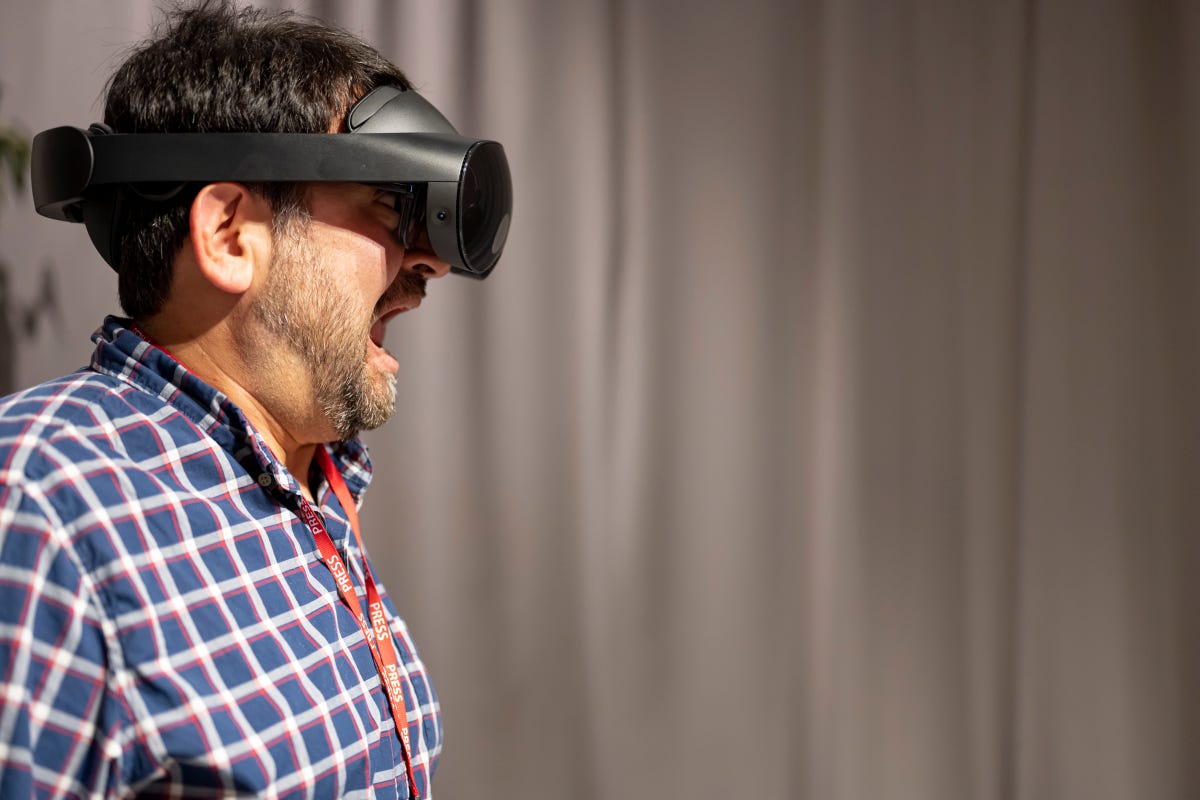 I made a lot of weird expressions wearing the Quest Pro.

Meta

While Meta dreams of carrying everyone into a billion-person metaverse that feels like the future of computing, existing VR headsets have limits on their usefulness, and they block out the outside world. Getting to everyday AR glasses is the end goal, but in the meantime, the Quest Pro is a bridge that begins to bring AR into a Meta headset while still keeping VR in the mix. However, this type of $1,500 device isn't looking to bring more everyday people in. Instead, it's aiming to capture the business and research market that has, to this point, been more the domain of companies such as HTC, Microsoft and Magic Leap. 
Meta CEO Mark Zuckerberg, who talked to a handful of reporters (including me) during my visit to Meta Reality Labs Research, said about the Quest Pro, "The people who we're targeting, it's going to be either people who just want the highest-end VR device — enthusiast, prosumer folks — or people who are trying to get work done."
CTO Andrew Bosworth, who I also talked to during my Quest Pro demos, added, "The system is also the best place to play games," emphasizing the system's enhanced display and room-tracking controllers. "I think this stuff is going to take existing experiences that people are having today in VR and make them better."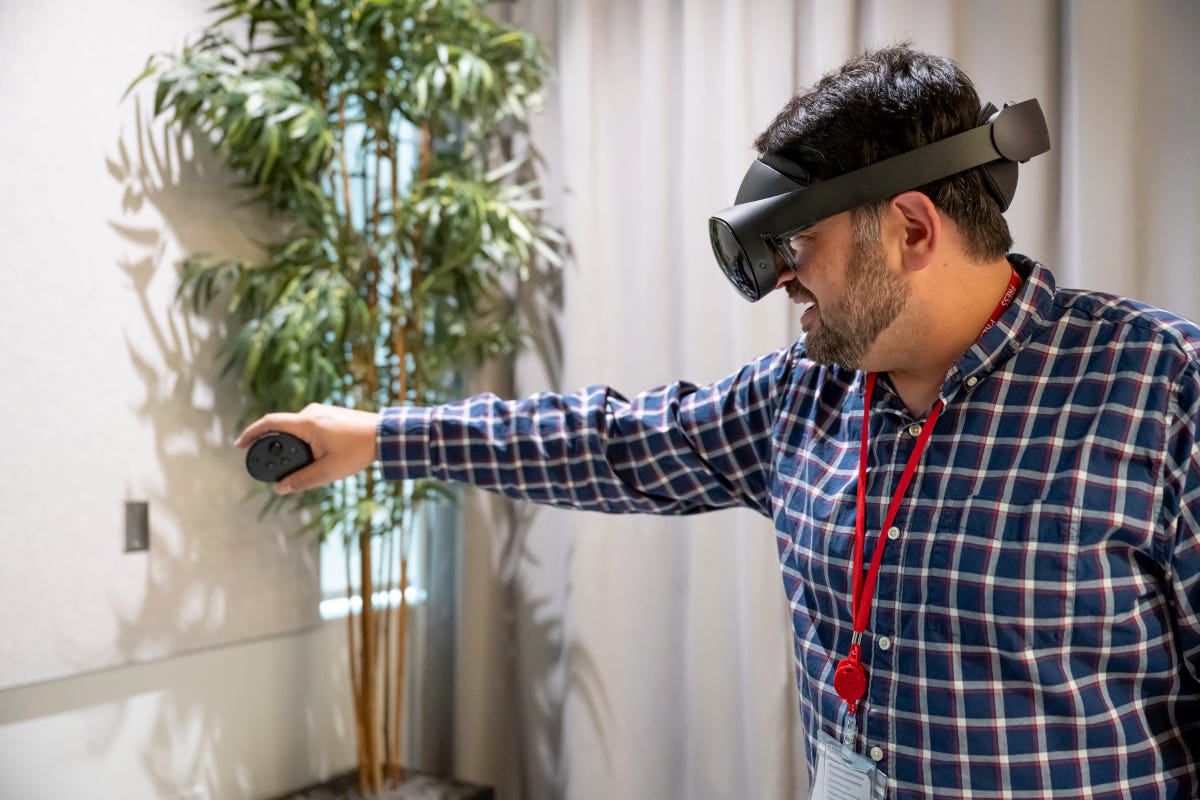 Using the Meta Quest Pro gave me HoloLens and Magic Leap feelings.

Meta

After positioning the original Quest as a self-contained, game-playing home VR console, Facebook's ambitions for the Quest Pro go a lot deeper. Zuckerberg has already laid out big plans for a cross-device metaverse as a new form of work and social computing. How exactly Meta aims to get there still hasn't been fully solved, even with VR. That next part may start with the Quest Pro and other AR devices Meta is trying to create.
The Quest Pro is also part of a new VR product strategy for Meta, building out a pro VR product line that will live alongside the mainstream lower-cost consumer models. The Pro arrives two years after the Quest 2 was released, and a Quest 3 should still be on its way, perhaps in 2023.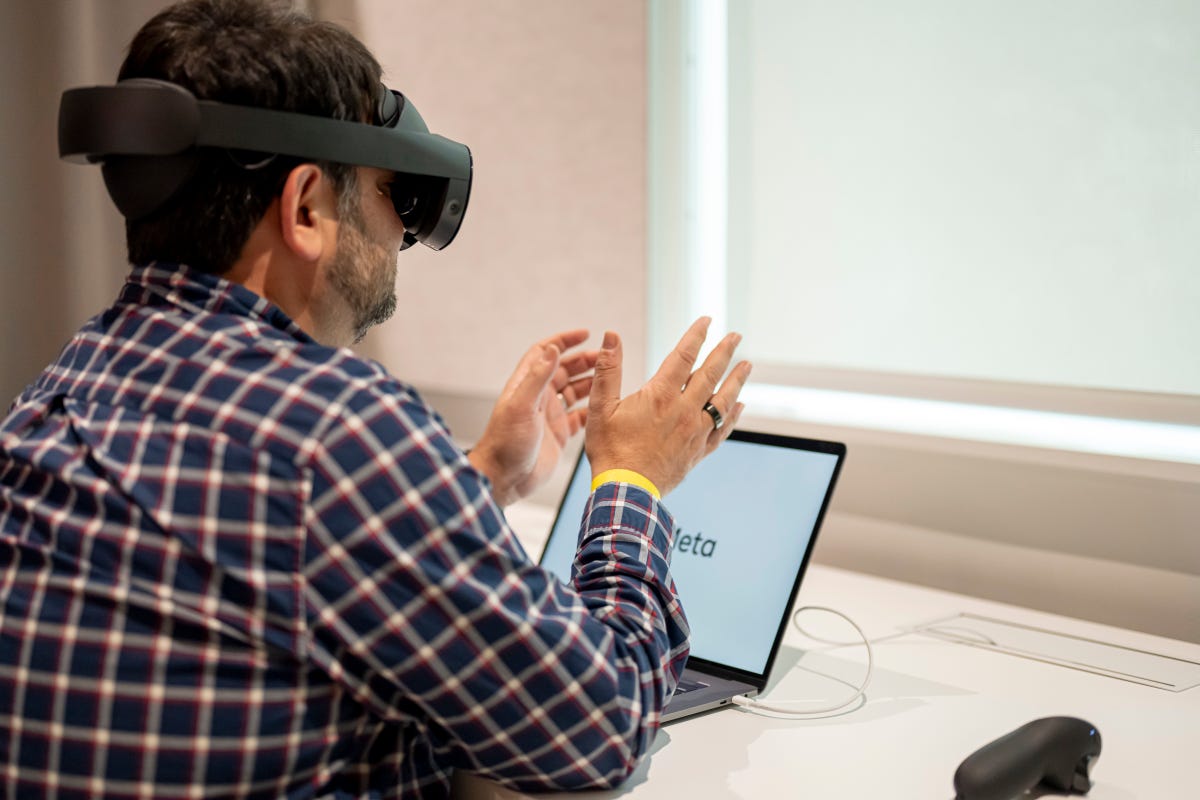 A demo I tried of the Quest Pro using Meta's Horizon Workrooms, where I sat across from another avatar at my desk.

Meta

Pro VR headsets that blend in mixed reality with pass-through cameras already exist, but the best ones, like the lidar-equipped Varjo XR-3, cost thousands of dollars (Varjo's more recent Aero headset runs $1,990). Standalone AR headsets cost thousands, too: the Magic Leap 2 is $3,300; the HoloLens 2 is $3,500; HTC's standalone Vive Focus 3 VR headset costs $1,300. In that context, the $1,500 Meta Quest Pro doesn't seem outrageously priced at all. But at that price, it'll likely only appeal to enthusiasts with a reason to buy a mixed-reality device in Meta's ecosystem or to businesses that can justify the cost as a professional expense.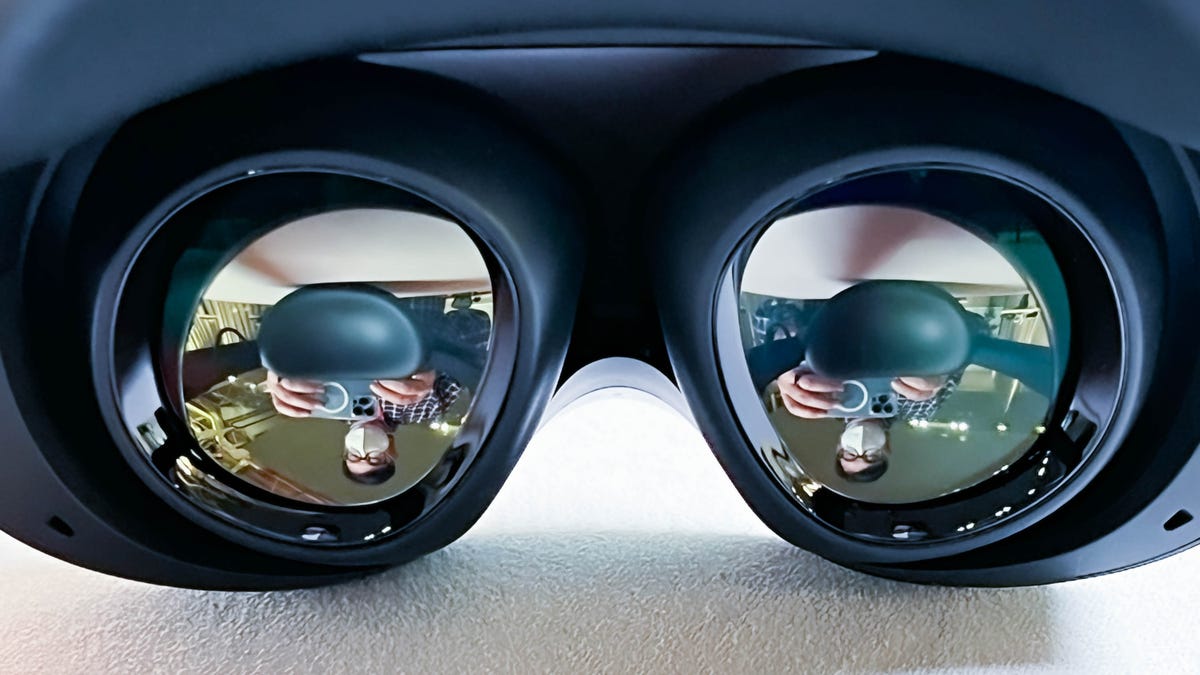 The Quest Pro's lenses are more adjustable, and the display feels more expansive.

Scott Stein/CNET

Display: It almost feels like a window
The display's wider field of view and its new, slimmer pancake optics lenses make the front of the Quest Pro feel more like a visor, and it slips down over my face just as easily. The headset tightens in the back with a dial, similar to other AR/VR headsets, like the PlayStation VR 2 and Meta's own Elite strap for the Quest 2. The front lenses can be moved forward and back, and also adjusted to a wider range of eye distances (interpupillary distance) than the Quest 2.
The display's better than the Quest 2's, with quantum dot LED-backlit LCD displays that have better local dimming (not OLED, but it gets closer to better black levels). The display is also meant to be sharper-looking both head-on and at angles, with higher pixel density and better color range.
Because I'm able to see things in my peripheral vision, the passthrough color camera display in the headset almost feels like an extension of the rest of the world. It adds to the feel of an AR headset, as opposed to a VR one, even though the Quest Pro is technically a VR headset. Included silicone light-blockers are meant to make apps feel more traditionally VR-like, and a separately sold full-immersion attachment for $50 is meant to block still more light. The Quest Pro isn't ideal if you're looking for a personal enclosed theater effect; instead, it seems better as a VR device that will let you see things around you at the same time.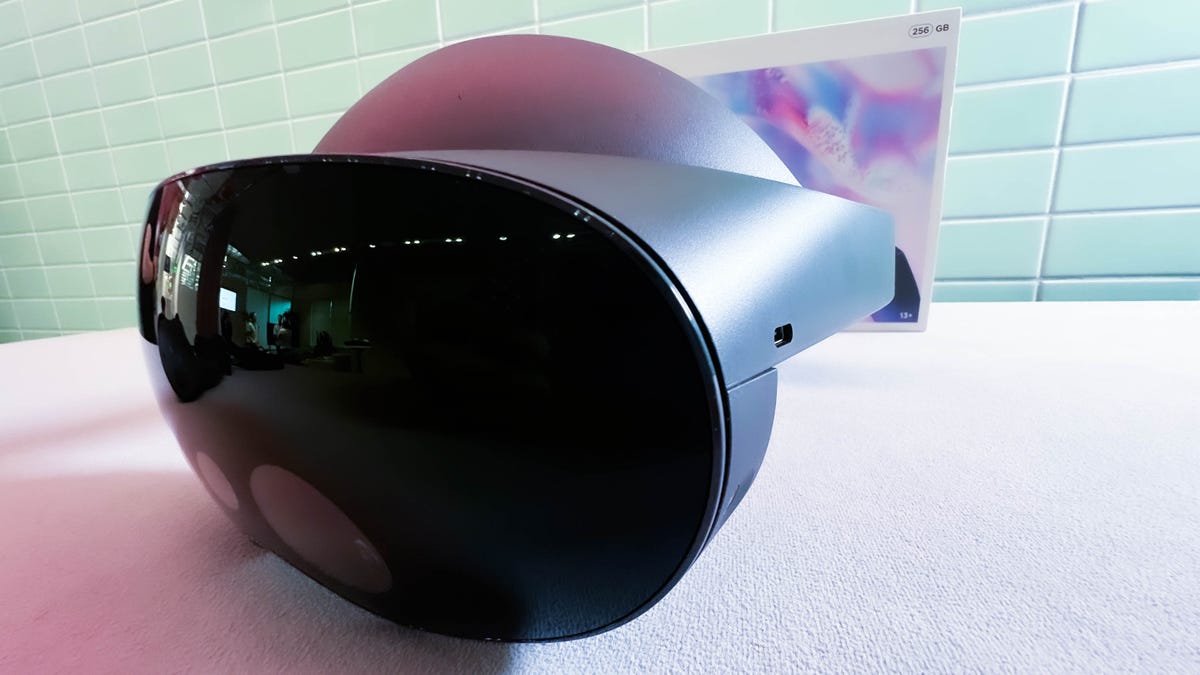 The Quest Pro has extra depth sensors in addition to its color cameras, plus sensors inside the headset.

Scott Stein/CNET

The Quest Pro has five sensors inside the headset, five outside (a variety of cameras and infrared sensors) and two cameras on the controllers, which run on a Snapdragon 662 processor. (They don't capture video for the time being, but who knows if that could become a possibility?)
Almost all the demos I got to try in the Quest Pro were in mixed-reality modes, leaning on that blend of pass-through camera video and VR graphics. Meta says the pass-through camera quality is four times better than on the Quest 2, but it still feels multiple levels behind the crispness of everyday vision.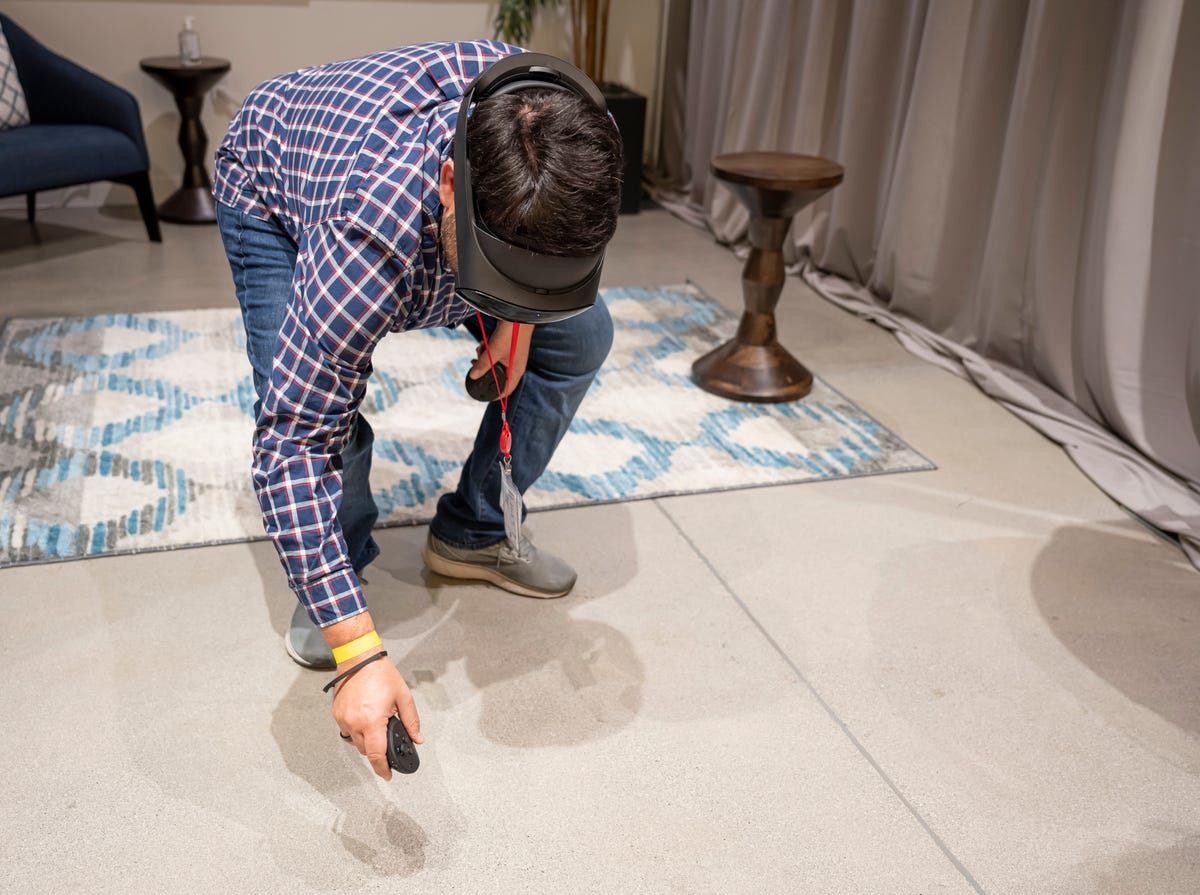 Me, bending down to pick up a virtual object. I could see it as if it was in the real world.

Meta

Still, it's good enough to see the world around me; it feels like it's in 3D (the Quest Pro has depth mapping infrared up to five meters, similar to the way AR headsets and lidar work) and feels like the VR blends surprisingly well, at times.
Using an updated version of the Quest app Painting VR, I walked up to an easel standing in my demo room, reaching for brushes on a table next to me. Some brushes were on a virtual table and others were on a real one. I had to double-check for a moment to remind myself which was which. After I finished my triceratops masterpiece, I hung it on one of the curtained walls of my demo space and walked up to it to admire the brushwork.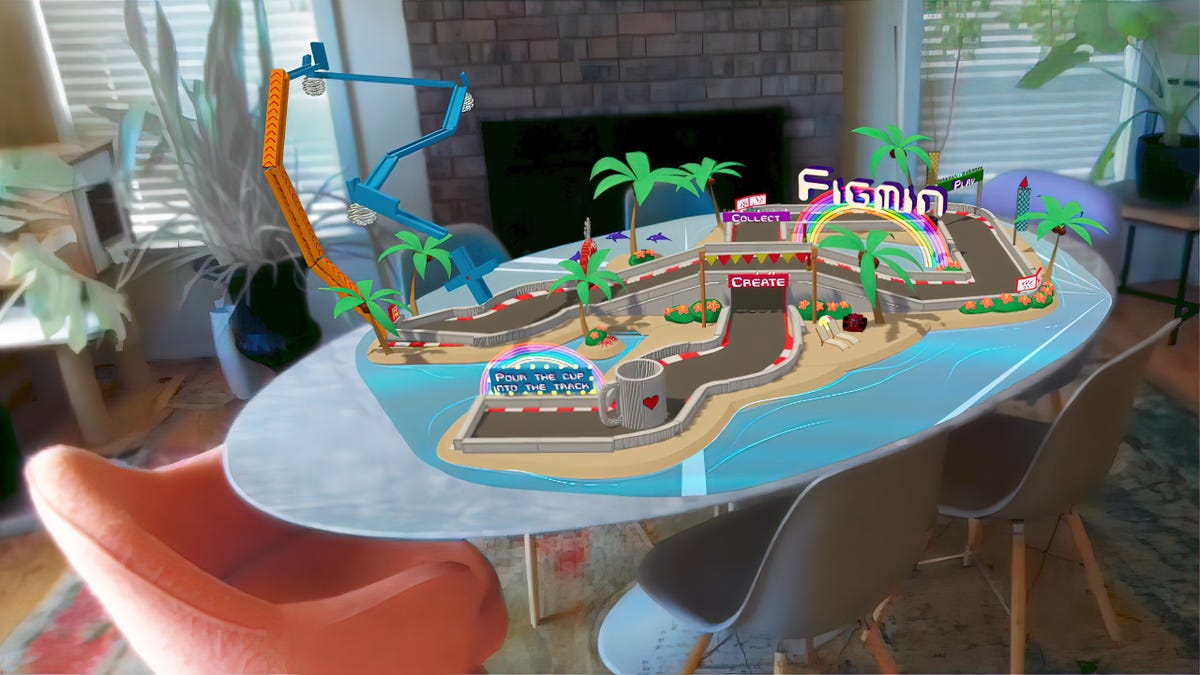 Figmin XR, a mixed reality app I demoed in the Quest Pro. No headset capture was available at my demo, but this image shows what to expect (it looked a lot better in-headset).

Figmin

Another app, Wooorld, opened up a 3D Google Earth map on the floor in front of me with landscapes popping up. I zoomed into my own home in New Jersey, and then popped into Google's Street View in VR. Figmin XR, another app demo, had me painting using a version of Tilt Brush, a popular VR painting app, optimized for mixed reality. I drew curling rainbows in the air, reminding me of experiences I had on Magic Leap and HoloLens years ago. Another part of the Figment XR app, a free-building sandbox space with physics, allowed me to drop balls down ramps, or just bounce them off the floor.
The mixed-reality features may sound gimmicky, but there could be legitimate value for designers laying 3D objects into real spaces or for performers using headsets in public. A demo of the DJ app Tribe XR put me in front of a mixing board and turntables, but I could see the rest of the room and the people I was talking to. I started to think about this in an actual club or theater, and I could see it being surprisingly effective.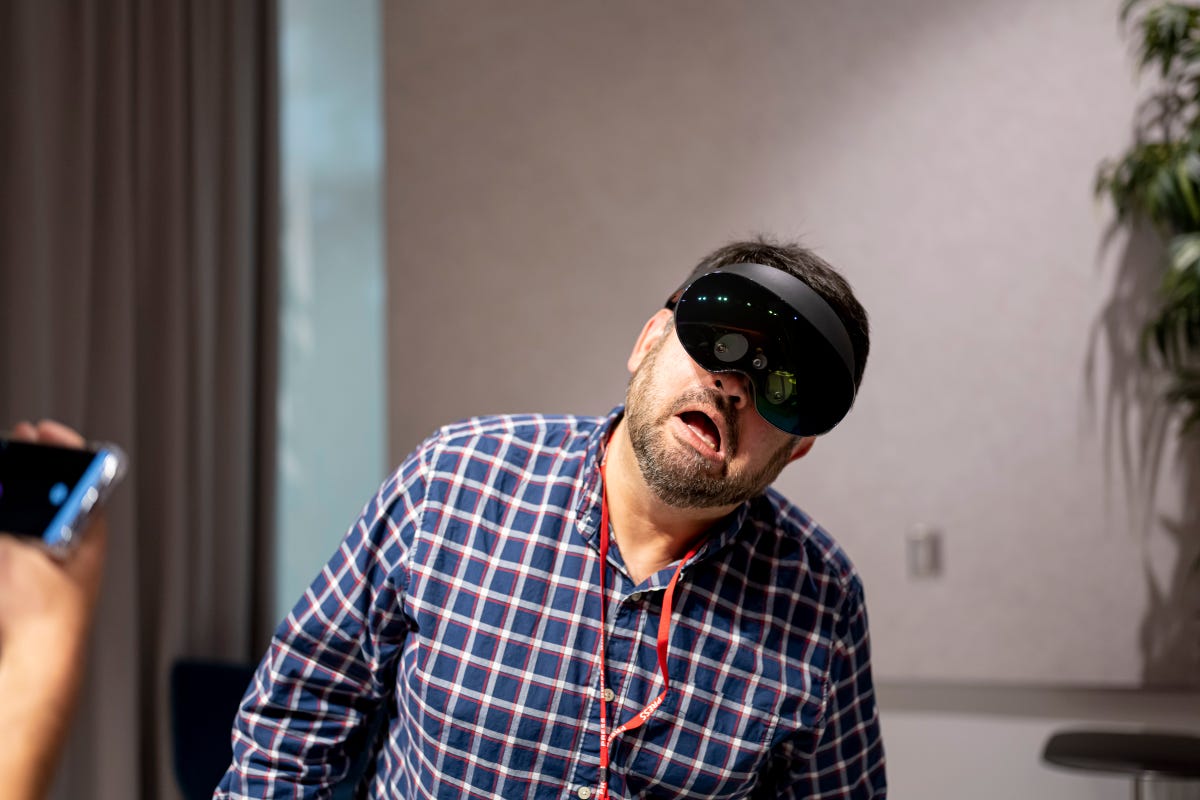 Trying out face tracking with the Quest Pro: I tried lots of expressions, and learned my limits.

Meta

Face-tracking: A future of optional extras
The Quest Pro's eye- and face-tracking are new for Meta and come with plenty of data privacy questions. The tracking is mainly designed, at first, for avatar control. In a demo in Horizon Workrooms, I was able to smile and blink while talking to another avatar who had face-tracking turned on in their Quest Pro. The effect when I saw their avatar was a little uncanny; eyes blinked oddly at times, smiles could seem like grimaces. But another demo showing off deeper control settings for a more advanced alien-type prototype avatar showed a whole range of cheek-puffing, lip-curling, brow-furrowing and more. There's a lot that avatars could end up tuned for, but how responsive and realistic they'd appear remains to be seen. According to Meta, accommodations could be made for those with an inability to make certain facial expressions, using AI to tune for one's own capabilities.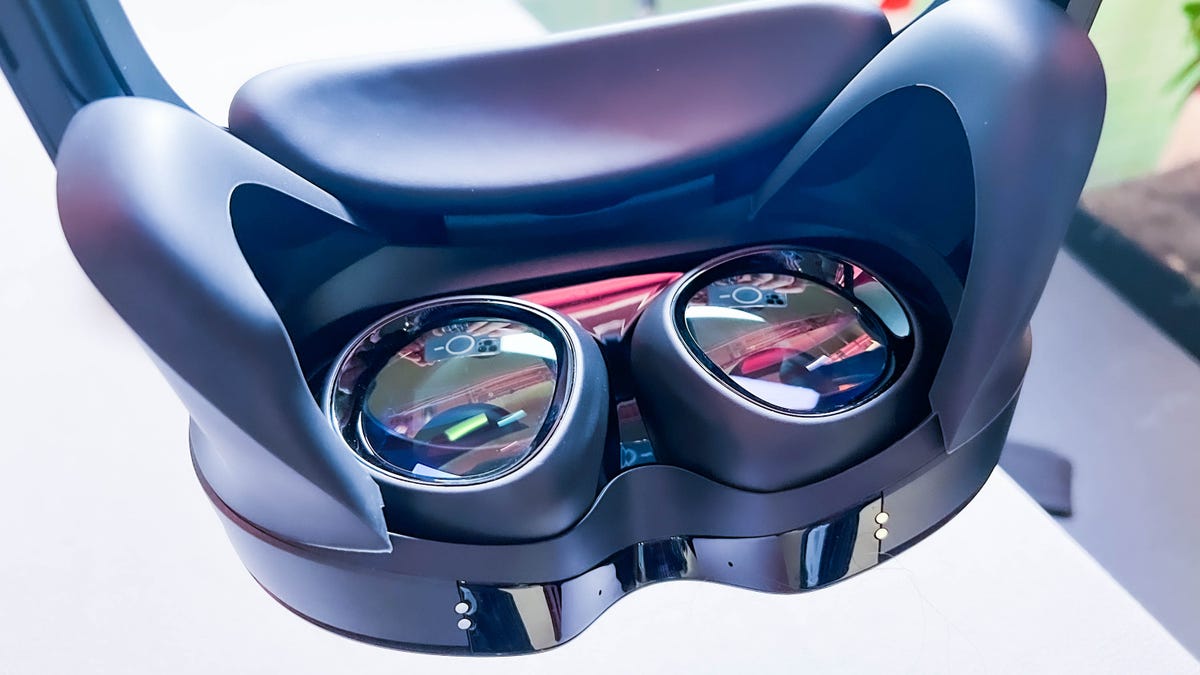 The Quest Pro has cameras for eye tracking, and face tracking below those.

Scott Stein/CNET

Eye-tracking also can enable better graphics through a technology called foveated rendering, which only focuses on high-res details in the center of wherever your eye is looking. The PlayStation VR 2 uses this tech, but the Quest Pro didn't have it enabled in my demos. In between demos in Redmond, Zuckerberg told us that the decision to add foveated rendering isn't a slam dunk: It could affect battery life, which, according to Meta, is already only one to two hours on the Quest Pro. Maybe that's why it wasn't activated yet, or perhaps early-wave app developers in my demos haven't yet figured out how to optimize for it.
Eye-tracking isn't on by default; it gets turned on in settings, and specific apps can ask for permission to use it. Meta says it doesn't have access to the eye- and face-tracking data, which is encrypted locally on-device. However, it's unclear whether individual apps could find ways of using the data in other ways once permissions are given. It's new territory for consumer hardware, although commercial devices have dabbled in eye and face tracking for years.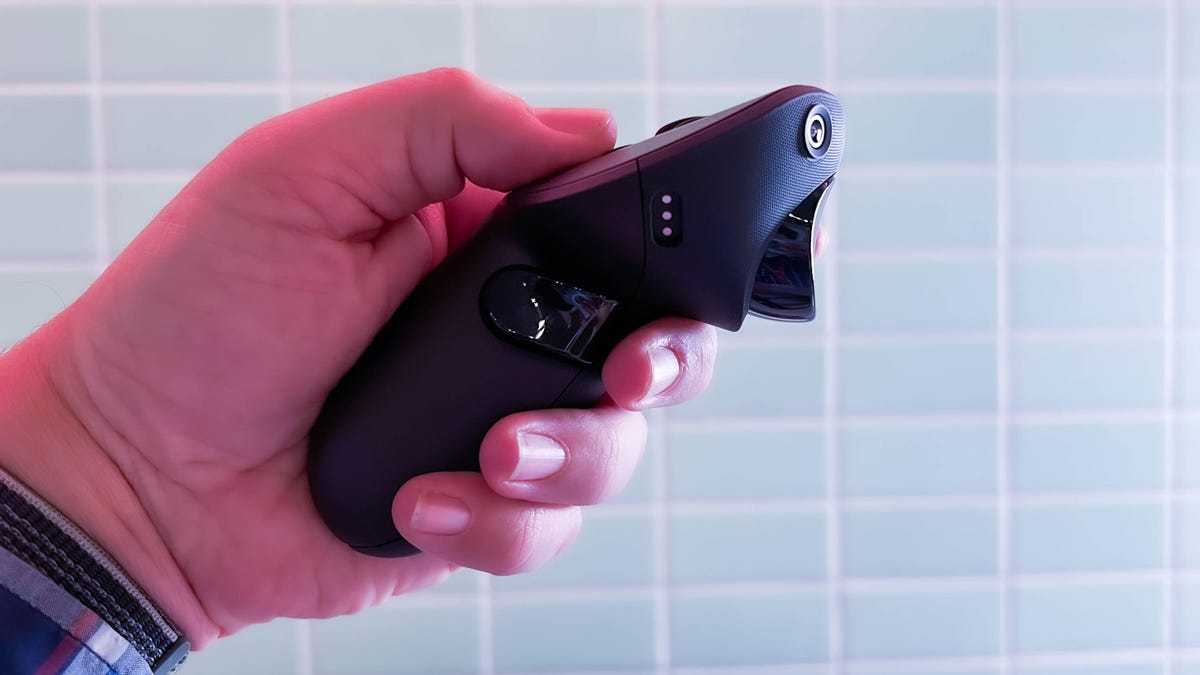 The Quest Pro controllers are smaller, have better haptics and have their own tracking cameras.

Scott Stein/CNET

The controllers: Smaller and better, and work with Quest 2
The Pro controllers feel tiny, mostly because they ditch the plastic ring on the Quest Touch controllers. They feel more like remotes, or VR versions of the tinier Magic Leap controller. Similar to the Magic Leap 2 controller I tried earlier this year, they also have a new wrinkle: their own built-in cameras. It's weird, but it means they can do independent movement tracking without needing the headset's cameras. They seemed to work well both over my shoulders and behind my back.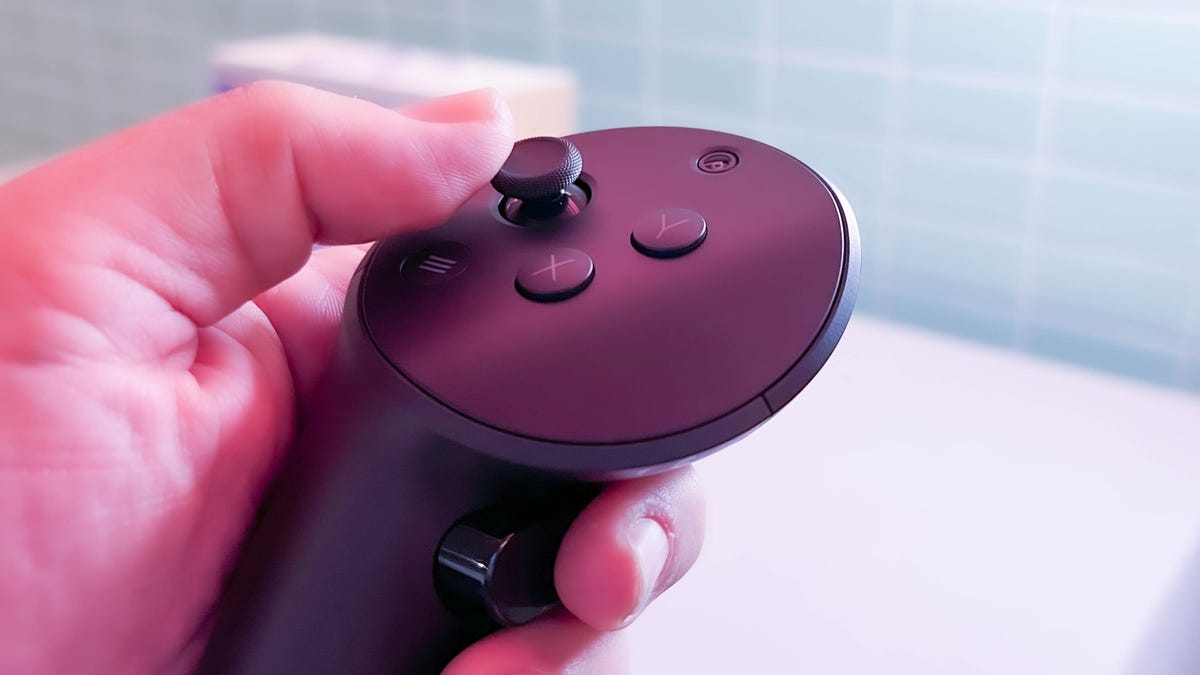 An angled side of the controller has pressure sensitivity for pinching moves.

Scott Stein/CNET

The haptic feedback in these new controllers is much better and more subtle. A few demos of various explosive pistols and toys showed how effects could reverberate in the controllers, similar to the PlayStation VR 2. Brushes filled with paint in Painting VR felt like they were rippling underneath my fingers, and when I wrote down things on a whiteboard I could feel the scratchy friction of the writing surface far more clearly. 
Speaking of writing, these controllers have a wild bonus — stylus tips. Popping them into the base of the controllers turns them into chunky VR pens, which I tried out in Horizon Workrooms using the whiteboard mode (the Quest 2 controllers can work like this too, but the Quest Pro ones feel a lot more responsive).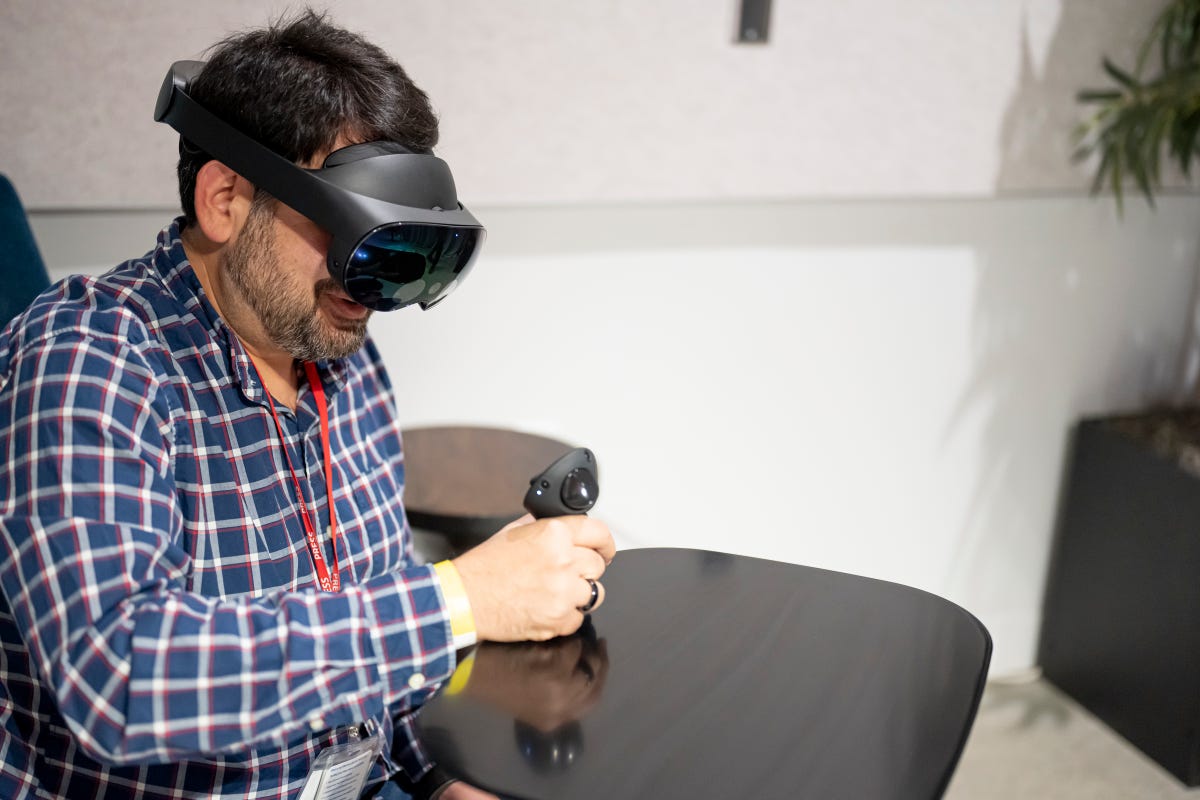 Using the Quest Pro controller as a stylus, writing on a real desk. 

Meta

I almost missed an extra feature that one demo showed off — there's a new pressure-based pinching control. A slanted side edge of the controllers, when pressed along with the triggers, can be squeezed at various pressures. I was able to pick up darts and throw them easily, pick up Jenga pieces and squeeze stress dolls.
Quest 2 owners will be able to buy the new controllers separately for $300. That's nearly the price of a whole Quest 2 headset, though. They're also rechargeable this time and can pop into an included charging dock for the Quest Pro that also charges the headset.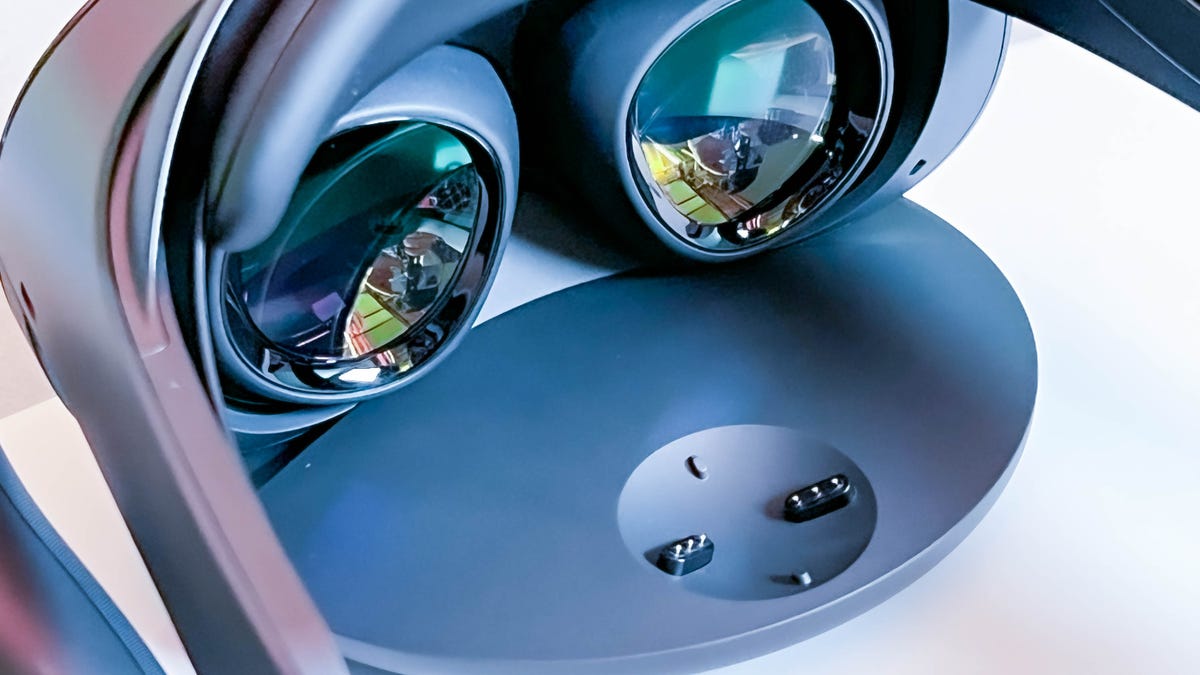 The Quest Pro, resting in its charge dock that also charges the controllers.

Scott Stein/CNET

Is this the future of VR or a stepping stone?
The Quest Pro feels like a refined, deluxe VR headset. But it also feels like an AR headset. As impressive as many of the demos were, I also wonder how a future Quest 3 will compare to it and when would be a good time to consider a Pro VR upgrade. As Meta makes moves toward future AR glasses, and other companies arrive to compete next year, it's hard to tell whether the Quest Pro is the best version of what's been available, or the first version of what's to come next.