As Meghan Markle turns 42 Friday, the former Hollywood actress is said to be contemplating her next role — in politics.
"I've heard from some very reliable sources that she is writing to people to try and secure political positions," True Royalty TV co-founder Nick Bullen told Fox News Digital. "I think that is absolutely an ambition for her.
"And I think you'll see [the Duke and Duchess of Sussex] working much more separately because brand Sussex is definitely on the wane. Now, I think you'll see them concentrating on their individual brands to try and reclaim some of the ground."
Bullen is an award-winning documentarian who has been producing programs about the British royal family for 20 years. He has also worked closely with King Charles III for about a decade. True Royalty TV's new documentary, "Leap of Faith: Bahrain Welcomes the Pope," focuses on the first time a Pope visited the country.
PRINCE HARRY, MEGHAN MARKLE DROP NEW VIDEO AMID BITTER BATTLE WITH BUCKINGHAM PALACE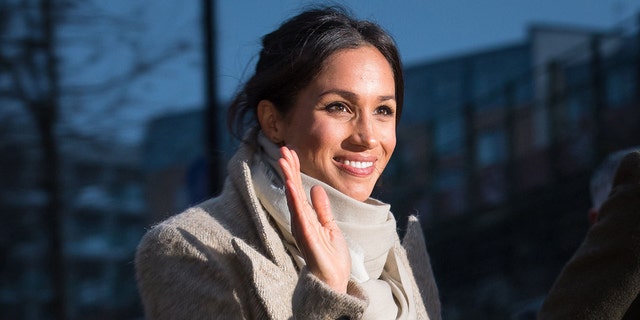 Meghan, the Duchess of Sussex, turns 42 Aug. 4. (Dominic Lipinski/AFP via Getty Images)
The idea of seeing the former "Suits" star in politics — and possibly even in the Oval Office — isn't new. In 2019, True Royalty TV premiered "Meghan for President?" It was a documentary that explored how the mother of two has always wanted to speak out on a global platform, long before she pursued acting.
The special features interviews with friends, colleagues, former teachers and royal experts. The documentary also highlights rare footage of Markle at age 10 attending her first anti-war protest.
Since Markle has always had an interest in social issues, is it possible we would ever see her at the White House or even as governor of California? Anything is possible, Bullen insisted. Even a humanitarian ambassador's role looks promising.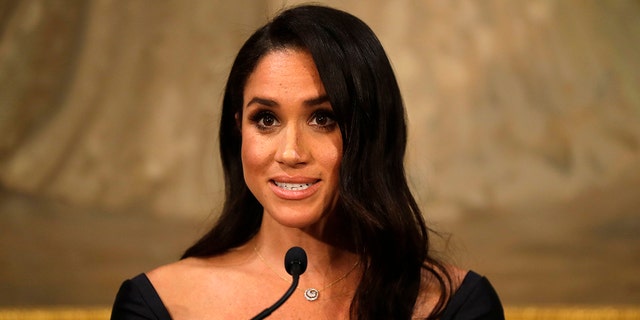 True Royalty TV co-founder Nick Bullen suggested to Fox News Digital Meghan Markle is more likely to take on a political role than an acting role. (Kirsty Wigglesworth/Pool /Getty Images)
"It's a very plausible argument," Bullen said. "I think it would be fascinating. Imagine a world in which she does make it to the White House. [Prince] Harry is the first husband. There's a state visit, and what happens then if Meghan is hosting [the British royal family] at the White House? You're going to want a front-row seat for that, aren't you?"
A spokesperson for the duchess didn't immediately respond to Fox News Digital's request for comment.
Vanity Fair's royal correspondent, Katie Nicholl, reported in 2019 that Kensington Palace sources squashed any speculation that Markle, who retained her U.S. citizenship, would ever run for president.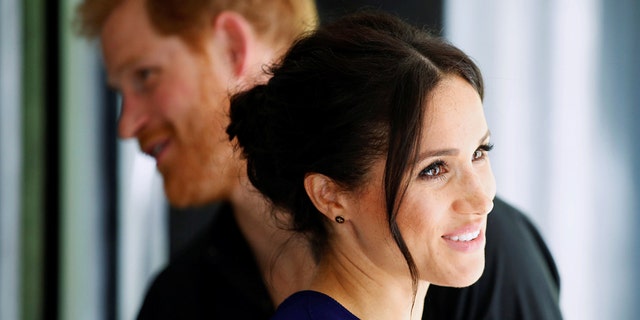 Nick Bullen said we should expect the Duke and Duchess of Sussex to focus on their individual projects to boost their brand. (Phil Noble/Pool/Getty Images)
Traditionally, members of the British royal family are expected to be apolitical in public, which means they cannot vote or openly express political views. In addition, such a major move would require Harry, 38, to give up his royal title.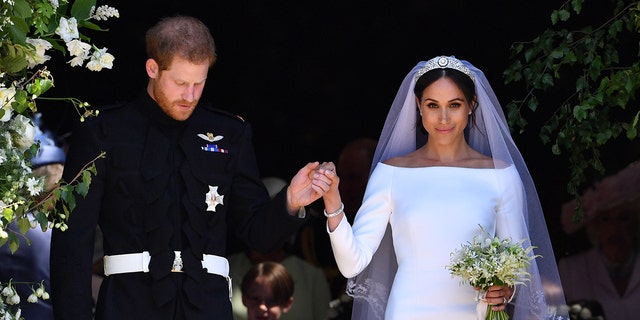 The Duke and Duchess of Sussex married May 19, 2018. (Ben Stansall/WPA Pool/Getty Images)
Markle, a California native, became the Duchess of Sussex when she married the British prince in 2018. In 2020, the couple announced they were stepping back as senior royals, citing what they described as the unbearable intrusions and racist attitudes of the British media. They moved to the wealthy, coastal city of Montecito that year. The couple sat for a two-hour TV interview with Oprah Winfrey, launched a six-part Netflix docuseries about their life together and Harry released his best-selling memoir.
In 2020, Markle teamed up with Gloria Steinem to speak out on the importance of voting. In 2022, they had a candid conversation about reproductive rights for Vogue.
CLICK HERE TO SIGN UP FOR THE ENTERTAINMENT NEWSLETTER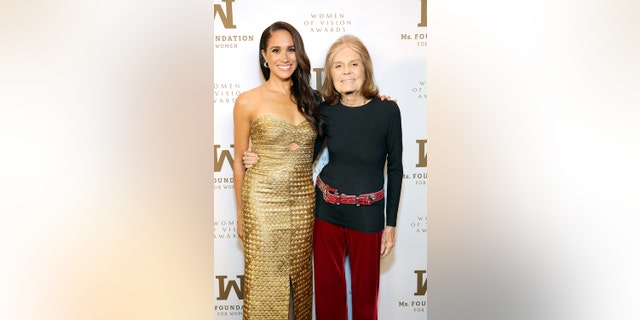 Meghan, the Duchess of Sussex, left, and Gloria Steinem attend the Ms. Foundation Women of Vision Awards: Celebrating Generations of Progress & Power at Ziegfeld Ballroom May 16, 2023, in New York City.   (Kevin Mazur/Getty Images Ms. Foundation for Women)
In 2021, Politico reported that Markle had personally reached out to members of Congress to advocate for paid family leave. The news came weeks after she wrote an open letter to then-Speaker of the House Nancy Pelosi, D-Calif., and Senate Majority Leader Chuck Schumer, D-N.Y., published by Paid Leave for All.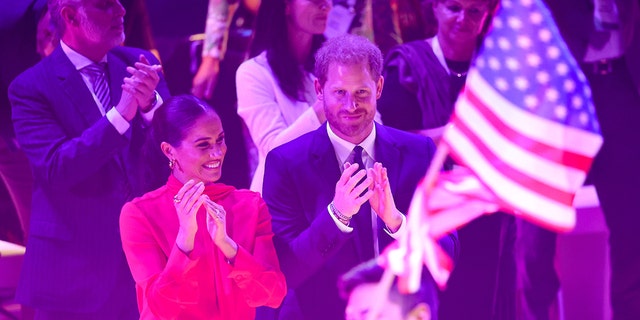 Nick Bullen pointed out that Meghan Markle has had an interest in social issues from a very young age. (Chris Jackson/Getty Images)
According to the outlet, it was Sen. Kirsten Gillibrand, D-N.Y., who gave the phone numbers to the former American actress. The 56-year-old had pushed her party to include paid leave in a social spending bill.
"She wants to be part of a working group to work on paid leave long term, and she's going to be," Gillibrand said at the time. "Whether this comes to fruition now or later, she'll be part of a group of women that hopefully will work on paid leave together."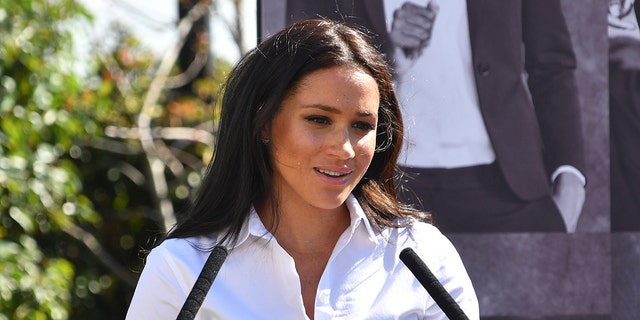 Following the Duke and Duchess of Sussex's sit-down with Oprah Winfrey, Meghan Markle (pictured here) received support from Hillary and Chelsea Clinton. (Mark Large/WPA Pool/Getty Images)
That year, Hillary Clinton weighed in on the couple's sit-down with Winfrey, 69. At the time, the former Secretary of State told London's Sunday Times she was "a huge" Meghan Markle fan.
"I do want to say that the way she's been treated is inexplicable," Clinton said. "I think if the explanation is that she's biracial, then shame on everybody."
Her daughter, Chelsea Clinton, added, "Anyone who has the temerity to break the mold of what was previously established and expected often, unfortunately, receives critics and bile that I don't understand. We've seen this pattern repeatedly."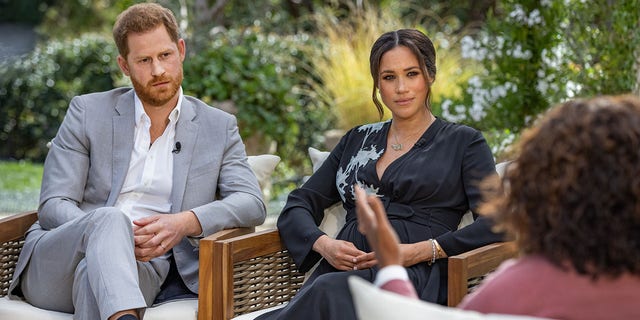 Oprah Winfrey interviewed Prince Harry and Meghan Markle for a special in 2021, when they revealed their struggles with royal life. (Harpo Productions/Joe Pugliese via Getty Images)
Many have speculated Markle could return to acting, especially after she was signed by WME in April. The talent agency is led by CEO Ari Emanuel, who has a reputation for his aggressive deal-making skills, making him "one of Hollywood's most powerful figures," Page Six reported. He inspired the character Ari Gold in HBO's "Entourage."
'SUITS' PRODUCER DISCUSSES POSSIBLE MEGHAN MARKLE RETURN FOR CAST REUNION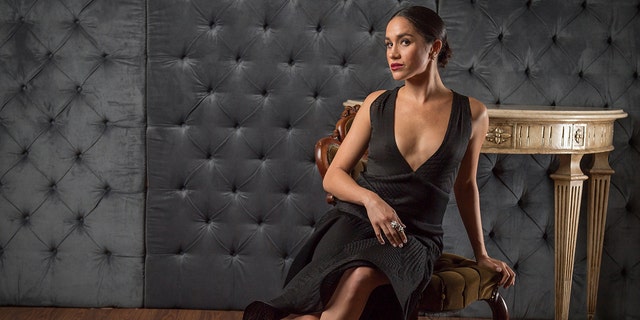 Meghan Markle signed with legendary talent agency WME earlier this year. (George Pimentel/WireImage)
The outlet noted that WMC will assume representation of Archewell, the organization run by the Duke and Duchess of Sussex.
Markle starred in "Suits" from 2011 to 2018, the same year she married Harry. The legal drama has been a top performer recently for Netflix and Peacock, accumulating 3.14 billion viewing minutes from June 26 to July 2 across both steaming services, Deadline reported. The USA Network show ended its nine-season run in 2019.
While film and television production, brand partnerships and "overall business-building" will be explored by the duchess and her team, "acting will not be an area of focus," Variety reported.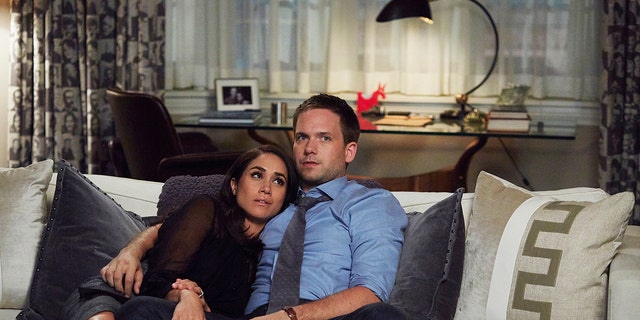 Meghan Markle, seen here with Patrick J. Adams, starred in the legal drama "Suits" before she married Prince Harry. (Shane Mahood/USA Network/NBCU Photo Bank/NBCUniversal via Getty Images)
Bullen said he doesn't believe a Hollywood comeback is in her future – unless the price is right.
"I don't think there's a world in which you'll see Meghan going back into acting unless it's a major, major movie," he said. "I think Meghan's ambitions for reaching the top now are focused on a different direction. I honestly think she's much more likely to be playing on a political stage than she is on an acting stage. Unless, of course, maybe Steven Spielberg or Ron Howard offers her a role in some major, major movie, and she's the big star."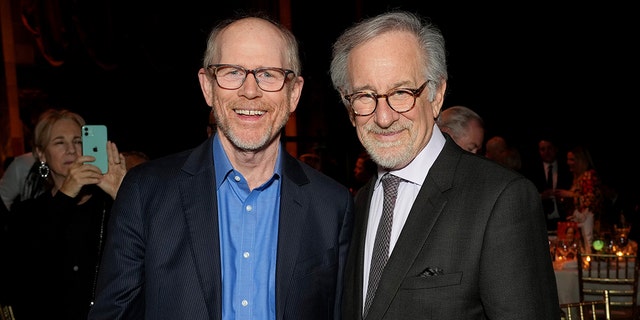 Ron Howard (left) and Steven Spielberg attend the National Board Of Review 2023 Awards Gala at Cipriani 42nd Street Jan. 8, 2023, in New York City. (Kevin Mazur/Getty Images for National Board of Review)
"But I think that will go against where her focus is," Bullen continued. "Everything I'm being told about her is her philanthropy and her political careers … [her] political focus is where she wants to be."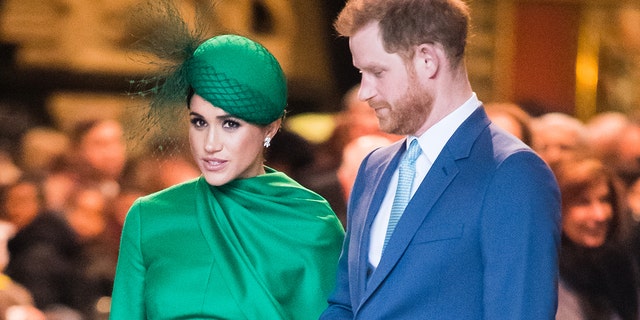 The Duke and Duchess of Sussex stepped back as senior royals in 2020. They live in California with their two young children. (Samir Hussein/WireImage)
There have been whispers claiming Markle has been considering relaunching her blog The Tig, which shut down months after she started dating Harry. Bullen said this would be an ideal outlet for Markle to voice her opinions on her terms. A lifestyle and digital brand would also earn the duchess top dollar.
MEGHAN MARKLE COULD BE RELAUNCHING PERSONAL WEBSITE; EXPERT CLAIMS: SHE'S 'TRYING TO RECLAIM HER IDENTITY'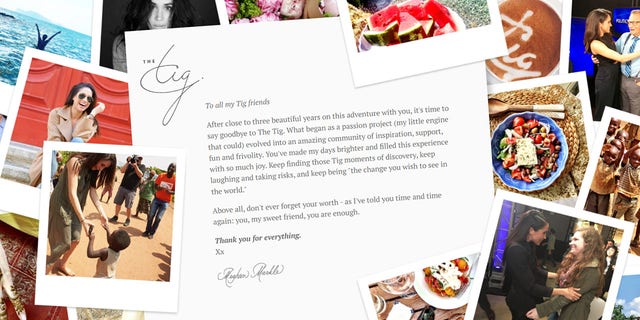 Meghan Markle shut down The Tig after she began dating Prince Harry. (TheTig.com)
"I bet people would get behind a Meghan Markle campaign," said Bullen. "I think probably quite a lot of people could see themselves voting for her. I think she certainly believes people would vote for her. [And] the financials behind The Tig are very, very compelling. And it also gives her an outlet.
"[Her] Spotify gig has been canceled," he added. "Netflix [isn't] rushing to commission more documentaries with [the Sussexes]. Where are they getting their voice out? We know they like to control the messaging. So … something similar to The Tig would be a very clever move for them. They control it, they can monetize it, and it can absolutely be around their messaging."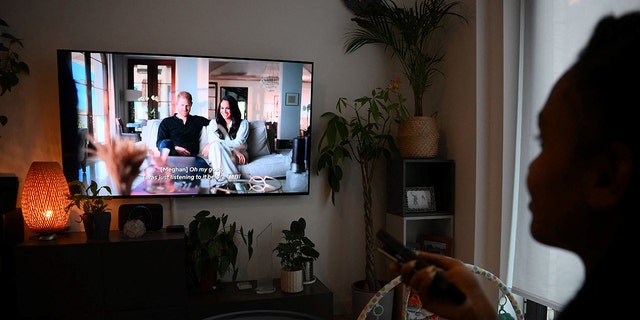 In December 2022, Netflix premiered a six-part docuseries on the Duke and Duchess of Sussex. (Daniel Leal/AFP via Getty Images)
On Wednesday, the Duke and Duchess of Sussex presented a united front in a new video. The clip, shared on their Archewell Foundation's website, showed the couple calling a handful of recipients of The Responsible Technology Youth Power Fund.
 
Responsible Technology Youth Power Fund Announcement from RT Youth Power Fund on Vimeo.
Bullen speculated we could see more from the couple, especially leading up to September when Prince William and his wife Kate Middleton visit New York City.
"William and Kate are going to be in America for the Earthshot Prize," Bullen explained. "You can bet your bottom dollar that the Waleses will be making a major offensive on the American royal fan base and the American people because they want to secure the position of their charities, their passions and their brand in the states, the brand of the monarch in the states. I think you'll see the Sussexes trying to shore up their position over the coming months ahead of the arrival of the Waleses.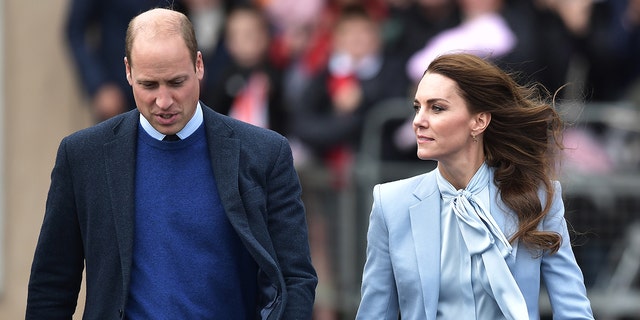 Prince William and Kate Middleton, the Prince and Princess of Wales, are visiting New York City in September. (Charles McQuillan/Getty Images)
"With the Sussexes, they are absolutely focused on the next play of their strategy," he noted. "And they will be doing it very much in the knowledge that the Waleses are arriving in America in a big way in the fall. I would … guess now that quite a lot of Sussex activity will begin just before the Waleses arrive."
The Associated Press contributed to this report.