Tory Lanez was sentenced to 10 years in prison Tuesday.
A jury found Lanez, whose full name is Daystar Peterson, guilty of three felony charges in December after the rapper shot and wounded Megan Thee Stallion in 2020. The charges included assault with a semiautomatic firearm, having a loaded, unregistered firearm in a vehicle and discharging a firearm with gross negligence.
Prosecutors initially requested the rapper receive 13 years behind bars.
TORY LANEZ EXPECTED TO BE SENTENCED TO 13 YEARS IN MEGAN THEE STALLION SHOOTING
The Canada native's legal team requested that he should get only probation and be released from jail to enter a residential substance abuse program. They also plan to appeal his conviction.
Megan testified during the trial that Lanez had fired the gun at the back of her feet and shouted for her to dance as she walked away from an SUV in which they had been riding back in summer 2020. The pair had left a party at Kylie Jenner's Hollywood Hills home.
Tory Lanez was found guilty and convicted of three felonies in the 2020 shooting of rapper Megan Thee Stallion. (Getty Images)
Judge David Herriford said it was "difficult to reconcile" the kind, charitable person and good father many people described Lanez as being during the sentencing hearing with the person who fired the gun at Megan.
"Sometimes good people do bad things," the judge said. "Actions have consequences, and there are no winners in this case."
The court received letters of support for Lanez – including a letter from the rapper's six-year-old son. The "Say It" rapper's father also spoke to the judge during Monday's hearing, choking back tears as he talked about Lanez losing his mother at age 11.
MEGAN THEE STALLION DETAILS HER SHOOTING IN TEARFUL VIDEO
Megan detailed the daily turmoil she's endured in a written statement read Monday by Los Angeles County Deputy District Attorney Kathy Ta.
"Since I was viciously shot by the defendant, I have not experienced a single day of peace," the statement said. "Slowly but surely, I'm healing and coming back, but I will never be the same."
While Megan testified during the trial, she admitted to struggling with the decision over appearing in person to provide her statement, but ultimately decided she "simply could not bring myself to be in a room with Tory again."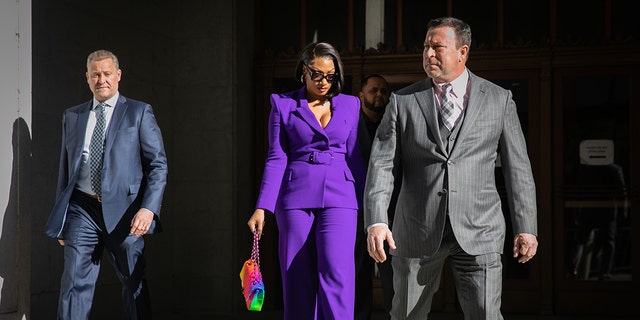 Megan Thee Stallion testified during the trial. (Jason Armond/Los Angeles Times)
Lanez has been in jail since his conviction in December.
Judge Herriford found earlier Monday that Megan was an especially vulnerable victim when she was shot, but that Lanez was not especially cruel or callous in firing at her, both factors that could affect sentencing.
CLICK HERE TO SIGN UP FOR THE ENTERTAINMENT NEWSLETTER
The judge previously denied a motion from the rapper's legal team requesting a new trial on May 9. Lanez's legal argument hinged on an Instagram post his lawyers claimed had been improperly admitted as evidence.
They said Megan's testimony that Lanez urged her not to go to police because he was on parole and would be in serious trouble was both untrue and an improper allowance of prior bad acts. And they said DNA evidence that prosecutors used to argue Lanez was the likely shooter fell short of industry standards.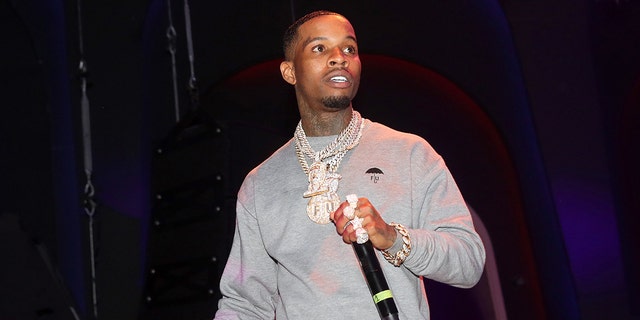 Tory Lanez gained fame in 2009. (Johnny Nunez)
In a sentencing memo, Lanez's legal team argued the evidence that convicted the rapper was "questionable at best" and therefore his lack of remorse should not be taken into account for the sentencing.
They requested Lanez be given probation and enter a residential substance abuse program after being released from jail.
Lanez began releasing mixtapes in 2009 and saw a steady rise in popularity, moving on to major-label albums.
Megan Thee Stallion, now 28, was already a popular rising star at the time of the shooting, and her prominence has surged since. She won a Grammy for best new artist in 2021, and has had No. 1 singles with "Savage," featuring Beyoncé, and as a guest with Cardi B on "WAP."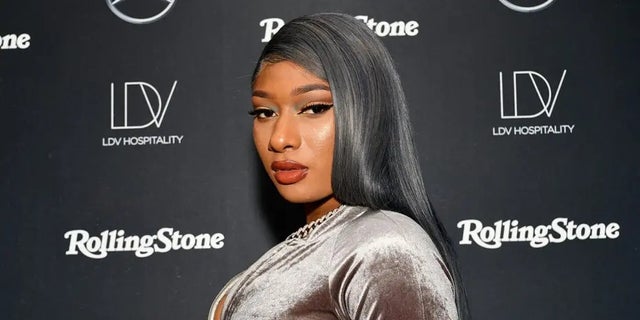 Megan Thee Stallion was voted best new artist at the Grammys in 2021. (Getty Images)
CLICK HERE TO GET THE FOX NEWS APP
The Associated Press contributed to this report.