Kevin McCarthy's first week as House speaker revealed a strong bipartisan desire to take on China as scores of Democrats joined the GOP to pass two bills that indicate lawmakers from both parties are unhappy with how President Biden is dealing with America's greatest strategic threat.
The GOP takeover of the House marks a new period of divided government, but the two China votes showed a unity of purpose between both parties rarely seen anymore.
On Tuesday, Republicans called up a resolution to create a select committee on strategic competition between the U.S. and "the Chinese Communist Party," a phrase that Republicans prefer far more than their Democratic colleagues. But as soon as debate started, it became clear Democrats would support it.
Rep. Jim McGovern, D-Mass., who for years has battled GOP leadership as the top Democrat on the Rules Committee, said he supported the idea of a new committee.
MCCARTHY, GOP DEMS UNITE BEHIND NEW CHINA COMMITTEE: 'THE ERA OF TRUSTING COMMUNIST CHINA IS OVER'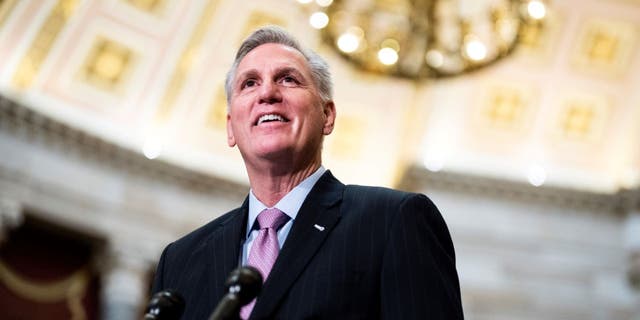 House Speaker Kevin McCarthy notched two big bipartisan wins on China policy in his first week in charge of the House. 
(Tom Williams/CQ-Roll Call, Inc via Getty Images)
"While I do have concerns here, after reading the resolution itself, I will be voting 'yes,'" McGovern said. "The Democratic Party has led the way in implementing efforts to monitor China's compliance with international human rights and rule of law standards, and we will continue to do so here."
McGovern said he worried the committee might be used to fuel Asian-American hatred, but he was assured by McCarthy on the House floor that he wants the committee to be a sober attempt to come to grips with the military, economic and strategic challenges that China poses.
BIDEN TAKEN ABACK BY MULTIPLE REPORTERS SUGGESTING OIL RESERVE RELEASE IS MEANT TO HELP DEMOCRATS
"You have my word and my commitment," McCarthy said. "This is not a partisan committee. This will be a bipartisan committee that is mindful of my desire, my wish, that we speak with one voice, that we focus on the challenges that we have."
More than two-thirds of House Democrats voted with the GOP to establish the committee — 146 voted for it, and 65 voted against. It was a sharp bipartisan message to both China and the Biden administration, one that McCarthy punctuated by saying on the House floor, "There is a bipartisan consensus that the era of trusting communist China is over."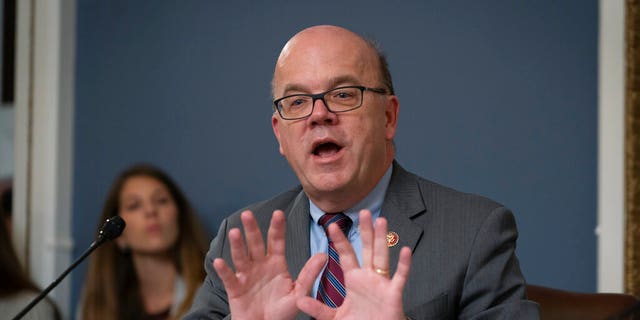 House Rules Committee Chairman Jim McGovern, D-Mass.
(AP Photo/J. Scott Applewhite)
Later in the week, McCarthy touted the bipartisan vote as a major accomplishment in this era of hyper-partisanship.
"We passed a very bipartisan bill with 146 Democrats joining with us to create a new select committee on China," he said. McCarthy added that he spoke with Minority Leader Hakeem Jeffries, D-N.Y., about his desire for Democratic participation on the committee, particularly when it comes to the topic of keeping jobs in the U.S.
"What I'm trying to accomplish is get members on both sides of the aisle, from all different perspectives, not just from a military, from financial, from agriculture and others, to bring those jobs back to America," McCarthy said.
DEMS JOIN GOP IN VOTE TO BLOCK BIDEN FROM SELLING STRATEGIC OIL RESERVES TO CHINA
On Thursday, a majority of Democrats again joined Republicans to vote for a bill that bans the Biden administration from selling oil from the Strategic Petroleum Reserve (SPR) to China, another embarrassing jab at Biden.
Last April, the Biden administration's Energy Department announced nearly 1 million barrels of oil from the SPR would be sold to Unipec America, a U.S.-based Chinese company. Republicans argued on the floor it makes no sense to be aiding America's most important strategic competitor with sales from the SPR.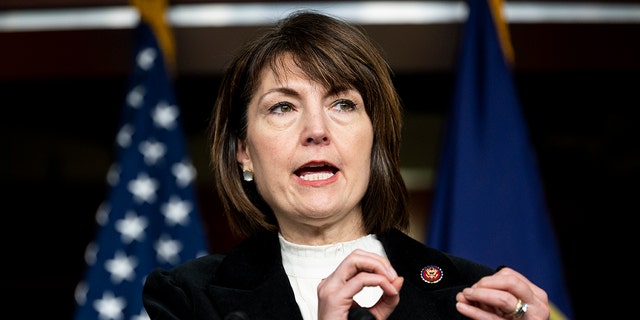 Rep. Cathy McMorris Rodgers, R-Wash., spoke in favor of her bill to block the sale of SPR oil to China and won the support more than half House Democrats.
(Bill Clark/CQ-Roll Call, Inc via Getty Images)
"America's Strategic Petroleum Reserve is meant for true energy supply disruptions, like those caused by hurricanes and natural disasters, not to help China," said Rep. Cathy McMorris Rodgers, R-Wash. "Draining our strategic reserves for political purposes and selling portions of it to China is a significant threat to our national security."
Democrats favored the bill 113-97, and it easily passed the House.
CLICK HERE TO GET THE FOX NEWS APP
It's not immediately clear whether the Democrat-led Senate will take up the bill to block SPR sales to China, but the House vote shows there's a real chance of it passing if were to hit the Senate floor. Senate passage would force the White House to decide how to handle a bill backed by so much support from Democrats.
For now, though, bipartisan support for a sober look at how the U.S. is stacking up against China has left the White House with little choice but to welcome this newfound possibility of bipartisan work on China.
"Many of our efforts we have been pursuing are bipartisan, underscoring the alignment at home on the key issue," White House spokeswoman Karine Jean-Pierre said Wednesday. "And we look forward to the committee getting stood up, and we'll continue to work with Democrats and Republicans in Congress … on this issue."