House Speaker Kevin McCarthy's time in charge of the gavel is off to a running start as Republicans in the chamber shook off the intra-party fighting that marked the start of January — and scored a productive first week in the majority.
The start of 2023 was a rocky one for the Republicans as, despite taking the chamber, a feud over who should be speaker dragged on for days and became a national political spectacle — and one that was relished by the Democratic minority.
But with McCarthy elected speaker at the end of last week, Republicans looked to shift into gear this week, beginning first with an ambitious new rules package on day one.
That package, which ultimately passed, overhauled operations in the chamber and took aim at measures put in place during the COVID-19 pandemic. The package abolished proxy voting — requiring members to vote in-person- and re-opened the House Gallery.
WHAT'S IN IT: HOUSE GOP RULES PACKAGE AIMS TO CURB TRILLIONS IN YEARLY HEAPS OF DEBT
JANUARY 12: Speaker of the House Kevin McCarthy, R-Calif., conducts a news conference in the U.S. Capitols Statuary Hall on Thursday, January 12, 2023. (Tom Williams/CQ-Roll Call, Inc via Getty Images)
The package also included a return to a "Cut-As-You-Go" policy that says legislation cannot be considered if it increases mandatory spending over a 5- or 10-year period. This "CUTGO" policy requires bills that call for new spending to find offsetting spending cuts elsewhere in the federal budget.
Other measures included a lower threshold to force a vote on the speaker, and a more transparent and slower process for considering legislation — members are now given at least 72 hours to review legislation before it hits the floor. The package brings back the so-called Holman Rule, which allows members to chop specific agencies or even the salaries of specific federal employees when appropriations bills are being considered. The chamber also passed a bill repealing funding marked last year for the Internal Revenue Service, potentially thwarting the hiring of tens of thousands of additional employees for the agency.
JIM JORDAN-LED SUBCOMMITTEE CHARGED WITH OVERSIGHT OF BIDEN ADMIN 'WEAPONIZATION' PASSES HOUSE
A day later, Republicans established two select committees. The first was a select committee on the strategic competition with China. The second was to establish a subcommittee on "the Weaponization of the Federal Government as a select investigative subcommittee of the Committee on the Judiciary."
The latter is expected to investigate not only how the executive branch has gathered information on citizens, but how it has worked with other bodies – including private sector companies – to "facilitate action against American citizens."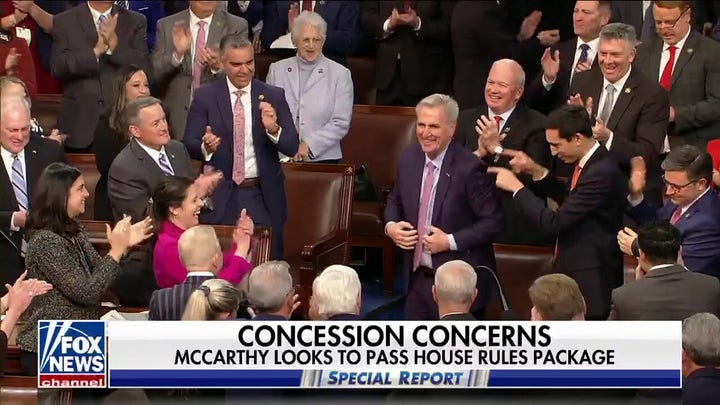 Video
The resolution states that the committee will investigate how the executive branch agencies "collect, compile, analyze, use, or disseminate information about citizens of the United States, including any unconstitutional, illegal, or unethical activities committed against citizens of the United States." It will also have subpoena power.
MCCARTHY SAYS NEW COMMITTEE ON WEAPONIZED GOVERNMENT COULD OVERSEE BIDEN CLASSIFIED DOCUMENTS PROBE
On Wednesday, Republicans turned to the issue of abortion, passing a bipartisan resolution condemning violence against pro-life centers and a bill to bar healthcare providers from "failing to exercise the proper degree of care in the case of a child who survives an abortion or attempted abortion."
On Thursday, the chamber passed a bill to block the Energy Department sending oil from the U.S. emergency stockpile to China — a bill which also saw bipartisan support with 113 Democrats voting in favor. All bills passed by the House require approval from the Senate — which is controlled by Democrats — and signature by President Biden.
Republicans still have a lot on their agenda. Multiple bills related to the crisis at the southern border were introduced this week, with Republicans also introducing an impeachment resolution against Secretary Alejandro Mayorkas and bills to resume and fund border wall construction.
Meanwhile, McCarthy said in an interview this week that he intends to block three top Democrats — Reps. Adam Schiff, D-Calif., Eric Swalwell, D-Calif., and Ilhan Omar, D-Minn. — from sitting on the House Intelligence and Foreign Affairs Committees respectively.
CLICK HERE TO GET THE FOX NEWS APP
He also said he was open to resolutions that could expunge impeachments of former President Donald Trump, although he noted that there were other priorities on which the caucus was focused.
"Our first priority is to get our economy back on track, secure our borders, make our streets safe again, give parents the opportunity to have a say in their education, and actually hold government accountable. But I understand why individuals want to do it, and we'd look at it," McCarthy said.
Fox News' Peter Kasperowicz, Brooke Singman and Kyle Morris contributed to this report.