House Minority Leader Kevin McCarthy, R-Calif., suggested the House may continue negotiations and votes on the speakership throughout the weekend if needed.
"We shouldn't leave," McCarthy told Punchbowl News around 9:45 p.m. Thursday as he left the Capitol. "Why should we leave if we haven't got our work done?"
THE VOTE FOR HOUSE SPEAKER: LIVE UPDATES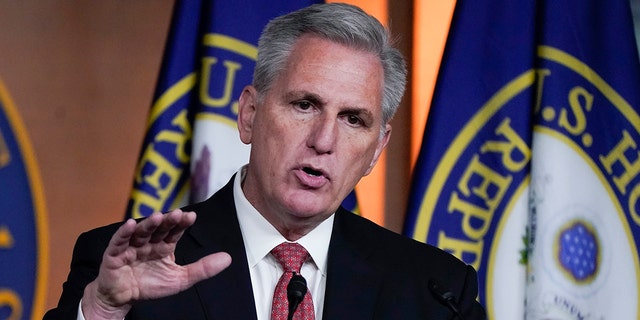 House Minority Leader Kevin McCarthy, R-Calif., asked Punchbowl, "why should we leave if we haven't got our work done?"
(AP Photo/J. Scott Applewhite)
Punchbowl reported McCarthy insisted it is unlikely the House adjourns for an extended period of time until a speaker is elected. This could mean the House continues to work and vote throughout the weekend if they are unable to reach a majority Friday, when they reconvene at noon.
The House failed on 11 votes through Thursday as a group of nearly two dozen Republicans continued their opposition to McCarthy. However, the minority leader and his allies drafted a rules framework Thursday night they believe could win over a significant portion of the dissenters in the conservative House Freedom Caucus (HFC), lawmakers familiar with the framework told Fox News. The deal would heed to HFC demands as it gives them strong representation on committees, plans to counter increased federal spending, and allows a single member of the House to a motion for a vote to remove the speaker.
GOP DEAL EMERGES LATE THURSDAY THAT COULD GIVE MCCARTHY A PATH TO THE SPEAKERSHIP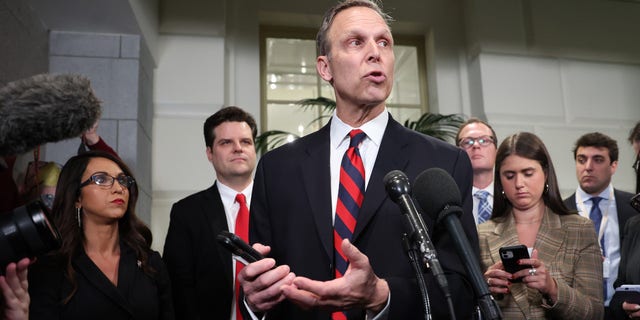 House Freedom Caucus Chair Rep.-elect Scott Perry, R-Pa., tweeted that "we'll take our time."
(Kevin Dietsch/Getty Images)
HFC Chair Rep.-elect Scott Perry, R-Pa., tweeted late Thursday that "we'll take our time" in negotiations.
"We're at a Reagan moment — 'trust but verify,'" Perry tweeted. "The devil is in the details, and we'll take our time to ensure it's right, not easy. One way or another, the status quo must go."
ANTI-MCCARTHY REPUBLICANS, DEM LEADER JEFFRIES FUNDRAISE OFF STALLED HOUSE SPEAKER VOTE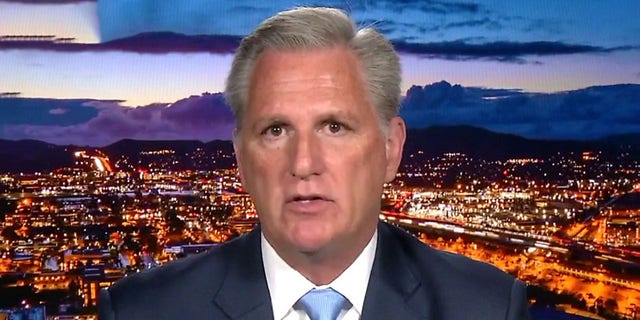 Rep.-elect Kevin McCarthy, R-Calif., faces opposition from nearly two dozen Republicans in his bid for speaker
(Fox News)
The weekend poses a potential challenge for McCarthy, as he works to negotiate with a slim majority. Rep.-elect Ken Buck, R-Colo., had to leave the nation's capital Thursday afternoon for a medical appointment — and other members may have conflicts as well. Rep.-elect Roger Williams, R-Texas, has stayed in Washington, D.C., as his wife suffers a medical emergency. Rep.-elect Wesley Hunt, R-Texas, may return home as his wife gave birth this week. Oklahoma Rep.-elect Kevin Hurn's mother died this week, and he wants to attend her funeral on Saturday.
CLICK HERE TO GET THE FOX NEWS APP
McCarthy told reporters after the House adjourned Thursday that he is not too focused on a timeline — just that a deal is eventually agreed upon.
"I'm not putting any timeline on it," McCarthy said. "The entire conference is going to have to learn how to work together. So it's better that we go through this process right now so we can achieve the things we want to achieve for the American public, what our commitment was. So if this takes a little longer and it doesn't meet your deadline, that's okay, because it's not it is not how you start. It's how you finish."