Embattled Department of Homeland Security (DHS) Secretary Alejandro Mayorkas claimed Thursday that border encounters with individuals from "targeted countries" had "dropped significantly" over the past two weeks, citing announced action by the agency to combat the border crisis.
Mayorkas, who is facing widespread calls for his resignation and impeachment over his handling of the border crisis, didn't provide any figures to support the claim nor which "targeted countries" he was referring to.
"We're executing a comprehensive strategy to secure our borders and build a safe, orderly and humane immigration system," Mayorkas said while speaking to the U.S. Conference of Mayors at its winter meeting in Washington, D.C.
TEXAS GOV. ABBOTT SPOTLIGHTS PUSH TO IMPEACH HOMELAND SECURITY SECRETARY MAYORKAS OVER BORDER CRISIS
"Two weeks ago, we announced new lawful pathways for non-citizens seeking relief in the United States, accompanied by a consequence regime for those who do not avail themselves of those processes. Since then, encounters from the targeted countries have dropped significantly," he added, while also referring to the U.S.'s immigration system as "broken" and "in desperate need of legislative reform."
Fox News Digital reached out to DHS and asked it to provide the figures supporting Mayorkas' claim, as well as which nations were part of the list of "targeted countries," but did not receive a response.
Mayorkas only used one minute of his approximately 13-minute speech to address the border crisis. He instead focused more time addressing "domestic violence extremism," which he said is "one of the most persistent threats" facing the nation.
'YOU HAVE FAILED': TEXAS LAWMAKERS CALL ON BIDEN'S DHS SECRETARY TO ABANDON 'MISGUIDED LIBERAL POLICIES'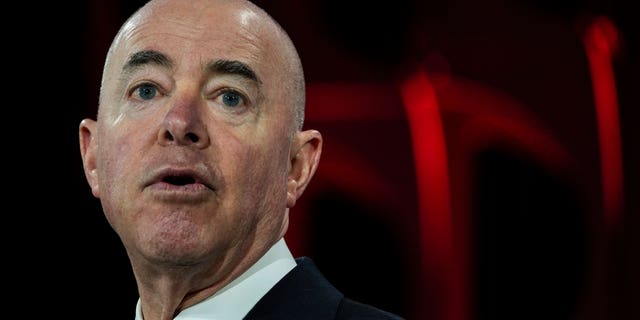 Department of Homeland Security Secretary Alejandro Mayorkas speaks during the United States Conference of Mayors 91st Winter Meeting on Jan. 19, 2023, in Washington, D.C.
(Drew Angerer / Getty Images)
Newly elected Republican House Speaker Kevin McCarthy previously called on Mayorkas to resign from his post, and one congressman, Rep. Pat Fallon, R-Texas, has already filed articles of impeachment against him. It's unlikely the articles will be taken up by the House before any investigations take place, which McCarthy has vowed if Mayorkas doesn't resign.
Mayorkas has so far resisted calls for his resignation, and he has insisted that he is prepared for any potential investigations by House Republicans.
CLICK HERE TO GET THE FOX NEWS APP
Migrant encounters in December smashed previous records, exceeding 250,000 for the first time ever recorded. That number tops the most recent record of 241,136 in May 2022, according to Customs and Border Protection.