Florida Rep.-elect Matt Gaetz said he would resign from Congress should moderate Democrats strike a deal with Republicans to elect a "moderate" House speaker.
Appearing on "The Ingraham Angle," the Republican said Thursday night that he was sure that would not happen.
"Will you be OK then if there's ultimately a deal struck with moderate Democrats that [gives] Democrats kind of co-control of the committees, you're fine with that?" host Laura Ingraham asked.
"No, absolutely not. That will not happen," he quickly replied.
GOP DEAL EMERGES LATE THURSDAY THAT COULD GIVE MCCARTHY A PATH TO THE SPEAKERSHIP
"Well, that could happen," Ingraham interjected.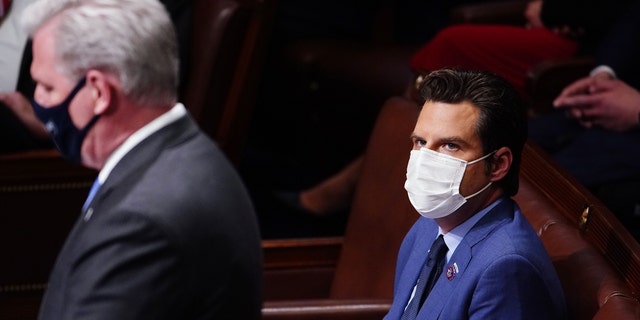 Republican Representative-elect Matt Gaetz of Florida, right, listens as House Minority leader Kevin McCarthy of California speaks during the restart of a House session of Congress in Washington, D.C., Jan. 6, 2021.
(Photo by JIM LO SCALZO/POOL/AFP via Getty Images)
"Listen, I'm on the floor, Laura. These 212 Democrats are going to vote for Hakeem Jeffries every single time. He is a historic candidate for them. They are not going to cleave off under any circumstance," Gaetz retorted.
"If Democrats join up to elect a moderate Republican, I will resign from the House of Representatives. That is how certain I am. I can assure your viewers, that won't happen," he added.
MCCARTHY CLAIMS MATT GAETZ TOLD HIM HE WOULDN'T CARE IF SPEAKER STALEMATE ENDS WITH DEMOCRAT LEADING THE HOUSE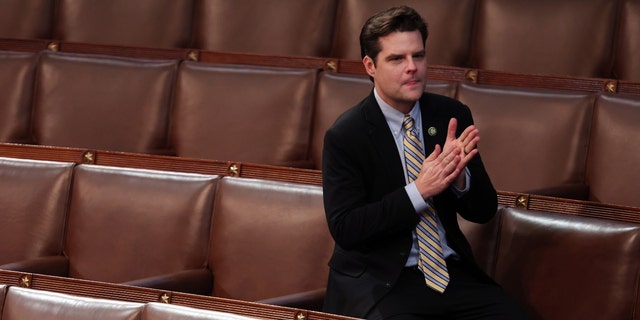 Rep.-elect Matt Gaetz, R-Fla., arrives to the House Chamber during the third day of elections for Speaker of the House at the U.S. Capitol Building on Jan. 5, 2023, in Washington, D.C. 
(Win McNamee/Getty Images)
Gaetz also told Ingraham that former President Trump was wrong in his support of McCarthy and said he would not be betting on his support for the Californian under "almost any circumstance."
McCarthy claimed on Tuesday that Gaetz told him he would not care if the stalemate over McCarthy's speakership vote resulted in a Democrat being elected to the position.
Gaetz's office denied that claim.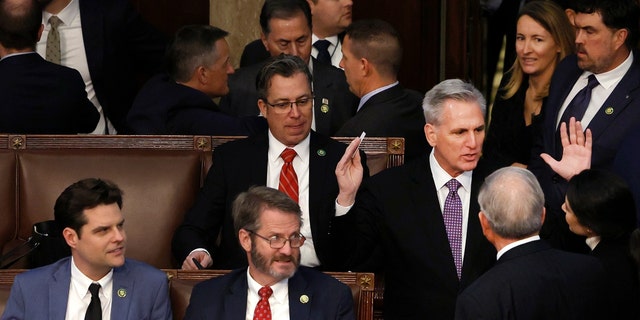 House Republican Leader Kevin McCarthy, R-Calif., talks members-elect as Rep.-elect Matt Gaetz, R-Fla., and Rep.-elect Tim Burchett, R-Tenn., watch in the House Chamber during the second day of elections for Speaker of the House at the U.S. Capitol Building on Jan. 4, 2023, in Washington, D.C. 
(Anna Moneymaker/Getty Images)
"As is typical for Kevin McCarthy's career, he is lying," a spokesman said.
CLICK HERE TO GET THE FOX NEWS APP
This comes as the contours of a deal that could make McCarthy the House speaker have begun to emerge following three days and 11 failed votes.
Fox News' Anders Hagstrom and The Associated Press contributed to this report.