After a series of votes in the U.S. House of Representatives resulted in Rep. Kevin McCarthy failing to get enough votes to become the next House Speaker, one member is asking why he is still allowed to operate out of the Speaker's Office.
Following three votes where McCarthy was just shy of the 218 votes he needs to pick up the gavel, Rep. Matt Gaetz, R-Fla., wrote a letter to the Architect of the Capitol questioning McCarthy's, R-Calif., claim to and current occupation of the Office of Speaker of the House.
"I write to inform you that the Speaker of the House Office located in the U.S. Capitol Building is currently occupied by Rep. Kevin McCarthy," Gaetz wrote in the letter he later posted online. "As of this morning, the 117th Congress adjourned sine die, and a Speaker from the 118th Congress has not been elected. After three undeciding votes, no member can lay claim to this office."

next
Image 1 of 3

House Minority Leader Kevin McCarthy (R-CA) walks to the House Floor on Capitol Hill on Monday, Nov. 14, 2022 in Washington, DC. Tomorrow, House Republicans will hold elections for leadership positions in the 118th Congress.   (Kent Nishimura / Los Angeles Times via Getty Images)


prev

next
Image 2 of 3

Rep. Matt Gaetz, R-Fla., walks down the House steps at the Capitol after the last votes of the week on Friday, April 1, 2022. (Bill Clark/CQ-Roll Call, Inc via Getty Images) (Bill Clark/CQ-Roll Call, Inc via Getty Images)


prev
Image 3 of 3

A U.S. Capitol Police Officer's silhouette is illuminated in an open doorway to the Speakers Balcony in the U.S. Capitol Building on August 06, 2021 in Washington, DC.  (Anna Moneymaker/Getty Images)
"What is the basis in law, House rule, or precedent to allow someone who has placed second in three successive speaker elections to occupy the Speaker of the House Office? How long will he remain there before he is considered a squatter?" the Florida Republican added.
MCCARTHY SHORT OF VOTES AS HOUSE SPEAKER CONTEST ENTERS FINAL HOURS
And: "Please write back promptly as it seems Mr. McCarthy can no longer be considered Speaker-Designate following today's balloting."
In a tweet late Tuesday evening, Gaetz called McCarthy a "squatter."
McCarthy assumed the Speaker's office after Republicans retook a majority in the House following the November 2022 Midterm Elections as he served as the House Minority Leader — but he currently does not have enough support among Republicans to be elected.
New members cannot be sworn into office until a new Speaker is chosen.
MCCARTHY FALLS SHORT IN THIRD HOUSE SPEAKER VOTE AS JORDAN GAINS MOMENTUM
On Tuesday, House members were tasked with electing a new Speaker, but an initial vote resulted in no candidate meeting the 218-vote threshold — the first time in nearly a century.

next
Image 1 of 3

Rep. Jim Jordan, R-Ohio, on July 21, 2021 in Washington, DC.  (Photo by Anna Moneymaker/Getty Images)


prev

next
Image 2 of 3

U.S. Rep. Andy Biggs (R-AZ) speaks at a campaign rally attended by former U.S. President Donald Trump at Legacy Sports USA on October 09, 2022 in Mesa, Arizona.  (Mario Tama/Getty Images)


prev
Image 3 of 3

New York Republican gubernatorial nominee Lee Zeldin shut down a reporter who questioned he chose to "talk politics" after a shooting occurred directly outside his home.  (Lev Radin/Pacific Press/LightRocket via Getty Images)
In the vote, Republicans were divided between McCarthy, and Reps-elect. Jim Jordan, R-Ohio, Andy Biggs, R-Ariz., Jim Banks, R-Ind., Lee Zeldin, R-N.Y., and Byron Donalds, R-Fla.
In total, 19 Republicans defected from McCarthy.
BYRON DONALDS SETS HOUSE FLOOR ABUZZ BY SWITCHING VOTE FROM MCCARTHY TO JORDAN
Conversely, Democrats were united behind Hakeem Jeffries, D-N.Y., their chamber's leader after former House Speaker Nancy Pelosi announced she would no longer be serving in leadership.
McCarthy called the defectors' bluff in forcing a second and third vote — which ultimately resulted in him losing another vote.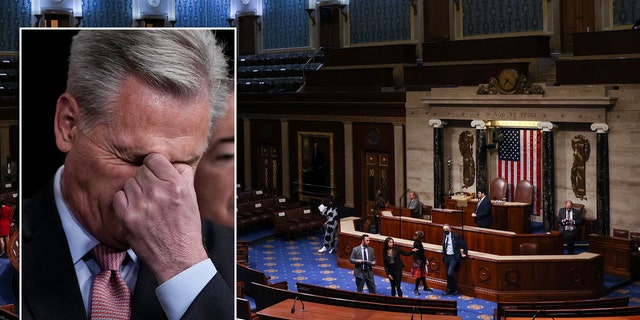 A split photo of Rep. Kevin McCarthy and the House of Representatives chamber. 
(Julia Nikhinson-Pool/Getty Images/Drew Angerer/Getty Images)
CLICK HERE TO GET THE FOX NEWS APP
On the third vote, Donalds changed his vote from McCarthy to Jordan, raising the number of Republicans voting for someone other than McCarthy to 20.
The chamber was subsequently adjourned until noon on Wednesday.