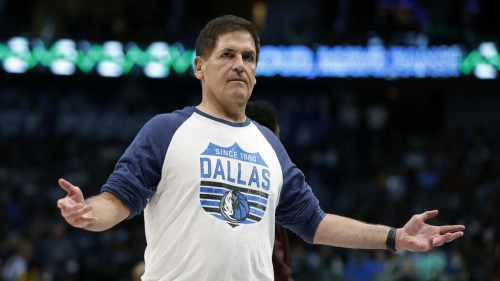 Dallas Mavericks owner Mark Cuban was not happy with the officials during his team's game against the Golden State Warriors.
Tim Heitman/Getty Images

CNN
—
The Golden State Warriors made it two wins in a row with a 127-125 road victory over the Dallas Mavericks, though the game wasn't without a bit of controversy.
With the Warriors leading 88-87 towards the end of the third quarter, the ball went out of bounds and a timeout was called by Mavs head coach Jason Kidd.
Both teams thought the referee had signaled it was their ball and both sets of players returned to the floor on opposite sides of the court.
This allowed Golden State guard Jordan Poole to inbound the pass to an open Kevon Looney, who slammed the ball in with only Warriors players in his vicinity.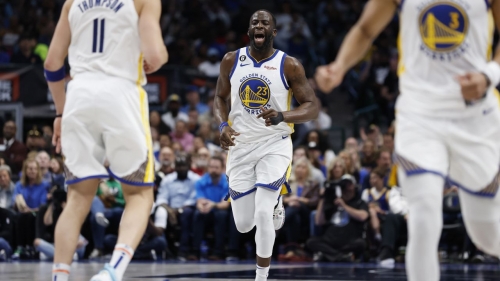 The Golden State Warriors beat the Dallas Mavericks 127-125.
Tim Heitman/Getty Images
Kidd was bemused on the sidelines, as were the players on the court, with even Mavericks owner Mark Cuban showing his bafflement at what had just happened.
After being seen pleading his case during the game, Cuban then took to Twitter to share his thoughts on the officiating.
"For those wondering about the play with 1:54 to go in the 3rd, let me explain what happened," the Mavericks owner said. "The ref called Mavs ball. The announcer announced it. Then there was a timeout. During the time out the official changed the call and never told us."
Cuban continued: "Then when they saw us line up as if it were our ball, he just gave the ball to the Warriors. Never said a word to us. They got an easy basketball."
The 64-year-old didn't hold back, calling it the "worst officiating non call mistake possibly in the history of the NBA. All they had to do was tell us and they didn't."
In the post-game pool report, Crew Chief Sean Wright explained the decision.
"Initially on the floor the original signal was in fact Golden State ball as this can be seen on video. There is a second signal, but that signal is for a mandatory timeout that was due to the Mavs."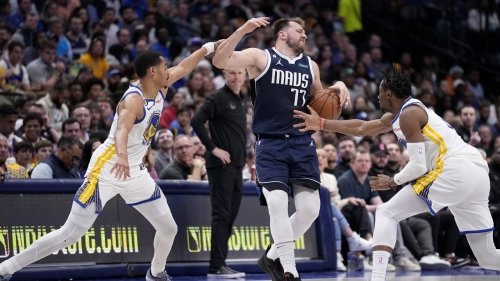 Mavs star Luka Doncić was also unhappy with the officials throughout the game.
Tony Gutierrez/AP
The bizarre series of events was not the end of the Mavericks' complaints towards the officials.
Trailing by three with less than 10 seconds on the clock, Mavs star Luka Doncić claimed he was fouled by Draymond Green under the basket.
Upon not getting the call, the four-time NBA All-Star appeared to make a gesture with his hands implying there was money between his fingers.
With the regular season reaching its conclusion and wins becoming even more important, there is clearly added tension in the Mavericks squad ahead of their next game against the Charlotte Hornets on Friday.