Bowling Green Falcons guard Elissa Brett (left) is assisted off of the court after an altercation with Memphis Tigers guard Jamirah Shutes (not pictured) during the postgame handshake.
Scott W. Grau/Icon Sportswire/Getty Images

CNN
—
Bowling Green State University basketball player Elissa Brett was struck by University of Memphis player Jamirah Shutes while the two walked through the traditional post-game handshake line following Bowling Green's 73-60 win in the Women's National Invitation (WNIT) postseason tournament on Thursday.
Video of the incident shows the confrontation, with Shutes reaching out towards Brett, and Brett immediately falling to the ground. Shutes was quickly ushered away by a Memphis team member. The episode occurred on the Falcons' home court in Bowling Green, Ohio.
During the post-game press conference, Falcons head coach Robyn Fralick was asked about Brett's condition and if any words were exchanged between the two players to which Fralick responded, "We're still kind of figuring all those things out, what happened."
On Friday, Bowling Green's Athletic Department released a statement which said it was reviewing the incident and that the Bowling Green State University Police Department "has charged a member of the Memphis Women's Basketball team with assault."
Memphis player strikes Bowling Green player in handshake line | ESPN College Basketball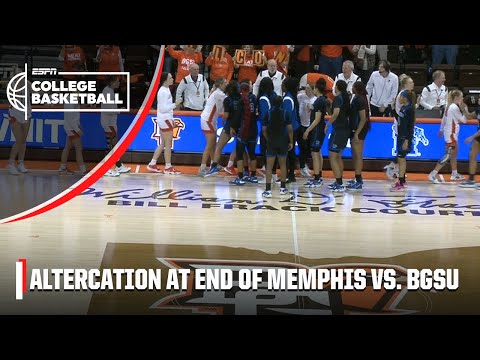 CNN has reached out to the Bowling Green State University Police Department for comment.
"Violence is never acceptable and our priority remains the health, safety and support of our student-athlete, who is recovering and doing well. This is an active investigation in conjunction with the City of Bowling Green Prosecutor, and no further comment is available at this time," the statement continued.
A Bowling Green State University attorney shared Thursday night's campus police incident/investigation report with CNN. The report says "a member of the Memphis basketball team had struck a member of the BGSU basketball team in the face with a closed fist." The victim, Brett, suffered "swelling in their right eye due to this strike."
The report continues, "Through the use of video, witness statements, and interviews it was determined that the identified Memphis basketball player did strike the BGSU basketball player. After review of this evidence, the identified Memphis player was charged with assault."
CNN has reached out to the University of Memphis and Shutes, through the school, for comment. It is unclear if Shutes has retained legal representation.
Shutes, a fifth-year senior, is 13th all-time in career points in program history according to Memphis' team website.