close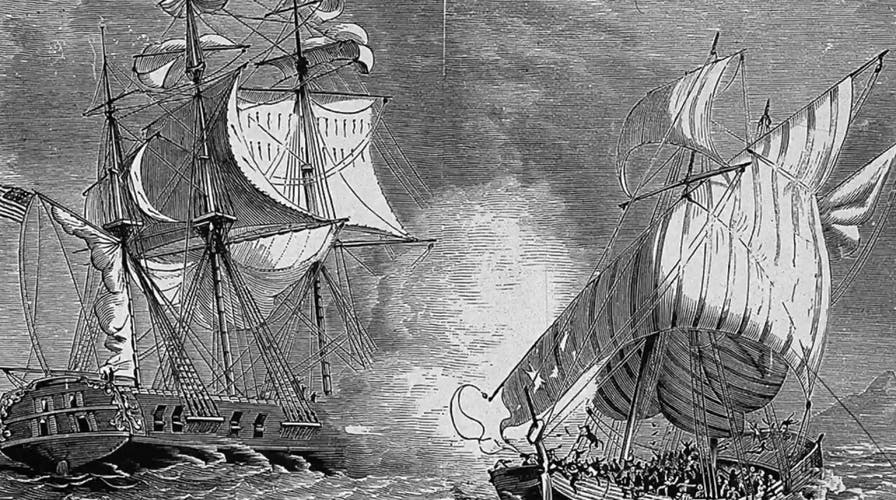 Video
U.S. Marines raised U.S. flag over shores of Tripoli on this day in history, April 27, 1805
Marines marched 400 miles from Alexandria, Egypt, to secure critical victory over pirate states in the Barbary Wars, leading to negotiations two months later and inspiring the famous lyrics of "The Marines' Hymn."
Three U.S. Marines are being hailed as heroes by both the U.S. military and the Estonian navy for saving the life of a young man at a local burger chain in the Estonian capital of Tallinn.
Lance Corporals' Colton Allen, 22, Christopher Butemeyer, 21, and Aiden Morey, 19, had just walked into a Hesburger located near their base when they noticed a crowd gathered around a booth. They saw a young man about their age slumped over with blue lips and unresponsive.
The Marines immediately rushed past onlookers standing around recording and jumped into action. Morey called the local emergency number while Butemeyer and Allen began clearing the man's airway and monitoring his breathing.
MARINE RECRUITERS STOP CALIFORNIA SMASH-AND-GRAB JEWELRY HEIST, TACKLE FLEEING SUSPECTS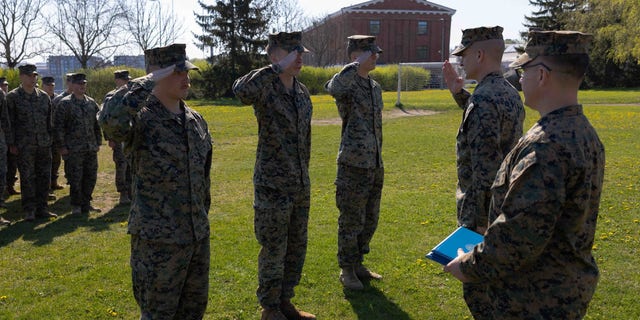 Lance Cpl. Colton Allen, Lance Cpl. Christopher Butemeyer, Lance Cpl. Aiden Morey receive the Navy and Marine Corps Achievement Medal, signed by Vice Adm. Thomas Ishee, commander, U.S. 6th Fleet, and presented in person by Colonel Ryan Hoyle, commanding officer, Task Force 61/2, on May 15, 2023. (Photo by Cpl. Christopher Doughty)
The three also called their unit's medic to make sure they were doing everything they could for the man. Fox News Digital spoke by phone with the three Marines last week.
Butemeyer described the scene, "We are trained to do stuff like this. People around us realized we needed to do what we needed to do to get the job done and moved out of our way."
When the emergency response team showed up and took over, they told the Marines without their intervention, the man would have died. He was taken to a nearby hospital. Fox News Digital reached out to the emergency services to identify the man rescued but due to Estonian privacy laws, his identity could not be released.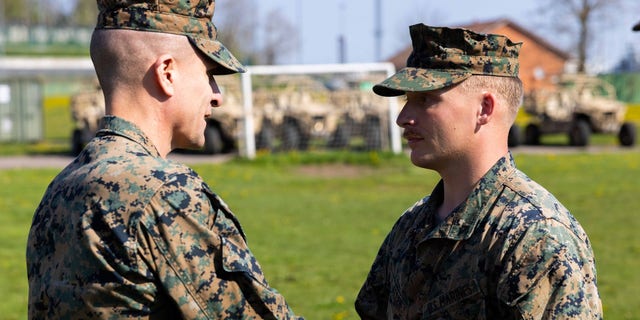 Lance Cpl. Colton Allen received the Navy and Marine Corps Achievement Medal from Colonel Ryan Hoyle, commanding officer, Task Force 61/2, May 15, 2023. (Photo by Cpl. Christopher Doughty)
What happened immediately after that was relatively anticlimactic. The Marines said the crowd dispersed with little to no fanfare. The three Marines still had not eaten dinner, so they casually walked up to the counter and ordered their food. Surprisingly, they still had to pay for their burgers and fries. However, they did each receive something much more lasting: a Navy and Marine Corps Achievement Medal signed by Vice Admiral Thomas Ishee, commander of the 6th Fleet, for their actions.
MEET THE AMERICAN WHO FIRST COMMANDED THE MARINES: REVOLUTIONARY WAR HERO SAMUEL NICHOLAS
"The awards ceremony was amazing. I never expected to get that. It felt pretty nice, honestly to be recognized. We were all just grateful the young man was able to be okay," Allen said. When asked how their families responded, Morey said they were proud of them for doing great work with the Marine Corps. All three enlisted less than two years ago.
The three Marines are all deployed with Task Force 61/2, Mobile Reconnaissance Company in Estonia currently participating in NATO training exercise Spring Storm '23.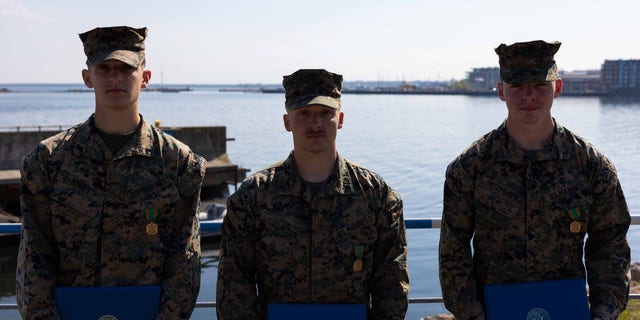 Lance Cpl. Aiden Morey, Lance Cpl. Colton Allen and Lance Cpl. Christopher Butemeyer hold their Navy and Marine Corps Achievement Medals for action and heroism in rescuing a dying man while out for a meal in Tallinn, Estonia. (Photo by Cpl. Christopher Doughty)
Estonian Navy Commander Commodore Jüri Saska expressed his appreciation for the Marines' action and heroism in a meeting with Colonel Ryan Hoyle, commanding officer of the Task Force 61/2, who presented the awards ceremony last week.
"These Marines were out on liberty, and identified a threat or a situation that needed some Marines to respond to it. They were there, and responded appropriately. They did good work, and I'm proud of each of the Marines for their actions," Col. Hoyle said.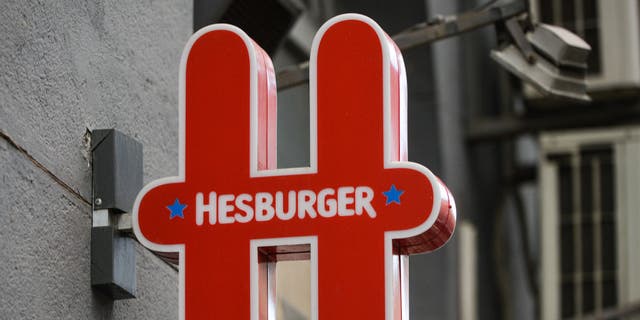 Logo of Hesburger, the largest hamburger restaurant chain in Finland, Estonia, Latvia and Lithuania with a market share larger than that of U.S.-based rival McDonald's. (Photo by Artur Widak/NurPhoto via Getty Images)
CLICK HERE TO GET THE FOX NEWS APP
The men are stationed out of Camp Lejeune in North Carlina. Hesburger Corporate thanked the Marines for their help and offered a free meal the next time they patronize the restaurant.
Lanna Britt was a national news producer for nearly a decade, covering politics, breaking news and current events.  She now lives with her husband and three children in Richmond, Virginia. You can find her on Instagram @LannaWrites.