close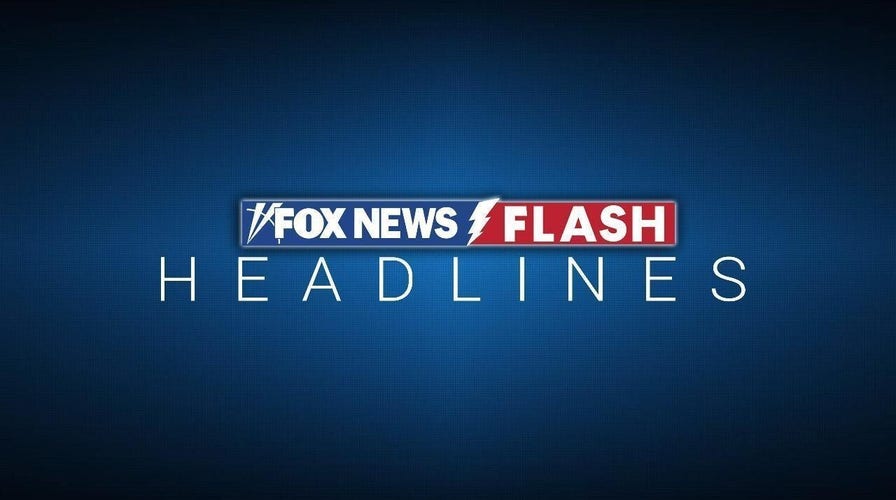 Video
Fox News Flash top headlines for May 24
Fox News Flash top headlines are here. Check out what's clicking on Foxnews.com.
Japan held a ceremony on Wednesday marking its planned donation of about 100 military vehicles to Ukraine, as Tokyo seeks to provide equipment that can be of broader military use than its earlier shipments of helmets and hazmat suits.
In a ceremony at the Defense Ministry at which two half-ton trucks were on display, Japanese Vice Defense Minister Toshiro Ino handed a document to Ukrainian Ambassador Sergiy Korsunsky listing the three types of vehicles included in the donation.
"We hope the invasion ends as soon as possible and peaceful daily lives return," Ino said. "We will provide as much support as we can."
US PROVIDING UKRAINE $1.2B IN MILITARY AID AHEAD OF EXPECTED SPRING OFFENSIVE AGAINST RUSSIA
The donation, which also includes 30,000 food rations, comes as Japan's government is seeking to ease its military equipment transfer policy under a new national security policy that allows its military a greater offensive role, in a major break from its post-World War II self-defense-only principle.
While other countries have provided Ukraine with tanks, missiles and fighter jets, Japan has limited its donations to non-lethal equipment because the transfer policy prohibits the provision of lethal weapons to countries at war.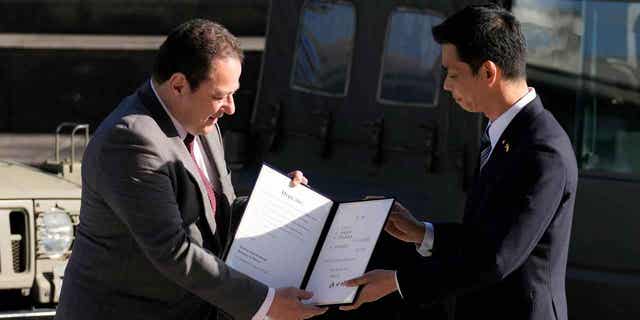 Sergiy Korsunsky, left, Ambassador of Ukraine to Japan, speaks with Toshiro Ino, right, state minister of Defense of Japan, during the handover ceremony of defense equipment for Ukraine at the Ministry of Defense on May 24, 2023, in Tokyo, Japan. (AP Photo/Eugene Hoshiko)
Japan has provided Ukraine with bulletproof vests, helmets, gas masks, hazmat suits, small drones and food rations since Russia's invasion began last year.
RUSSIA VOWS ON VICTORY DAY TO CRUSH 'NEO-NAZISM' IN UKRAINE AS ZELENSKYY MARKS WORLD WAR II HOLIDAY
Japanese Prime Minister Fumio Kishida pledged the trucks to Ukrainian President Volodymyr Zelenskyy when they met in Hiroshima on Sunday on the sidelines of the Group of Seven summit. Japan has also offered to treat injured Ukrainian soldiers at a Japanese military hospital.
The vehicles consist of half-ton trucks, high mobility vehicles and material handling vehicles, the government said. The Acquisition, Technology and Logistics Agency said the details, including the exact number of vehicles and timing of their shipment, are being finalized.
Tokyo has joined the United States and European nations in sanctioning Russia over its invasion and in providing humanitarian and economic support for Ukraine.
CLICK HERE TO GET THE FOX NEWS APP
Japan was quick to react because of fears of a possible impact from the war on East Asia, where China's military has grown increasingly assertive and has escalated tensions around self-governed Taiwan, which Beijing claims as its territory.
Japan has contributed more than $7 billion to Ukraine. It has also accepted more than 2,000 displaced Ukrainians and helped them with housing and support for jobs and education, a rare move in a country known for its strict immigration policy.