close
Video
Aviation expert stresses importance of computer systems for flight communication after FAA outage
Aviation expert and pilot Kyle Bailey on the nationwide flight delay after FAA computer systems experienced issues
Questions remain unanswered nearly 10 years after the disappearance of Malaysia Airlines flight MH370, and the families of the missing and presumed dead are still seeking closure for their loved ones.
The 2014 disappearance remains one of the most vexing mysteries in aviation. The Boeing 777 took off from Kuala Lumpur headed to Beijing March 8, 2014 and disappeared around 90 seconds after leaving Malaysian airspace with all 239 of its passengers seemingly gone without a trace.
A multiyear search ensued, and with it a confusing and convoluted series of revelations and investigations that, to this day, have turned up no real conclusion. Malaysian authorities called off the search after three years, and subsequent search efforts have remained short-lived.
The families of the missing have pushed for a renewed search, citing advances in technology that could help locate the bulk of the plane or any new evidence that could help them find closure.
MH370, AMELIA EARHART AND OTHER AIRPLANE MYSTERIES THAT ARE STILL UNRESOLVED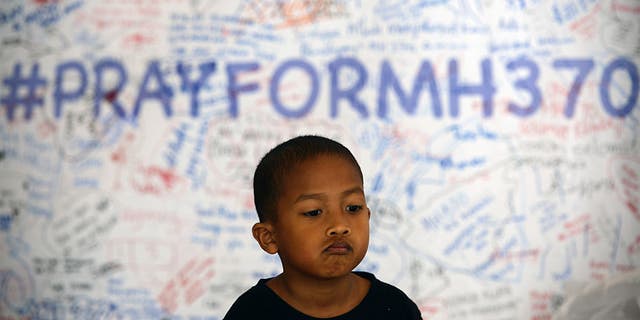 A young Malaysian child poses in front of a message board with well wishes to people involved with the missing Malaysia Airlines jetliner MH370, in Sepang, outside Kuala Lumpur, Malaysia, March 16, 2014.  (Joshua Paul/NurPhoto/NurPhoto/Corbis via Getty Images)
"While the next of kin of the passengers and crew on board attempt to rebuild our lives, the threat to global aviation safety remains a live issue," Voice370, a group of relatives of passengers from MH370, said in a statement.
MH370 HAD 'MYSTERIOUS' 200-POUND LOAD ADDED TO FLIGHT LIST AFTER TAKEOFF: REPORT
"As long as we remain in the dark about what happened to MH370, we will never be able to prevent a similar tragedy. Accordingly, we believe that it is a matter of paramount importance that the search for MH370 is carried out to its completion."
A new Netflix documentary examined the timeline of the plane's disappearance, speaking with some of the more prominent voices and players involved in the immediate response and subsequent search for the plane.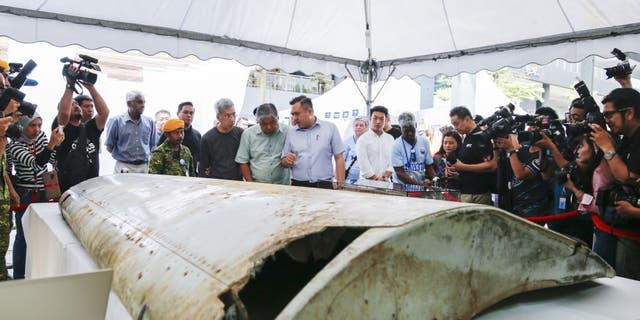 Malaysian Minister of Transport Anthony Loke, center, looks at a wing flap found on Pemba Island, Tanzania, which has been identified as a missing part of Malaysia Airlines Flight MH370 through unique part numbers traced to 9M-MRO during a commemoration event to mark the fifth anniversary of the missing Malaysia Airlines MH370 flight in Kuala Lumpur, Malaysia, March 3, 2019.  (Adli Ghazali/Anadolu Agency/Getty Images)
The documentary, released on the anniversary of the plane's disappearance, also revives some of the more outlandish theories about what happened to the plane.
Following its disappearance, the plane emitted several "pings" that London-based satellite firm Inmarsat recorded and tracked over the immediate six hours.
The pings allowed the company to confirm that the plane backtracked over Malaysia before the final ping somewhere over the Indian Ocean. After that, the mystery deepened. Inmarsat used the data to determine the plane flew south into the Indian Ocean rather than bank north over continental Asia.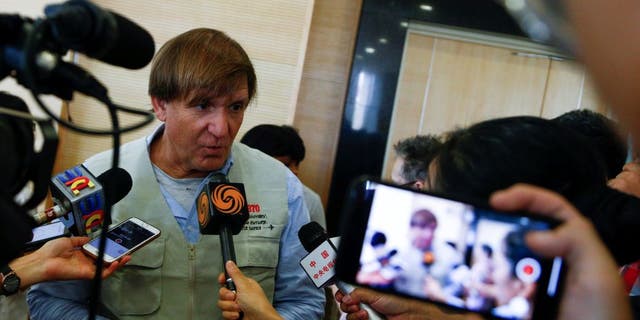 Blaine Gibson, the self-styled wreck hunter searching for missing Malaysian Airlines flight MH370 talks to media members after handing over pieces of debris found in Madagascar believed to be from flight MH370 to Malaysia's Transport Minister Anthony Loke in Putrajaya Nov. 30, 2018. (Adli Ghazali/Anadolu Agency/Getty Images)
In subsequent years, Blaine Gibson, a self-described hobbyist "adventurer," found several pieces of the plane that washed up on islands around the Indian Ocean that airline authorities say were consistent with the Boeing 777. And they determined that as proof enough that the plane went down because no other plane has been reported missing in the intervening years. It's the closest to a confirmation they believe the families will get.
MH370 BOMBSHELL: WHAT REALLY HAPPENED TO MALAYSIA'S MISSING AIRPLANE? GUY BENSON HAS THE CHILLING DETAILS
The documentary covers three main theories about what happened, each one largely disproved or doubted by evidence that followed. One theory suggests the pilot planned to kill himself and all the passengers on board, hijacking the plane. Another says Russian intelligence operatives hijacked the plane. A third theory says the U.S. jammed the plane's communications and somehow grounded it.
In the documentary, Blaine dismissed any theories of a country intervening and covering up its actions because it would require rival nations of the U.S., China and Russia to cooperate, which was deemed impossible.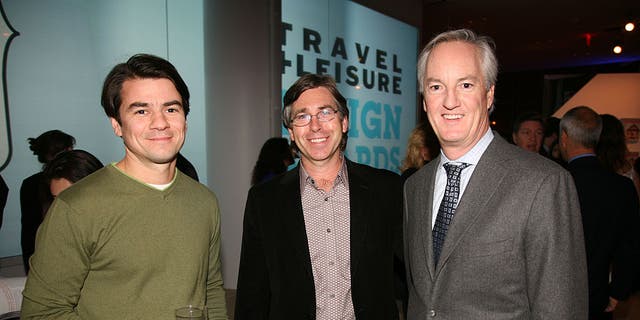 Jeff Wise, Jason Dodd and Ed Kelly attend the Travel + Leisure 2008 Design Awards at the IAC Building Feb. 12, 2008, in New York City. (David X Prutting/Patrick McMullan via Getty Images)
Jeff Wise, a journalist and prominent face of the amateur investigation into the plane's disappearance, first proposed the Russian hijack theory and seemed to double down on it. He further speculated indirectly in the Netflix documentary that Blaine could have acted in Russia's interests, which Blaine said would amount to defamation for "serious" claims.
What remains clear is that few people can agree on what happened to the plane. But the hope to have some answer – any answer with concrete evidence to back it up – remains strong, both for those who have spent years searching for a resolution and those who never saw their loved ones arrive home.
CLICK HERE TO GET THE FOX NEWS APP
"At this stage, we are unable to say definitively when a new search will take place as discussions are ongoing, and there is still much work to be done," Oliver Plunkett, the chief executive of U.S.-based marine robotics company Ocean Infinity, told The Guardian.
"We will work hard and try our best to make it happen, subject to the support of the Malaysian government," he said. "I fully believe it is a realistic ambition."
Peter Aitken is a Fox News Digital reporter with a focus on national and global news.