close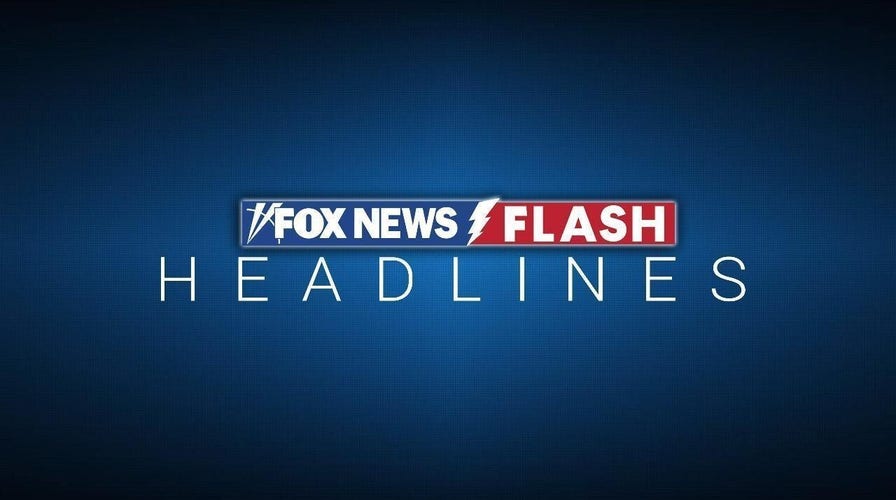 Video
Fox News Flash top headlines for April 19
Fox News Flash top headlines are here. Check out what's clicking on Foxnews.com.
Battered by three intense cyclones in the space of a year, southeast Madagascar is experiencing the knock-on effect of those climatic disasters: "catastrophic" hunger in remote, inaccessible areas that is gaining little international attention, humanitarian groups say.
Cyclone Batsirai hit in February 2022, followed two weeks later by Cyclone Emnati. Then, Cyclone Freddy made landfall on the Indian Ocean island in February of this year. The combined impact left 60%-90% of farming areas in the southeast badly damaged and food crops largely destroyed, according to a report by UNICEF and Madagascar's National Office for Nutrition.
The suffering is felt by people like Iavosoa, a desperate young mother whose 10-month-old daughter, Soaravo, was at risk of not living to see her first birthday because of acute malnutrition. Iavosoa, who only gave her first name to protect her privacy, also has a 3-year-old son suffering from moderate malnutrition.
A team from the humanitarian organization Doctors of the World brought her children and two other badly malnourished children, both under age 2, to a hospital in the city of Mananjary on Madagascar's east coast last month after a group of parents and their children were found walking through the bush to try to reach the nearest health center.
At the hospital, Soaravo moaned weakly as her mother rocked the baby in her arms to soothe her. The child weighed barely 4.4 pounds and had the appearance of an infant born prematurely, her eyes almost too big for her tiny skull. At her age, she should weigh four to six times more, doctors said.
"If my daughter is in this state, it's because we don't have enough food where we live," Iavosoa said. "I had dysentery for two months. I had almost no milk. I was exhausted. The first basic health center is three hours' walk from my village. I could not treat myself. … I was unable to travel such a distance."
BOAT CARRYING MIGRANTS FROM MADAGASCAR SINKS; 34 DROWN
"And then she (Soaravo) got sick, too. And then Cyclone Freddy came. (It) ravaged our village and completely destroyed our house," she said.
Iavosoa, who said she wasn't sure of her own age but thought she was between 21 and 24, wore a torn T-shirt and a piece of fabric wrapped around her waist. She had no shoes. Everything she owned was wrapped up in a cloth bundle on the hospital floor. She is a single mother.
With a look of dismay on her face, Iavosoa glanced at her little girl. "She just turned 10 months old," she said.
The families found walking about 30 miles from the hospital were discovered by chance when a Doctors of the World team went to evaluate the state of health facilities in areas outside Mananjary, said Joaquin Noterdaeme, a coordinator with the group known by its French name, Médecins du Monde.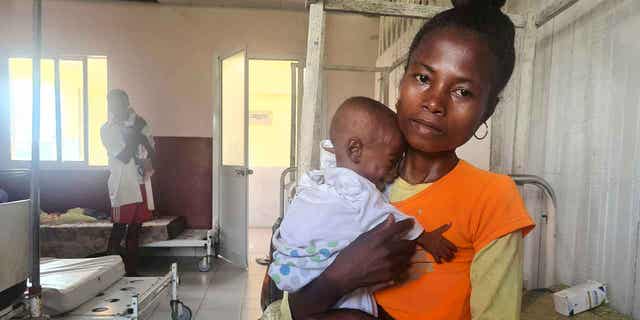 Mother Iavosoa and her 10-month-old daughter Soaravo, who is suffering with acute malnutrition, are shown at a hospital in Mananjary, Madagascar, on March 8, 2023. (AP Photo/Sarah Tetaud)
Soaravo was treated for an infection and diarrhea and received a special milk formula to address the malnutrition. Doctors said she would have to stay in the hospital for at least a month. Her mother and brother lived with her there because they had nowhere to go.
STORM CHENESO PICKS UP IN MADAGASCAR, MORE FLOODING TO COME
More than a quarter of the population in the southeastern region of Madagascar, approximately 870,000 people, don't have enough food and are at risk of hunger, according to the Feb. 28 report by UNICEF and the National Office for Nutrition.
Soaravo and the other hospitalized children are a drop in the ocean, aid groups say.
"This is a nutrition emergency clearly," Jean-Francois Basse, the UNICEF representative in Madagascar said, calling the situation in rural areas "catastrophic."
The hospital where doctors worked to save Soaravo's life also bears the scars of the cyclones. Some of its buildings are little more than a shell. The walls were just about standing, but parts of the roof were gone. Some patients were treated in a tent outside.
In and around Mananjary, which took the brunt of the cyclones roaring in from the Indian Ocean and where Freddy made landfall, few trees stand upright. The cyclones ripped them out or left them lurching at 45-degree angles, revealing the force of the wind the storms carried.
CLICK HERE TO GET THE FOX NEWS APP
Homes were destroyed, rebuilt and destroyed again.
People living in remote districts like coastal Nosy-Varika and the mountainous region of Ikongo were extremely vulnerable to hunger before the cyclones, and children across southeast Madagascar experienced chronic malnutrition, according to Brian Willett, head of mission in Madagascar for Doctors Without Borders, also known as Médecins Sans Frontières.
"But with the repeated climate shocks of the past year, their resilience has been exceeded," he said. "Today, 1 in 4 children is acutely malnourished. Without medical support, these children are at risk of dying."
Mothers who couldn't feed their children might engage in "acts of desperation," Willett said, referring to reports that some were selling their children in hopes of saving them from hunger.