close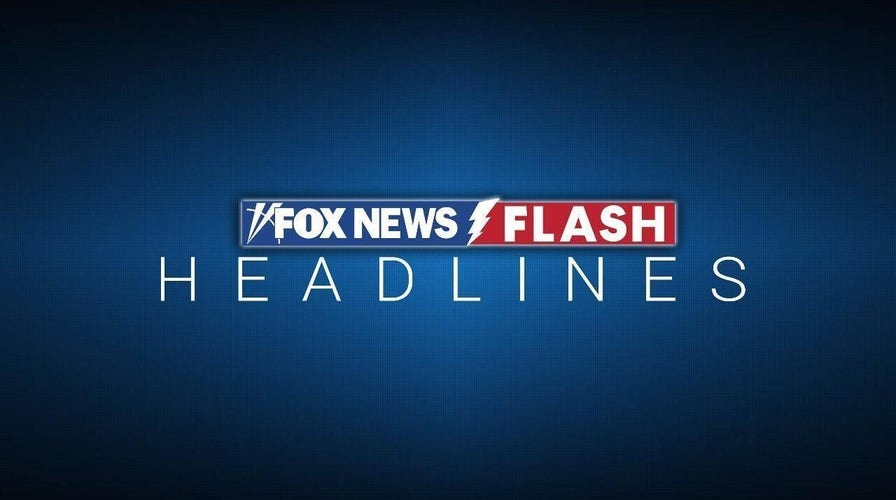 Video
Fox News Flash top headlines for April 19
Check out what's clicking on Foxnews.com.
Eight Indonesian fishermen are feared drowned and another 11 have been rescued after spending almost a week without food or water on a barren island off the northwest Australian coast in the wake of a powerful tropical cyclone, authorities said Wednesday.
Two primitive wooden Indonesian fishing boats were caught in the path of Cyclone Ilsa, which made landfall Friday as Australia's most powerful storm in eight years, with winds gusting at an apparent record of 180 miles per hour.
One of the boats, Putri Jaya, sank in "extreme weather conditions" early on April 12 while Ilsa was gathering strength over the Indian Ocean and heading toward the coast, Australian Maritime Safety Authority said in a statement, citing survivors.
The other boat, Express 1, ran aground with 10 men aboard around the same time on Bedwell Island, a sandy outcrop some 200 miles west of the Australian coastal tourist town of Broome, the authority said. The only known survivor from the Putri Jaya spent 30 hours floating in the water tied to a fuel can for buoyancy before swimming to the same island, officials said.
MINNESOTA FISHERMAN'S NORTHERN PIKE TIES WITH STATE'S 2-YEAR CATCH-AND-RELEASE RECORD: 'VERY LARGE FISH'
The authority said the 11 survivors had spent for six days on the island without food and water before being rescued on Monday night.
The authority clarified in a later statement that the Putri Jaya survivor reached the island a day later than the rest.
The fishermen live in the East Nusa Tenggara province in the eastern part of the Indonesian archipelago.
The survivors were spotted Monday by the Australian Border Force, which patrols Australia's northern approaches for smuggling and other illegal activity, from a plane on a routine surveillance mission. A Broome-based rescue helicopter was deployed and winched all 11 aboard in failing light.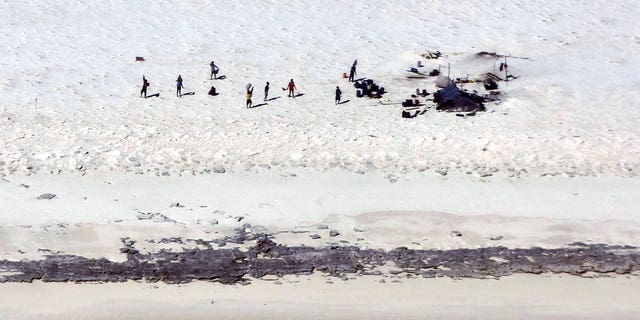 Fishermen from Indonesia stand on a beach on Bedwell Island, Australia, on April 17, 2023. At least eight Indonesian fishermen are feared dead and another 11 have been rescued. (Australian Maritime Safety Authority via AP)
Gordon Watt, a manager at helicopter provider PHI Aviation, said the rescue helicopter crew had been unable to land on the sand.
"They had to conduct winch recoveries which, in itself, is a challenging task," Watt said. "The time of day meant that nightfall was upon the crew during the rescue, so they had to transition to using night vision goggles."
The survivors were taken to Broome Hospital where Border Force said in a statement they were reported to "be in good health despite their ordeal."
SOUTH CAROLINA TEEN CATCHES INVASIVE PIRANHA-LIKE FISH, SPARKS REMINDERS THAT IT'S ILLEGAL TO RELEASE: REPORT
"This incident highlights the dangers of undertaking journeys in small boats unsuited to rough seas and adverse weather events, both of which are common in Australia's northern waters," the statement said.
The survivors have been flown from Broome to the northern city of Darwin, from where they will be flown back to Indonesia, the statement said.
Indonesia's consulate in Darwin requested to meet the fishermen and provide them with assistance, Indonesia's Ministry of Foreign Affairs said in a statement. The consulate would facilitate their repatriation, the statement said, thanking Australian agencies for their help.
CLICK HERE TO GET THE FOX NEWS APP
The Australian Maritime Safety Authority, which manages searches and rescues in Australian waters, said there was no ongoing search for further survivors.
The missing Indonesian fishermen are expected to be the only fatalities from Ilsa, which was a maximum Category 5 cyclone when it crossed the Pilbara region coast of Western Australia state southwest of Broome.