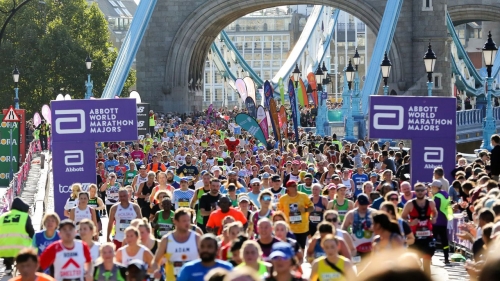 The London Marathon will see thousands of runners complete a course through central London.
Dinendra Haria/LNP/Shutterstock

CNN
—
The London Marathon could become the latest sporting event to face protests and potential disruption from environmental campaign group Just Stop Oil which says it will "continue to disrupt sports and cultural events."
Thousands of runners are set to raise millions for charitable causes on Sunday in a race watched by hundreds of thousands of people on the streets of London and millions more on television.
But the much-loved annual event, which winds its way across the British capital's most famous streets and concludes on the Mall, faces the real threat of disruption from UK protest group Just Stop Oil, which is campaigning for governments to end the use of fossil fuels.
"We will continue to disrupt sports and cultural events until the institutions join us in civil resistance against new oil and gas," Just Stop Oil said in a statement, when CNN Sport asked whether it would look to interrupt the London Marathon.
"We don't answer questions about our plans. That's irrelevant when we face crop failure, drought and starvation within a few short decades. To allow new oil and gas is the greatest criminal act in human history. It's genocidal."
Just Stop Oil have glued themselves to roads, ziplocked their necks to goal posts, blockaded oil facilities and targeted iconic artwork. In October, in one of their most high-profile protests, they flung tomato soup over Vincent van Gogh's famous "Sunflowers" at a London gallery.
More recently, two Just Stop Oil activists caused delays at the World Snooker Championship after storming the tables and throwing orange powder paint on one of the playing surfaces.
"It's time for everyone to join us in civil resistance or face the loss of everything we know and love. Which side are you on?" the group asked in their statement.
Just Stop Oil's protests have succeeded in gaining attention, but they have also attracted waves of criticism for disrupting daily life, delaying emergency services and damaging cultural heritage.
Climate group Extinction Rebellion (XR) has also organized a wide scale protest this weekend which hopes to see tens of thousands of activists descend on central London, mainly around Parliament, which is close to the marathon's finish line.
The four-day protest – dubbed 'The Big One' – will see multiple campaign groups come together to demand the UK government stop its search for new fossil fuels immediately.
According to XR's website, nearly 30,000 people have already said they'll join the four-day protest.
In a statement to CNN, XR said it has no plans to disrupt the race and has been working alongside the Metropolitan Police to ensure both events can be staged together.
XR urged other groups to join the peaceful protest.
"Help us build this mass movement so we become impossible for the government to ignore!" said the group.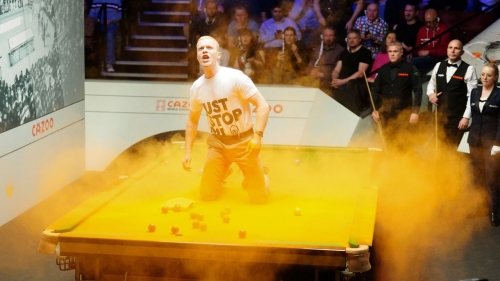 A Just Stop Oil protester recently disrupted the World Snooker Championship on Monday.
Mike Egerton/PA Images/Getty Images
But the police say they are prepared for people who try to stop the race.
"People can expect a visible, engaging but firm policing presence to tackle any criminal or anti-social behavior and disorder," the Metropolitan Police told CNN in a statement.
"Alongside a significant policing response, we will be using specialist officers to respond to any protesters who lock or glue themselves to street furniture or purpose-built structures."
'A little bit worrying'

David Row, a communications manager from London, is one of the thousands of runners putting together the final preparations for the race.
Amid the uncertainty and potential chaos of Sunday, he is just hoping all his hard work won't be for nothing.
Like many, Row has put his "heart and soul" into training for the last few months, getting up at 6 a.m. local time to follow a training plan which has him ready for this one moment.
"You just want it to go perfectly, so to hear that there might be something going on with the campaign groups is a little bit worrying," the 34-year-old told CNN Sport.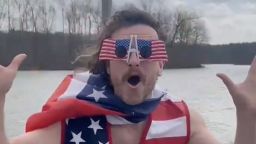 The Irishman has seen his social media following explode in recent months.
Iain Ward
After being diagnosed with terminal brain cancer, 'The King Of Chemo' decided to cycle across the US
"If there was a delay, or worst-case scenario they called it off, I'd be devastated, but in the same sense, I know these groups are there for a serious reason.
"They've got an agenda that they don't feel is being listened to, so they want to get that across."
On Sunday, Row will run for Macmillan Cancer Support, in memory of his late mother.
He's aware that many of his fellow participants will also be running for their own deeply personal causes and, while he sympathizes with the wider climate issues, he questions whether the London Marathon is the right event to protest at.
He says activists risk alienating people against the worthwhile cause by targeting events that bring so much "positivity" and "good energy" to society.
"You've probably got people running that for the same reasons that they're disrupting the race," he said.
"I get that they've got a bigger cause but […] disrupting someone who's running in memory of someone important to them or running for a charity that's doing good, it doesn't really strike a balance for me."
CNN reached out to the London Marathon for comment but did not get a response at the time of publication.
The London Marathon is set to begin with the wheelchair and elite events before the mass start follows at around 10 a.m. local time.