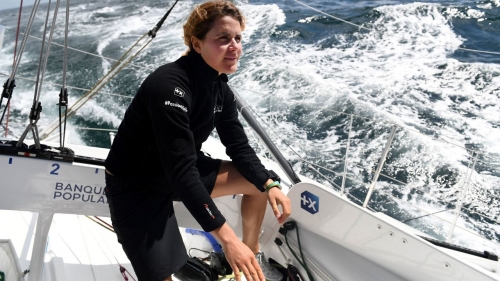 French skipper Clarisse Crémer sails off the coast of Lorient, western France, in July 2020.
Fred Tanneau/AFP/Getty Images

CNN
—
As she readies herself for perhaps the most arduous sailing race in the world, Clarisse Crémer does so not only as a competitor hoping to thrive during her three months alone at sea, but also as a guiding light for new mothers in the sport and beyond.
For Crémer, the fastest solo woman to complete the around-the-world Vendée Globe race, assuming such a role was never part of the plan. It was only after she was dropped by her former sponsor, Banque Populaire, that the French skipper chose to speak about her experience.
"I know people will look at me with that vision of somebody who is a sailor and a mother," Crémer, who is now preparing for the 2024 Vendée Globe after joining a new team, tells CNN Sport.
"I'm happy about that. But when I will be sailing, I will only be thinking about sailing – it's a lot of work already."
Prior to giving birth to her daughter Mathilda in November, Crémer says she had informed Banque Populaire of her decision to have a child.
However, changes to the qualification process for the 2024 Vendée Globe mean skippers must compete in at least two qualifying races in their boat – one in 2022 or 2023 and one in 2024 – and finish at least one of them in a certain time frame.
If next year's event is oversubscribed, selection is determined by the number of nautical miles sailed by the skippers since the Transat Jacques Vabre race in 2021.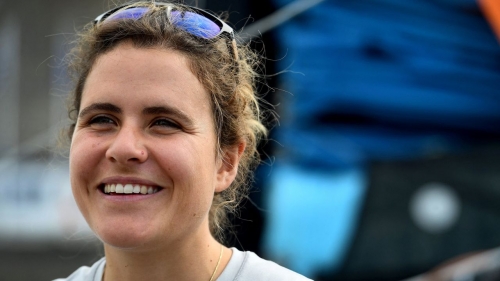 Crémer placed 12th at the last Vendée Globe.
Fred Tanneau/AFP/Getty images
With Crémer on maternity leave for some of the qualification process, Banque Populaire said there was a "risk" the boat would not qualify for next year's Vendée Globe.
The sponsor acknowledged the "unfortunate situation" and said it planned to move forward with a new skipper.
"I was a bit overwhelmed after what had happened … but it didn't take me ages to realize that my dream of being back in the next Vendée Globe was still there," says Crémer. "I had made that promise to myself during the previous Vendée Globe that I wanted to be back."
Return to sailing

A lifeline was quick to arrive. Last month, 5 West Ltd, a company represented by experienced British sailor Alex Thomson, announced it had reached an agreement to purchase the IMOCA 60 boat from Banque Populaire.
On Thursday, Thomson announced that Crémer would skipper the team in its bid to qualify for next year's Vendée Globe.
Explaining its withdrawal, Banque Populaire said it would no longer be able to "calmly approach" next year's race and "understands the emotion it has set off from the public" after parting with Crémer.
Thomson, who has finished second and third in two previous editions of the Vendée Globe, was soon in touch with Crémer after sensing an opportunity to partner with one of the world's most talented sailors.
"It's one of the most exciting things for us as a team to be able to not just provide Clarisse with the tools, but also provide her with everything else she needs that allows her to be a proper mother and have the right balance in her life," he tells CNN Sport.
"Ultimately, if we provide the right balance and Clarisse is happy and she feels comfortable, then she's going to perform better."
Getting a new team off the ground in such a short space of time is no easy feat. Thomson said his team had to raise €5 million (around $5.5 million) to finance the boat and has also secured the support of a sponsor – beauty and cosmetic brand L'Occitane.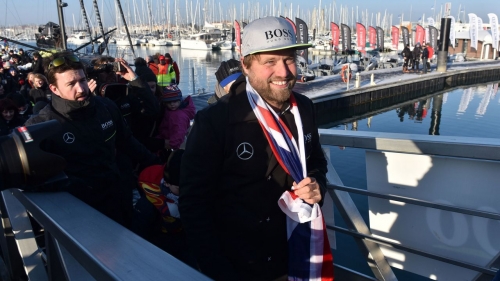 Thomson celebrates finishing second at the Vendée Globe in January 2017, a few hours after French sailor Armel Le Cléac'h.
Laurent Zabulon/Sipa/AP
The first goal is simply to get to the start line of the Vendée Globe in Les Sables-d'Olonne, a coastal town in the west of France, next year.
"I was quite surprised that even when I was sailing during the (last) Vendée Globe, I was thinking about the next Vendée Globe," says Crémer, who completed the 2020/21 edition of the race in 87 days, two hours and 24 minutes.
"I think it was something very strong in me and it didn't take long to get over what had happened.
"Of course, it's been a lot of work lately and intense weeks and the situation was not always easy, but I was very happy to realize that my dream was not very far away in my mind."
Creating 'your own universe'

Thomson says he expects the qualification rules to be adjusted for future editions of the Vendée Globe in the wake of Crémer's experience. CNN has contacted race organizers for comment.
The next Vendée Globe, which takes place between November 2024 and March 2025, will be the 10th edition of the race. Known as the "Everest of the Seas," it has gained a reputation as one of the hardest sporting events in the world, pushing sailors to their physical and emotional limits.
Participants must overcome extreme weather, violent seas and mechanical issues as they navigate the roughly 24,000-mile route, all while staving off the suffocating isolation of being alone in the ocean for months on end.