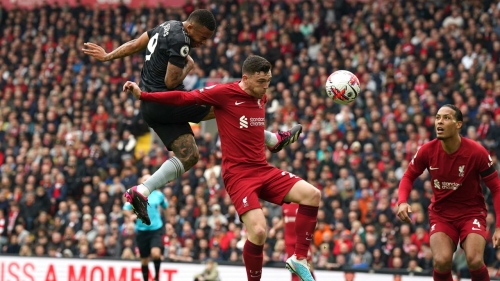 Arsenal and Liverpool played out a thrilling 2-2 draw at Anfield.
Nick Potts/Press Association/AP

CNN
—
Liverpool snatched a 2-2 draw from the jaws of defeat against Arsenal as Roberto Firmino's goal in the 87th minute trimmed the Gunners' lead over Manchester City at the top of the table to just six points.
For the first 40 minutes, Arsenal was coasting, dominating Liverpool in every area of the pitch and easily forging a 2-0 lead.
But then, inexplicably, the tide turned just before half-time. Mo Salah prodded the ball into the net, the deflated Anfield crowd revived and Liverpool seemed to morph into a different team, threatening to turn the game on its head at any moment.
Salah missed a penalty and a chance to equalize in the 55th minute and it seemed as if the momentum had slowly ebbed away from Jurgen Klopp's men before Firmino's header sailed over Aaron Ramsdale's grasp and into the net.
And the chaos continued into injury time as only Ramsdale's outstretched hand twice prevented Liverpool from scoring a winner, in an intervention that could still decide the destination of the Premier League trophy.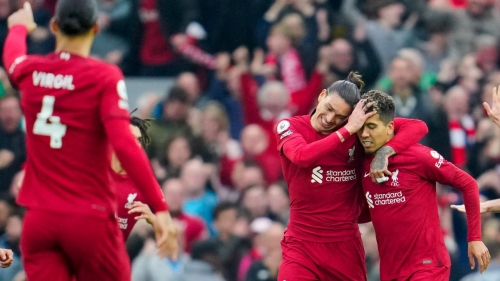 Liverpool's Roberto Firmino, right, celebrates with teammates after scoring his team's second goal.
Jon Super/AP
"We lost control and started to give a lot of balls away," Arsenal manager Mikel Arteta said afterwards, according BBC Sport. "The game became open. We needed resilience, we needed our keeper in the last moment. I think a draw is a fair result.
"The crowd got going. The goal gave them some hope. At 2-0 we had the game in our hands. That was our chance to kill the game. Then we made a mistake. We had to show our resilience and our luck at times."
Liverpool has endured a difficult season which seemed set to continue as Arsenal drew first blood after eight minutes, scoring almost at the first opportunity when Gabriel Martinelli threaded the ball through a flat-footed defense and into the net.
The Gunners continued to create space at will and it seemed only a matter of time before the elastic snapped once again.
And it did 20 minutes later as Martinelli escaped down the wing. His cross found Jesus in the box who headed the ball into the net and Arsenal took a 2-0 lead within the first half hour.
But Liverpool showed flickers of the team that came within inches of an unprecedented quadruple last season as Mo Salah finished off a move to pull a goal back just before halftime and resurrect his team's hopes.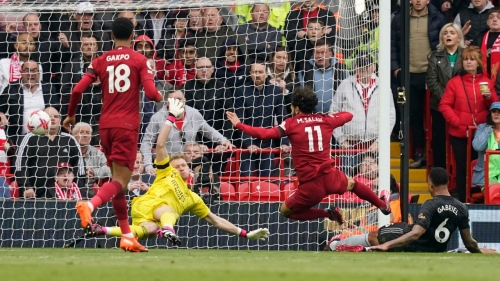 Mo Salah scored his team's first goal.
Andrew Yates/Cal Sport Media/AP
As the first half came to a close, television pictures showed assistant referee Constantine Hatzidakis appearing to clash with Liverpool's Andy Robertson prompting protestations from the rest of his team.
Liverpool began the second half in much the same way it finished the first, pressurizing Arsenal, and Diego Jota drew a penalty but Salah's effort floated wide of the right-hand post.
Nonetheless, the Reds continued to press and Darwin Núñez had another golden opportunity to equalize on the counterattack with less than ten minutes of regulation time remaining, but he could not evade Ramsdale's last ditch stop.
It seemed as if Arsenal had done enough to cling onto victory before Firmino's header secured Liverpool's draw, prompting mixed emotions from manager Jurgen Klopp.
"It was a spectacular game in the end," he said, according to BBC Sport. "How we didn't win it with those late chances I don't know.
"I'm caught in between [being happy and not]. I have no problems with drawing. Arsenal were good but they could and should have lost this game. The point for them is better."