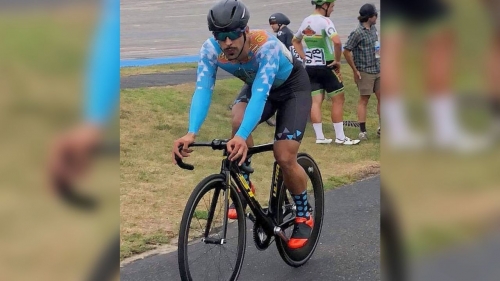 Ethan Boyes, a championship cyclist, was killed after being hit by a car in San Francisco on Tuesday.
From Ethan Boyes/Instagram

CNN
—
Ethan Boyes, a winner of multiple cycling championships, died after he was struck by a car in San Francisco on Tuesday, according to police.
Boyes was a 10-time national champion and currently holds the world record for men aged 35-39 in the 1,000-meter time trial, according to USA Cycling, the governing body for cycling in the US.
Boyes was cycling on Arguello Boulevard, south of Washington Boulevard in San Francisco's Presidio Park, at around 4 pm on Tuesday when a car hit him, according to United States Park Police on Saturday. The park police responded to the scene.
Boyes was transferred to the hospital with life-threatening injuries and later pronounced dead, U.S. Park Police told CNN.
The driver of the vehicle was also transported to the hospital for treatment of non-life-threatening injuries, according to police.
The U.S. Park Police are investigating the incident with the US Attorney's Office.
"We are deeply saddened to hear of the passing of Ethan Boyes," USA Cycling said in a statement on Friday, "His loss will be felt at local, regional, national, and world events for years, as he brought a mixture of competition and friendliness to every race. Our thoughts are with his family and loved ones."
The Velo Sports Center, where Boyes trained, praised his contributions to the sport of cycling.
"We are devastated and heartbroken to learn of the sudden and untimely loss of Ethan Boyes," the center wrote on Instagram. "His trademark tuck and blender smooth stroke made him deceptively fast—ask anyone who raced against him. He loved riding and racing the track, and he was exceptional at it."
The San Francisco Bicycle Coalition also issued a statement mourning Boyes' death.
"Today, we join the bicycling community in mourning Ethan Boyes, who was struck by a vehicle while riding his bike in the Presidio," wrote the coalition on Friday. "Ethan was a champion bicycle racer and beloved figure in the bicycling community."
CNN's Rebekah Riess and Joe Sutton contributed to this report.