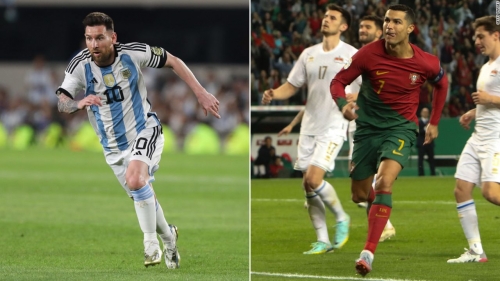 Lionel Messi and Cristiano Ronaldo both made history on Thursday night.

CNN
—
It was a night of landmark goals and historic achievements for Lionel Messi and Cristiano Ronaldo, as the pair continued to cement their places as two of the greatest players of all time.
In the Argentine capital of Buenos Aires, Messi and his Argentina teammates played on home soil for the first time since their World Cup triumph just over three months ago.
They were given a hero's welcome by more than 80,000 delirious fans inside River Plate's iconic Estadio Monumental on a night of celebrations that likely lasted well into the morning.
The players were presented with the World Cup trophy, which they paraded around the stadium after a 2-0 friendly win over Panama, as well as shirts embroidered with three gold stars to signify the country's three World Cup triumphs.
The players from the squad that won the World Cup in Qatar have all been called up to the national team for these two friendly fixtures against Panama and Curaçao to allow them to revel in their moment of glory.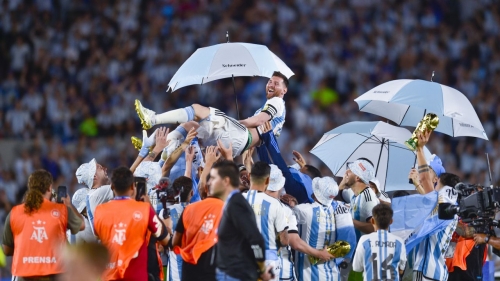 Lionel Messi is hoisted aloft by his Argentina teammates as they celebrate the World Cup win.
Jam Media/Getty Images
By the time kick-off came around, celebrations inside the stadium – which included DJs, bands, fireworks and an 80,000-strong singalong – had been ongoing for more than four hours, with the match itself becoming little more than a footnote.
It took 78 minutes for Argentina to find the breakthrough against what was largely a Panama reserve team, with Thiago Almada opening the scoring.
Then, with just a minute remaining, Messi's moment of glory came as he secured the win with a stunning free kick. It was his 99th international goal and the 800th of his professional career.
"I always dreamed of this moment, celebrating with you in my country Argentina, lifting the greatest thing which is the World Cup," Messi said in the closing ceremony.
"Let's keep doing what we're doing and enjoy this because we have been waiting a long time to win it again. Let's enjoy the third star."
Ronaldo breaks appearance record, increases goal tally

On the same night, Ronaldo broke the men's record for most international appearances as he earned his 197th cap for Portugal in the team's Euro 2024 qualifying win over Liechtenstein.
The previous record of 196 was held by Kuwait forward Bader Al-Mutawa.
Ronaldo scored two goals – a penalty and a stunning free kick – in the 4-0 win as Portugal's campaign for off to the perfect start, with João Cancelo and Bernardo Silva also getting on the score sheet.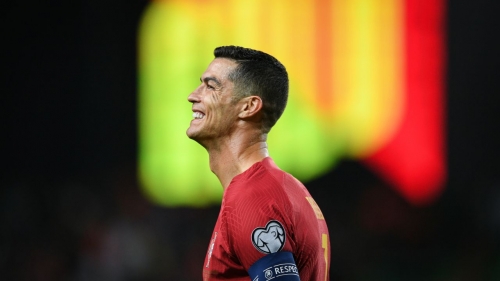 No men's player has made more appearances for their country than Cristiano Ronaldo.
Octavio Passos/Getty Images
The 38-year-old made his debut for Portugal way back in 2003 and has now notched a record 120 international goals.
Elsewhere in Euro 2024 qualifying, Harry Kane exorcised some of the demons from Qatar by scoring a penalty to become England's all-time leading goalscorer with 54 goals.
After missing a penalty in the quarterfinals against France which would have drawn England level and given him the record, Kane said breaking the record from the spot "means a lot."
Wayne Rooney, who had held the record as England's leading goalscorer since 2015, tweeted: "Congratulations to Harry Kane on becoming England's all-time leading goalscorer.
"I knew it wouldn't take long but that was quick. Great man, unbelievable goalscorer and an England legend."