Leslie Jordan's cause of death has been revealed.
The 67-year-old actor died of "sudden cardiac dysfunction" on Oct. 24, the Los Angeles County Medical Examiner-Coroner's office confirmed on Thursday.
Per the coroner's report, "arteriosclerotic cardiovascular disease" was listed as a secondary cause. The manner of death was ruled natural.
The "Will & Grace" star died following a car crash in October and was "pronounced dead at the scene," Los Angeles County Department of Medical Examiner-Coroner Public Information Officer Sarah Ardalani previously confirmed to Fox News Digital.
Jordan had been sober for more than two decades at the time of his death, and toxicology tests didn't find any alcohol or drugs in his body.
THE BEST OF LESLIE JORDAN: A LOOK AT SOME OF THE BELOVED COMEDIAN'S HILARIOUS MOMENTS
At the time, an officer said authorities responded to a "medical emergency" shortly before 9 a.m. The traffic incident occurred at the intersection of Cahuenga Boulevard and Romaine Street when a vehicle reportedly driven by Jordan hit a wall.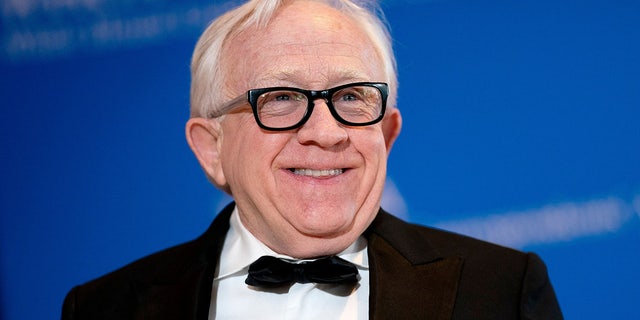 Leslie Jordan died of "sudden cardiac dysfunction" on Oct. 24, the Los Angeles County Medical Examiner-Coroner's office confirmed on Thursday.
(Stefani Reynolds / File)
"The world is definitely a much darker place today without the love and light of Leslie Jordan," his agent, David Shaul, shared in a statement to Fox News Digital at the time. "Not only was he a mega talent and joy to work with, but he provided an emotional sanctuary to the nation at one of its most difficult times."
Shaul added, "What he lacked in height he made up for in generosity and greatness as a son, brother, artist, comedian, partner and human being. Knowing that he has left the world at the height of both his professional and personal life is the only solace one can have today."
The comedian had been starring in the Mayim Bialik show "Call Me Kat" when he died, and production of the FOX show was paused in the wake of his death.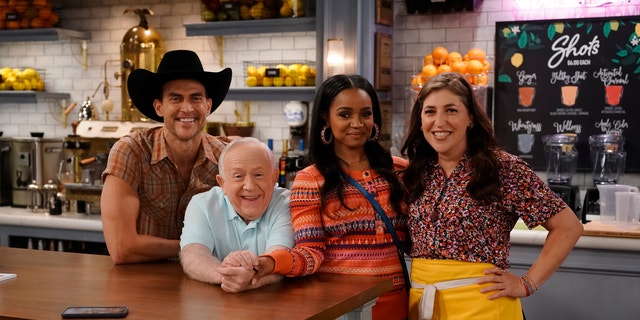 Leslie Jordan was starring in the show "Call Me Kat" when he died.
(FOX via Getty Images / File)
CLICK HERE TO SIGN UP FOR THE ENTERTAINMENT NEWSLETTER
At the time, Bialik put out a statement that said: "Leslie Jordan was larger than life. He was a Southern gentleman; tender, wise, naughty and hilarious. We got to know and love him at the height of his happiness and joy and it is inconceivable to imagine a world without our Leslie: the man who would spit on his contact lenses before putting them in his eyes, the man who had a story about every man in Hollywood and some of the women as well, the man who lived to make people laugh. We will be taking time to grieve and to celebrate the many gifts Leslie gave to us and to the entire world and we appreciate privacy at this time."
Many other celebrities also mourned his loss.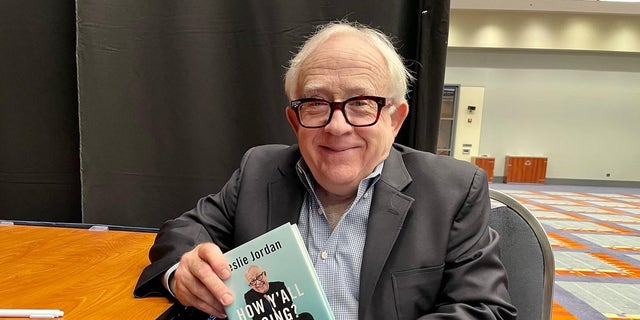 Leslie Jordan had just written a book called "How Y'all Doing?"
(Fox News)
"Well I am as hurt and shocked as if I have lost a family member," Dolly Parton wrote on Instagram.
She added, "Leslie and I had a special bond, I think the world felt they had a special bond with him. I know people always say 'Oh, they will be missed,' but in this case that could not be more true. He will be missed by everyone who knew him personally and by everyone who was entertained by him. Rest in peace lil' brother."
"Will & Grace" actor Sean Hayes said his heart was "broken."
"Everyone who ever met him, loved him," he added. "There will never be anyone like him. A unique talent with an enormous, caring heart. You will be missed, my dear friend."
CELEBRITIES MOURN THE LOSS OF LESLIE JORDAN: 'PUT A SMILE ON THE FACES OF SO MANY'
A month before his death, Jordan told Fox News Digital that he was feeling "amazing" about his life.
"Right now, at 67 years, I'm happier than I have ever been," he said in September while promoting a book he wrote called "How Y'all Doing?" "I'm more in tune with who I am, what I am."
Jordan also became a household name during the COVID-19 pandemic when he connected with fans across social media platforms.
The "American Horror Story" star would chat with his followers, whom he called "friends," about day-to-day life in his Tennessee hometown while on lockdown with his family.
CLICK HERE TO GET THE FOX NEWS APP
He added in his September interview with Fox News Digital: "I've said before the only thing fame brings you is a platform. That's all it brings you. And then you either give or take. And I want to give."
The Associated Press contributed to this report.