close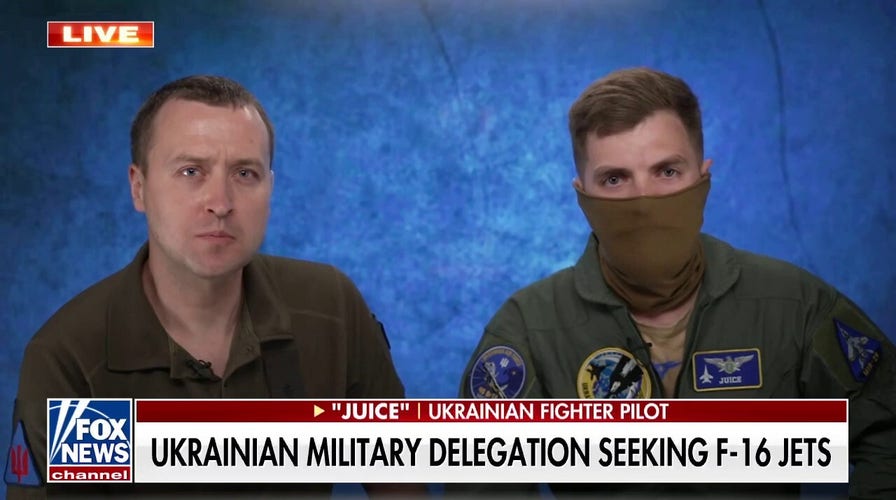 Video
Ukrainian fighter pilot asks US for more planes: We are not capable enough
Ukrainian fighter pilot "Juice" and Ukrainian aerial defense specialist Lt. Col. Denys Smazhnyi discuss why Ukraine is pleading for more military aid from the U.S. as Putin's assault continues.
One of Ukraine's more legendary fighter pilots, Andrii Pilshchykov, also known by the call sign "Juice," was among those killed in a midair crash last week, a devastating blow for a Ukrainian Air Force that is seemingly set to receive Western F-16 fighters.
"Juice was more than just a pilot. He was fully dedicated to the evolution of Ukraine's Air Force," Col. Rob Swertfager of the California Air National Guard told Fox News Digital.
Swertfager became close to Pilshchykov as a result of the California Air National Guard's longstanding training partnership with the Ukrainian Air Force, which included yearslong planning in the lead-up to a 2018 exercise in Ukraine dubbed "Clear Sky." That partnership allowed Swertfager to see Ukrainian pilots such as Pilshchykov firsthand, an experience that led to him advocating on behalf of Ukrainian calls for modern Western fighter jets.
"The Ukraine Air Force has the pilot corps to fly these types of advanced aircraft," Swertfager told Fox News Digital last year as debate over sending the jets to Ukraine raged in Washington. "The Ukrainian pilots are fantastic. I've flown with every air force in Europe – especially their regional partners."
TOP AIR NATIONAL GUARD COLONEL: UKRAINIAN PILOTS '100%' CAPABLE OF FLYING FOURTH-GENERATION WARPLANES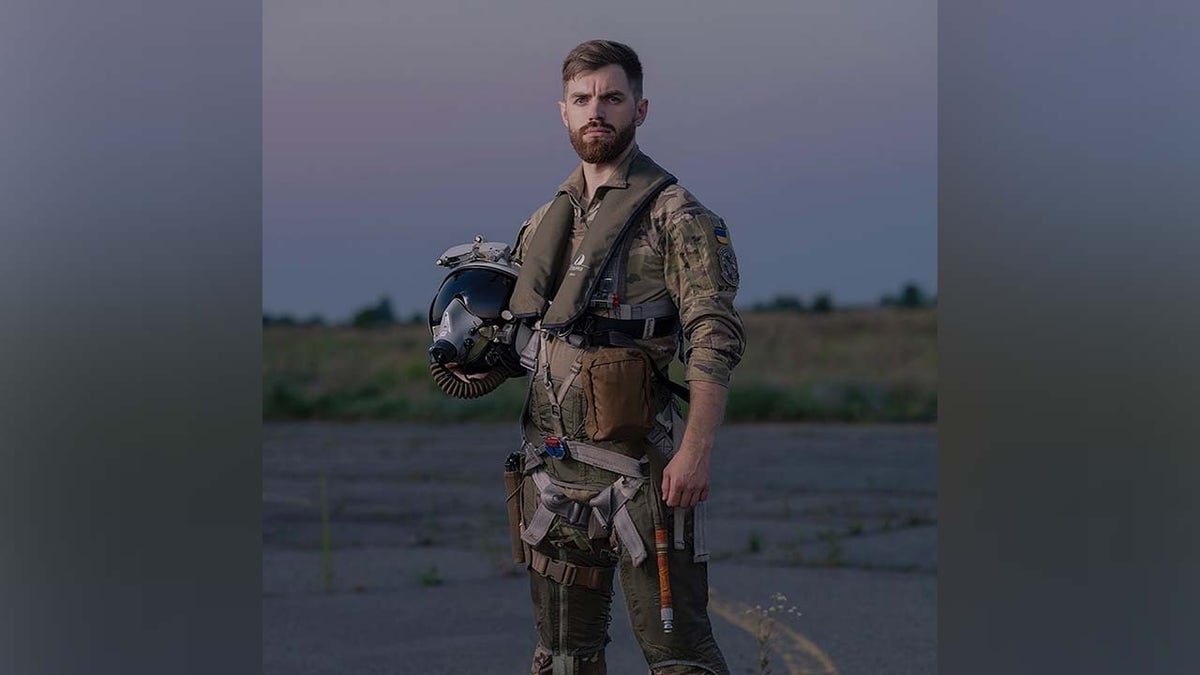 Andrii Pilshchykov (Adam Makos)
For much of the war, Ukraine's air force has relied on Soviet-era fighter planes like the MiG-29, an outdated platform that the country hoped to replace with help from Western allies.
Pilshchykov, who became legendary in Ukraine in the early days of the Russian invasion for his skill and dedication to defending the country's skies from enemy aircraft, was among the fiercest activists in lobbying for modern fighters from the West. Pilshchykov traveled to the U.S. for a bipartisan meeting with lawmakers in June 2022 to plead his case, telling Fox News Digital at the time that better fighters were vital to the Ukrainian war effort.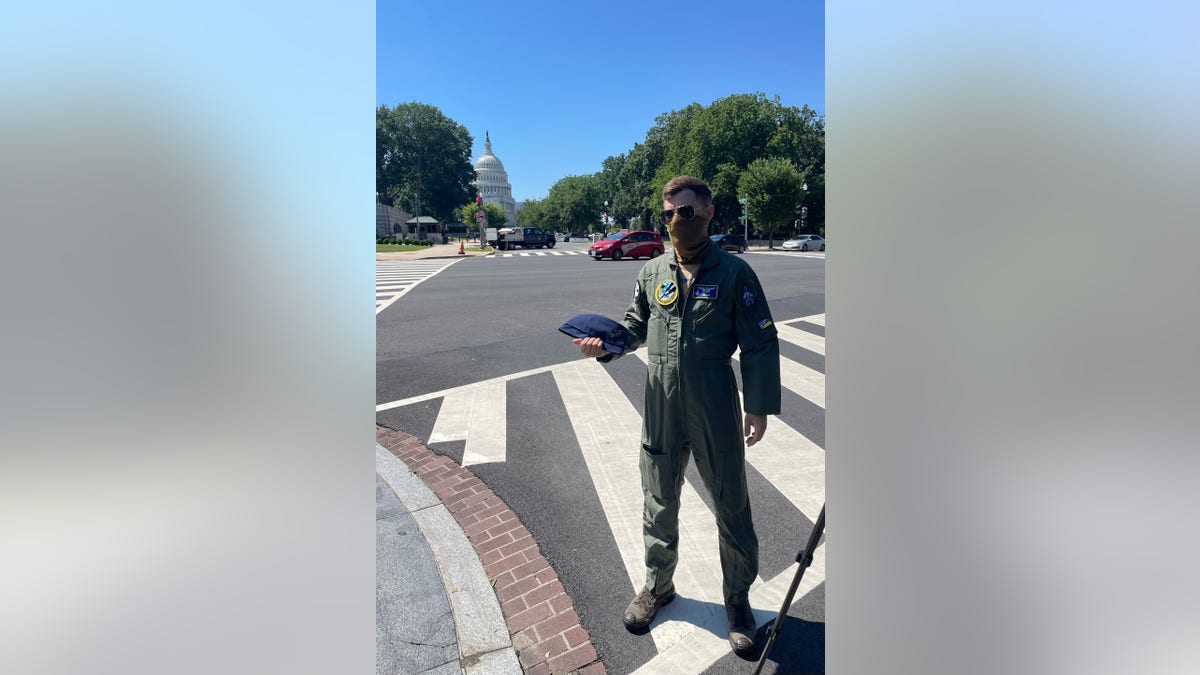 Ukrainian fighter pilot Andrii Pilshchykov is shown during his visit to Washington, D.C., last year. (Adam Makos)
"The Russian Air Force is still very active in the east and in south of Ukraine," he said at the time, noting that the Russians had "changed tactics" since the early days of the war but were "still deadly."
"They're sending their attack jets and helicopters at low altitudes through the front lines to attack our warfighters in the trenches," he added. "We need to react, we need to intercept them. We need to save the lives of our citizens and ground troops."
Pilshchykov earned the nickname "Juice" during those days training with the California Air National Guard in 2018, when he repeatedly ordered juice instead of alcohol on outings with his American counterparts. He ended up forging a bond with Americans such as Swertfager, who lauded Pilshchykov's dedication to modernizing the Ukrainian Air Force.
"We planned, trained and flew together, which made us very close," Swertfager said. "Besides being the face of Ukraine's Air Force when advocating for F-16s and other improvements, he was leading and pushing for reforms inside his own air force."
UKRAINE WAR TAKES DRAMATIC TURN AS RUSSIAN SOLDIERS PUSH TO RECAPTURE NORTHEAST KHARKIV TERRITORY
Losing the face of its air force made the accident all the more painful for Ukraine, with Ukrainian President Volodymyr Zelenskyy saying the country would "never forget anyone who defended the free skies of Ukraine."
Two other pilots, Vyacheslav Minka and Sergiy Prokazin, were also killed in the crash, which was caused by the collision of two combat training aircraft in a region west of Kyiv, according to a report from The Guardian newspaper.
There was no indication that Russian forces were behind the crash, which remains under investigation, though the incident highlighted the risks Ukrainian pilots face as they train and fight a war with outdated equipment.
Pilshchykov dedicated much of his time and his own money toward the dream of modernizing the Ukrainian Air Force, according to New York Times bestselling author Adam Makos, who met the Ukrainian pilot in the early days of the invasion of Ukraine.
Most of Makos' work as a history author centered around fighter pilots, leading him to reach out to Pilshchykov to see if there is any way he could help.
"He had already undertaken a hefty role in the early chaos of the war. He was single-handedly lobbying the West for modern fighters," Makos told Fox News Digital. "He and his buddies were flying every day in old Soviet-era MiG-29s, and getting the new jets would be the difference between life and death."
BIDEN VOWS 'UNWAVERING AND ENDURING' SUPPORT ON UKRAINE'S INDEPENDENCE DAY
Makos and Pilshchykov teamed up with Anastasiia Armey, the wife of an American fighter pilot, to form the charity "Wingmen for Ukraine" and began a fundraising effort that helped Ukrainian pilots obtain needed equipment, including GPS units for the fighter pilots and first-aid kits for use in the event a pilot was shot down. Pilshchykov himself sent over his savings, amounting to about $13,000 to help the effort, according to Makos.
"He was going to use the money to buy an apartment but figured this was more important," Makos said.
Makos helped orchestrate Pilshchykov's trip to Washington last year, which led to a lobbying effort by the lawmakers who met with the pilot for the U.S. to send Ukraine F-16 fighters.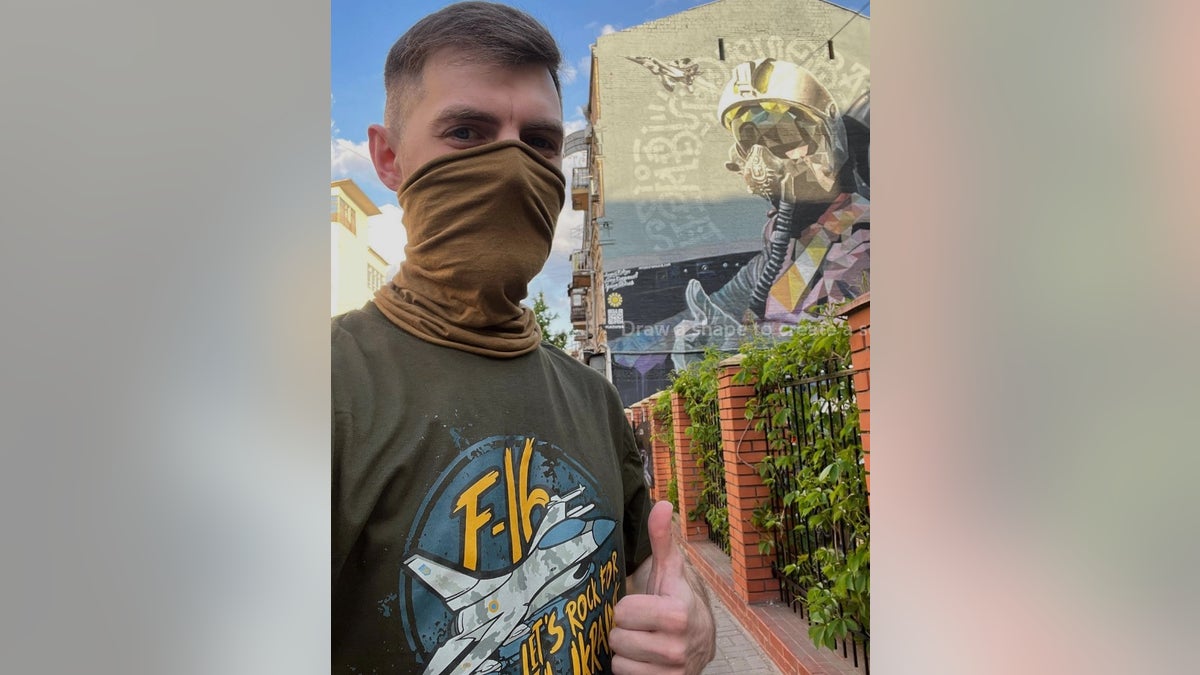 Andrii Pilshchykov (Adam Makos)
"What moved the senators the most? The idea that Juice and Moonfish were going home and would be back on the front lines the following week. They wrote a formal letter to the secretary of defense, then Sen. [Dan] Sullivan [R-Alaska] went almost every week to lobby [Defense] Secretary [Lloyd] Austin and [Joint Chiefs of Staff Chair] Gen. [Mark] Milley for the jets," Makos said. "Now, a year later, we finally see the fruits of Juice's trip to America."
Earlier this month, the U.S. finally approved the sending of F-16 fighters to Ukraine, with Denmark and the Netherlands stepping up to provide the modern aircraft to Ukrainian forces. The U.S. told the two countries it would expedite the approval of the transfer requests once Ukrainian pilots are trained, according to a report from Reuters, a process in which Pilshchykov was looking forward to being involved.
"Juice was due to take his English proficiency exam on Monday, which he would have easily passed, then he was to report to training on the F-16s he'd fought so long to win," Makos said. "His accident cut his dreams short. But for Juice, he wasn't motivated by wanting to fly the latest jet, a hot rod of the sky. He was motivated to see his country survive this terrible war."
CLICK HERE TO GET THE FOX NEWS APP
The training will go on now without Pilshchykov, an person who Swertfager said is irreplaceable.
"You cannot replace an individual like Juice, you have to learn from the examples he set and hope to meet his standard," Swertfager said. "He was a national treasure of Ukraine and will be sorely missed by all."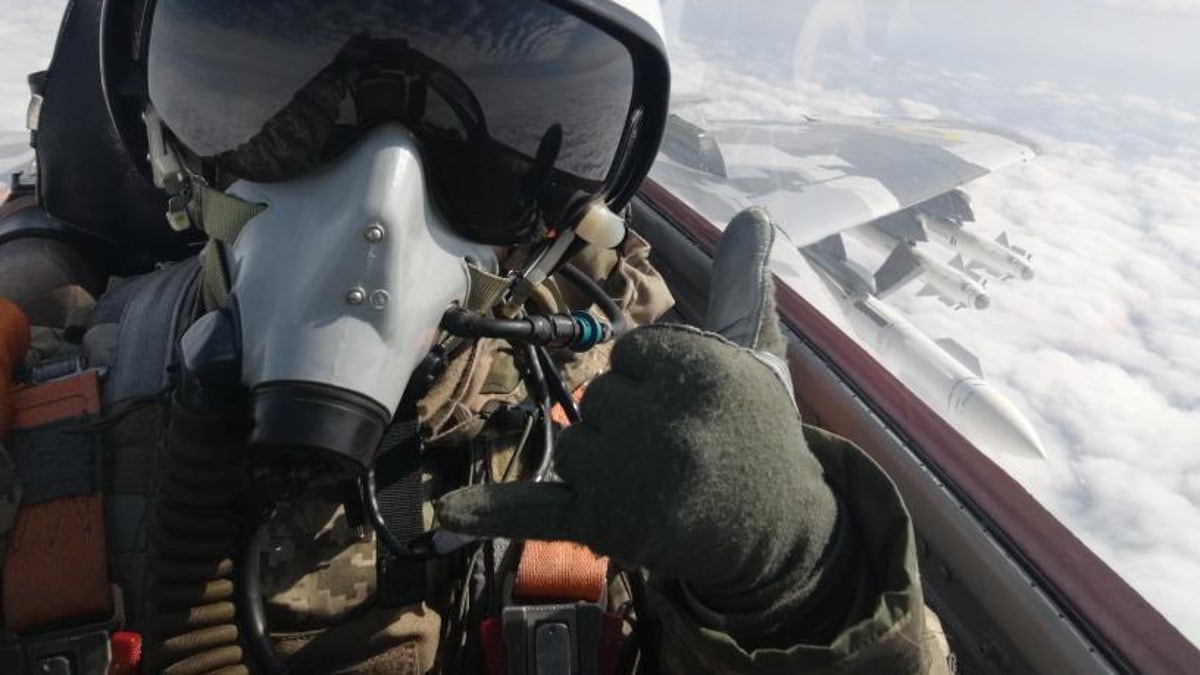 Ukrainian fighter pilot Andrii Pilshchykov (Adam Makos)
Meanwhile, Makos says Pilshchykov's legacy will live on with the Ukrainian pilots who take to the skies with the jets for which the Ukrainian legend fought so hard.
"He may have left us, but when the roar of the first F-16 breaks the Ukrainian skies, he'll be there," Makos said. "More than any one person, he's bringing the jets to Ukraine. He's giving his country a fighting chance."