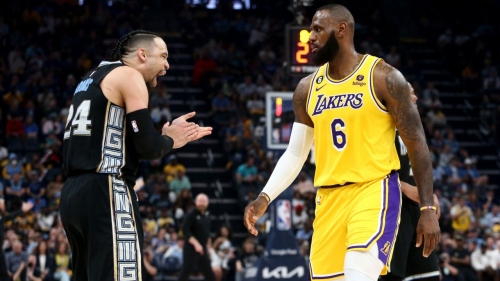 Memphis Grizzlies forward Dillon Brooks shouts toward Los Angeles Lakers forward LeBron James during the second half of Game 2.
Petre Thomas/USA Today

CNN
—
The Memphis Grizzlies have become known for their unflappable confidence in the face of superstar opposition – and Wednesday night was no different.
Game 2 of the best-of-seven NBA playoff series between the Grizzlies and the Los Angeles Lakers was already a chippy affair, but tempers were ratcheted up to another level midway through the third quarter when LA's LeBron James and Memphis' Dillon Brooks appeared to exchange words after a basket from James cut the Grizzlies' lead down to 14.
After the game, Brooks – who is known for his defense and perhaps best embodies his team's confident persona – told reporters James had said: "You're dumb for getting that foul," after Brooks had just picked up his fourth foul.
However, after Memphis' 103-93 win to even the series at one game apiece, Brooks didn't back down from the exchange with one of the NBA's all-time best players.
"I don't care, he's old," Brooks, who finished the game with 12 points on 5-of-14 shooting during his 23 minutes on the court, told reporters. "He only said something when I got my fourth foul. Sure didn't say nothing earlier on.
"But I poke bears. I don't respect no one until they come and give me 40 [points]. I pride myself on what I do: defense and taking on any challenge that's on the board. If it's LeBron, if it's AD [Anthony Davis], if it's whoever. I play my heart out – he knows that. The rest of the NBA knows that. I know my guys know that."
Four-time NBA MVP James finished Wednesday's game with 28 points and 10 rebounds.
According to ESPN, the only player to score 40 against the Grizzlies in a game Brooks played this season was the Portland Trail Blazers' Damian Lillard.
Brooks – wearing sunglasses, an open button-down shirt with no t-shirt underneath and a diamond-encrusted chain with a "DB" medallion to speak to the media – did recognize James' all-time great career, but explained he couldn't let it overawe him when he defends the four-time NBA champion.
"Obviously, I have some respect," the 27-year-old said. "He's a legend. He's LeBron James. But when I'm on that floor, you're just another player to me. I don't care who you are. You're just 6'8", 270 pounds and you're a basketball player."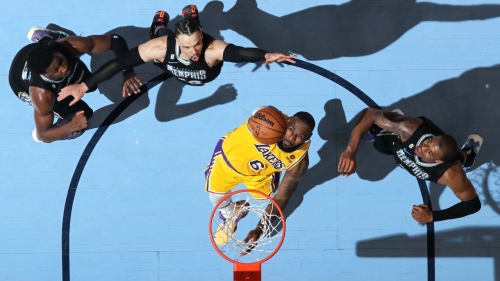 James shoots the ball while being guarded by Brooks during Game 2.
Joe Murphy/NBAE/Getty Images
Brooks added: "That's where guys don't see that part of the game. I had those moments. Year one, year two, it was like: 'Oh, he's glowing. He's shining.'
"I can't be looking at [him] that he's LeBron James. He's just another basketball player. And I'm ready for a challenge every single night."
The Grizzlies' victory was made even more impressive as it came without its star point guard, Ja Morant, who missed the game with a bruised right hand.
Xavier Tillman led the team with scoring with 22 points and collected 13 rebounds, while Jaren Jackson Jr. contributed 18 points.
James led the way for the Lakers, while Rui Hachimura added 20 points off the bench.
The first-round Western Conference playoff series continues with Game 3 in Los Angeles on Saturday.